COOKEVILLE, Tenn. - Almost to a man, the McCallie Blue Tornado football team said this resounding 28-7 TSSAA Division II-AAA state title victory over Montgomery Bell Academy of Nashville at Tennessee Tech's Tucker Stadium was unexpected.
Senior wideout and defensive back Thompson Byrd, who set this win in motion with a pick-six early in the contest said, "We thought we were probably a middle-of-the-pack team. We'd lost so many players on defense, and defense was our strength last year."
Sophomore linebacker Aaron Crowder, who led the winners with 2.5 sacks, added, "No way we thought we'd be here in May. We didn't think we'd be here at the start of the season."
But one member of the second football team ever to win a state title at the 114-year-old private school on Missionary Ridge felt differently.
"I told Coach (Ralph) Potter in July we were going to win it," said senior quarterback DeAngelo Hardy, whose two rushing touchdowns, 103 net rushing yards and 59 passing yards on five completions in seven attempts won him game MVP honors. "I knew we had the team."
Photo Gallery
Division II-AAA state championship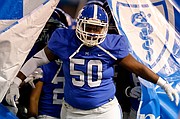 Not every coach-player relationship is the same. Potter and D-Lo, as Hardy is known to his teammates and coaches and almost everyone else tied to the school, is almost more father-son than coach-player.
So as Potter savored his second state title at his alma mater but first since 2001, he said of his three-year starter, his voice cracking: "I'm going to miss him. That guy's going to make it whatever he does. He's one of the toughest people I've ever seen. He's a born leader. And not just on this team. Throughout this whole school."
It was Potter who turned tougher than normal, which is saying something, after McCallie dropped its final two games of the regular season, both at home atop Pete Potter Field, which is named for Ralph's late father, who also coached the Tornado to a fair number of football victories.
"We'd won our first seven games at such a high level," Potter said. "We beat (archrival) Baylor without John (Hardy, D-Lo's cousin who was hurt at the time). We kind of paused mentally after that. We got stale."
To combat that, he amped up practices over the next two weeks (DII-AAA teams had an automatic off week).
"It was rough," Byrd said. "We had a lot of physical practices. But it worked. We wouldn't have won this if he hadn't put us in our places."
A moment from those practices to show Potter's intensity: When Crowder struggled with a certain coverage, he said Potter told him, "That's OK. We'll run this 40 times until you get it right."
Said Potter with a slight grin: "Those two losses turned out to be the best thing that happened to us. I don't think we've ever played better in a big game."
Some would say that his teammates coaxing wideout/running back Eric Rivers to come out for football in the season's second week was the best thing to happen to the Blue Tornado.
Until then, Rivers was still best known around campus as the school's top basketball player. But with his buddies on the football team pleading with him to join them as a wide receiver, he soon came aboard with Potter's blessing.
As the season went on, and particularly after star running B.J. Harris sprained an ankle early in McCallie's first-round playoff win over Christian Brothers, Rivers played not only at wideout but also in the backfield.
And in the final 90 seconds of the second quarter Thursday, Rivers took a pitch from quarterback DeAngelo Hardy and took it in from 44 yards away for a 14-7 lead at halftime.
"I'd played my freshman year; then I didn't play last year," Rivers recalled after finishing the game with 88 rushing yards, 48 receiving yards and that lone very important touchdown.
"I told Coach Potter I missed it. I had to earn my way back playing on the scout team, but I made it."
They all made it back to where this program had not been since 2006, and even that trip to the title game ended in defeat against Brentwood Academy.
(Read more: McCallie football team bus breaks down on way to BlueCross Bowl)
Considering that MBA had beaten McCallie 14 straight times over 13 seasons including playoff games, there wasn't much reason to be certain this would end differently. Clearly, no one beats McCallie 15 straight times.
"I'm more aware than they are (of how difficult this is)," Potter said. "You're still the same person, win or lose. But when you win it, you have a greater legacy."
As DeAngelo Hardy was wrapping up his interviews, he said, "This is everything and more. It's something I've dreamed of all my life. And the MVP trophy. This is for the entire team. This is for the offensive line. And the running backs. And the receivers. And the coaches, because they worked hard every day to put us in position to make this happen."
He looked around, at the giant video screen that moments earlier had blared the timeless Queen anthem "We Are the Champions," and all those McCallie students still celebrating in the stands.
"I love these guys," he said. "This is a special group."
Said Potter, his eyes moist: "They've made coaching a lot of fun."
Contact Mark Wiedmer at mwiedmer@timesfreepress.com. Follow him on Twitter @TFPWeeds.