Photo Gallery
'Richard Jewell' movie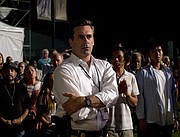 "Richard Jewell" is a typically strong late-period Clint Eastwood docudrama that balances grand American themes while captivatingly dramatizing the villainization of the Atlanta Olympics bombing hero, only to needlessly tarnish itself with a wanton and unfounded depiction of a female journalist at the center of the 1996 media storm.
Eastwood's drama is about Richard Jewell (Paul Walter Hauser), the security guard who discovered the bomb in Centennial Park and who, by moving crowds away from the suspicious backpack, saved lives from the explosion. One died and more than 100 were injured, but the damage done could have been significantly worse.
Jewell found himself quickly catapulted onto the national news and celebrated for his actions, only to soon turn into the focus of the FBI's investigation when misguided investigators decided Jewell - a so-called "frustrated white male" with an extensive gun collection who lived with his mom (Kathy Bates) and had a history of misusing his power - matches the profile of a "false hero."