Photo Gallery
Nature-inspired ceramics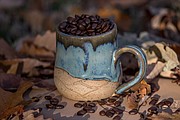 Bad weather and bad timing stymied foot traffic when potter Tori Hunt held the first of two Christmas sales at her home studio last month. She's hoping for better results for the second sale this Saturday.
"We live in a subdivision," says the owner of Two Ridges Pottery in Flintstone, Georgia. "Usually, a lot of neighbors walk over, but it was pouring rain all day and a lot of people were out of town for Thanksgiving."
She's hoping this sale, on the last Saturday before Christmas, will appeal to any last-minute shoppers looking for unique gifts. Her merchandise includes a multitude of what she describes as "nature-inspired ceramic essentials" - mugs, teapots, plates, bowls, pitchers, sippers, spoon rests, lemon juicers, stemless wine cups and dog bowls, to name a few.