Photo Gallery
Top Chattanooga stories of 2019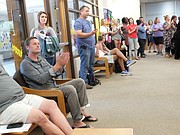 From record-breaking weather events to crime and big business moves, as well as a pair of nasty infrastructure failures, 2019's top stories show a Hamilton County driven by growth and change.
Times Free Press readers were asked to vote online from a list of stories this year. Here are their top 10 choices:
Erlanger CEO ousted
Kevin Spiegel helmed Erlanger Health System for six-and-a-half years during a time of both rapid growth and upheaval. But by the end of August, the writing was on the wall.
His admitted management style of "disruptive innovation" led to disputes with numerous physician groups, and he butted heads with politicians.
In May, the hospital's Medical Executive Committee penned a letter detailing concerns over chronic operational issues, including inefficiency, understaffing, poor morale, and policies that led to overcrowding in the main campus' emergency department and operating rooms. The group went on to unanimously approve a vote of "no confidence" in Spiegel and his ability to ensure quality and safety of patient care.
In September, Erlanger announced it had parted ways with Spiegel, and one week later his replacement, Dr. William Jackson, was named. At the same meeting, trustees agreed to pay Spiegel severance of one year's salary to the tune of $964,000.
Then in October, the health system eliminated 30 positions, including members of upper management, after new financial reports revealed losses totaling $8.9 million in fiscal year 2019.
Deputy charged
Hamilton County Sheriff's Office Deputy Daniel Wilkey, 26, was indicted in early December on more than 40 criminal charges related to traffic stops during which he is accused of a variety of misconduct, including illegal drug searches, a roadside body cavity search, a forced baptism and the groping of female minors.
He faces a criminal investigation and 11 civil lawsuits, including one alleging the wrongful death of a Rhea County man, over the course of his six-year career in law enforcement. His 44 criminal charges include six counts of sexual battery, two counts of rape and nine counts of official oppression. After his Dec. 11 arrest, his bond was set at $25,000, and he was released in about an hour.
Wilkey has been on paid administrative leave since July and will remain so pending his disciplinary hearing, which is set for Dec. 30, according to the sheriff's office.
TOP WEB STORIES
Here's what readers clicked on the most this year.1. On what would have been his wedding weekend, family of slain Chattanooga man gather at his burial site2. Man arrested after UTC student killed in robbery at Hixson Pike apartment complex3. A 14-year-old Georgia girl was kept in a dog pen, starved, beaten and abused by at least five relatives4. Union loses again at Volkswagen as Chattanooga workers vote down UAW bid5. Without once mentioning the Civil War, Georgia Gov. Brian Kemp signs bill protecting Confederate monument6. Discount retailer Roses is opening its first store in the Chattanooga area | Chattanooga Times Free7. Cook: The Bible, the moon and why being gay is not a sin8. Railing from the I-75 South bridge collapsed onto I-24/I-75 split, shutting down the interstate9. Hamilton County sheriff's deputy indicted on 44 criminal charges10. Chattanooga restaurant cited for flies, cook sweating onto food, dirty kitchen surfaces and more
Volkswagen's big year
One of the top employers in the Chattanooga region had another big year in 2019. With its mid-decade emissions scandal largely in the rearview mirror, Volkswagen of America broke ground on an $800 million plant expansion, unveiled a new car, named a new CEO and again saw employees vote down an effort to unionize.
Work began in early November on the new plant, which will serve as the automaker's base for its battery-powered future building electric vehicles. The addition of 750,000 square feet to Chattanooga's Volkwagen facilities will help to add 1,000 jobs to the plant's existing 3,800-person workforce.
On Oct. 11, VW introduced its newest SUV, the five-seat Atlas Cross Sport, based on the seven-seat Atlas, which is also made in Chattanooga. In July, the automaker named Tom du Plessis its new Chattanooga CEO. Formerly the director of production at multiple plants in China, he took over for Frank Fischer.
In June, a fierce battle for unionization was shot down when employees voted 883-776 against the bid to organize the factory. The vote was preceded by an onslaught of TV, radio, print and digital advertising that flooded the area over multiple weeks. The array of ads sought to gain the support of the approximately 1,700 VW production and skilled trades workers eligible to vote in the election.

Record rainfall
Hard, steady rainfall in February drenched the Tennessee Valley, triggering flooding and landslides, one of which flattened a Subway restaurant building at the foot of Signal Mountain.
By Feb. 23, the Tennessee Emergency Management Agency had declared a state of emergency, and President Donald Trump would go on to approve a disaster declaration for Tennessee, clearing the way for federal funds to flow into the area to help state and local governments and certain nonprofit organizations repair damage wrought by the torrential rains.
The storms made February the wettest February in recorded history in the Tennessee Valley, with rainfall totals sitting at 169% of average rainfall. Chattanooga alone saw 9.7 inches of rain in the month, with the Tennessee River reaching a designated flood level of 30 feet in the city, or about twice its normal depth.
Bridge collapse
It was no April Fools joke when the Tennessee Department of Transportation shut down on April 1 the Interstate 75 South ramp at the I-24 split after a piece of the side of the ramp collapsed, tumbling onto the I-75/I-24 ramp headed to Chattanooga. One person was injured when their vehicle plowed into the fallen debris. Officials later surmised that a truck carrying an illegally oversized load hit the bridge, slicing through steel cables that supported the concrete railing.
Officer killed
The Chattanooga area mourned in late February when Chattanooga Police Department Officer Nicholas Galinger was killed in a hit-and-run by an alleged drunken driver.
The 38-year-old, who was just beginning his career with the department, had been checking a manhole cover dislodged by flooding waters on Hamill Road when police say Hixson motorist Janet Hinds struck him.
She reportedly failed to stop. Police have said she was returning from an evening at a restaurant where she reportedly consumed multiple alcoholic beverages. Hinds faces 10 charges in the deadly hit-and-run, including vehicular homicide by way of intoxication and driving under the influence. She also faces a civil lawsuit filed by Galinger's family.
In an early December hearing, Hamilton County Criminal Court Judge Don Poole said he will set a specific date for the criminal trial of the 55-year-old Hinds during a motion hearing on July 7.
TOP STORIES OF 2018
1. Walker County deputy fatally shoots Rossville man on New Year's Day2. Johnthony Walker convicted3. Erlanger opens $30 million children's center4. Truck driver Ben Brewer convicted5. VW adds Atlas line6. Trump, Pence visit Chattanooga7. Sears closing last retail outlets8. Blackburn elected to Senate9. New governors elected10. Floods in September prove deadly
Water service outage
Chattanooga experienced a record-breaking water outage in September that left around 35,000 connections without water for as long as three full days. The outage occurred after a 36-inch water main, the largest in the Tennessee American Water Company's system, broke.
The burst pipe resulted in school, government and business closings, as well as a scramble by the city of Chattanooga and Hamilton County to provide drinkable water to citizens over the weekend while temperatures were as high as the mid-90s. Subsequently, citizens and business owners filed a class-action lawsuit against the private water company for damages related to the outage, which some believe could have been prevented by a failed 2010 plan to interconnect the system's infrastructure with that of Hixson and Eastside.
The company was slow to release information about the cause and impact of the break. While the cause is still unknown, the company has confirmed that maintenance was being performed within 20 feet of the damage at the time of the break.
Chattanooga Lookouts
The future of the Chattanooga Lookouts suddenly appeared in jeopardy in November when Major League Baseball proposed cutting 40 minor league teams, including Chattanooga of the Class AA Southern League. The announcement lit a fire under team owners' effort to procure a new ballpark, as the state of many minor league teams' facilities were among MLB's major concerns.
The Lookouts' home, AT&T Field, opened in 2000 as BellSouth Park. The name was changed in 2007.
Lookouts officials had viewed 2021 as a best-case scenario for a new stadium, but that no longer appears to be the case.
"I think that were we to have a plan together and try to move forward as quickly as possible, the soonest a new ballpark could be opened at this point would probably be 2022 and not 2021," said Jason Freier, chairman and CEO of Hardball Capital, which owns the Lookouts, among other minor league teams.
Riverbend changes
A bold new strategy to update Chattanooga's Riverbend Festival largely fell flat this summer, leaving the future of the festival in question.
Changes to the 2019 festival included reducing the length of the event from 10 days to four, doing away with one of the five stages, moving the event from the second week of June to the end of May, and nearly doubling admission prices in order to spend more money on bigger-name headliners. The festival booked Keith Urban, Weezer, Macklemore and Lionel Richie.
In September, the festival announced it had underperformed, then longtime Friends of the Festival executive director Chip Baker announced in October was stepping down.
Teacher pay
Teacher pay was at the center of wrangling between teachers and elected officials in Hamilton County this year.
In April, Hamilton County Schools Superintendent Bryan Johnson requested an additional $34 million in the district's fiscal year 2020 budget. The boost was to cover more than 350 additional positions, as well as to fund teacher raises.
In June, Hamilton County Mayor Jim Coppinger proposed a 34-cent property tax rate hike solely to fund education improvements, including pay raises for school district employees ranging from 2.5% to 5%. But on June 26, county commissioners voted for an amendment scrapping the rate hike, in a vote of 5-4.
Most recently, hundreds of teachers signed a petition in November, calling for more pay and school funding.