Photo Gallery
Hamilton County INCubator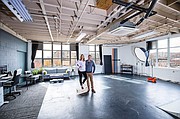 Passion for better, more sustainable or more transparent products and processes inspire hard-working Chattanoogans to embrace entrepreneurship. Entrepreneurs are scrappy, using every resource and spare minute to propel their business forward.
These visionaries, found everywhere from coffee shops to home offices, bolster our innovative ecosystem. But what's next when local startups outgrow those spaces? For many of them, it's a move to the INCubator in the Hamilton County Business Development Center, a program of the Chattanooga Area Chamber of Commerce.
If you're a regular Chattanooga Trend reader, you've heard about the stellar companies housed in the INCubator to take advantage of the program's enriching services and partnerships.
Since the 1980s the INCubator has been home to about 600 startups and now houses 49 businesses in industries ranging from environmental consulting and graphic design to hot sauce and candle manufacturing.
The