Photo Gallery
Trash in Chattanooga Creek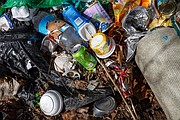 Chattanooga Creek remains filled with trash despite months of work by community leaders and volunteers who have removed thousands of pounds of waste from the polluted waterway.
A continuous line of garbage remains in the water and along the shore. Nowhere is it more apparent than the several dump sites where people have dropped off their unwanted waste along roadsides. Plastic bottles dot the shoreline where rolled-up carpet, a menagerie of trash and dozens of tires pile up before rain brings higher water to sweep it into the creek and toward the Tennessee River.
Randy Whorton lives near the creek and paddles it regularly.
"The trash has never been worse," he said. He estimates there's more in that one creek than the other creeks running through Chattanooga combined.
Last year, the nonprofit he founded, Wild Trails - dedicated to promoting an active lifestyle through trail running and other forms of outdoor recreation - led three community cleanups. Volunteers removed about 4,500 pounds of trash from the creek, but it's hardly apparent by looking along the creek now.
Trash has piled up faster than volunteers have been able to remove it. Each day, more and more comes as passersby toss trash from their car windows, rain washes litter into the creek and wind blows more into the waterway.
But that hasn't kept community members from trying.
Whorton will lead another community cleanup with the help of the city-run Scenic Cities Beautiful Commission and the nonprofit Tennessee Kids for Clean Water.
They'll take a crew out in canoes, kayaks and on paddleboards on Sunday, Feb. 24, to help, once again, clean up the trash that's been left behind.
The groups see the potential of the creek that runs through the city and into Georgia.
They believe its polluted past has largely been left behind.
The site was added to the Environmental Protection Agency's Superfund program in 1995. However, the groups see signs of remediation and progress. The site has been capped and much of the area has been cleaned.
Wildlife is returning. Otters and other animals once again call the creek home. Birds swoop from the trees to feed on organisms living in the water.
However, literal signs remain, reminding folks not to drink or eat from the water. Other signs warn residents of the elevated levels of fecal bacteria in the waterway and ask people to avoid swimming, wading or fishing in the waters.
"It's pristine looking, yet we know its history," Scenic Cities Beautiful program coordinator Jeanette Eigelsbach said.
The hope is that without the trash, Chattanooga Creek could return to its natural state from more than a century ago - before more than a dozen industries dumped waste, including coal tar, into the water.
"It looks so beautiful," Eigelsbach said. "You look at it and just ask why it's not the most used and visited creek in the city. But we all know about the remediation."
Project organizers have seen the work being done citywide to clean waterways. Cleanups are becoming more frequent and well-attended, and they hope that trend continues.
They're encouraging residents to be mindful of how they handle their trash and hoping more take part in cleanup efforts. TenneSEA Executive Director Mary Beth Sutton encourages area residents to reduce their use of single-use plastic. That's where she believes the biggest impact can be made.
"We've been inspired by Randy and so many others about the good work people are doing on different waterways," she said. "I think that we've got a movement going, and we're going to try to get some more people involved."
Organizers are hoping 10-15 people with paddle boats attend and up to 10 more willing to help from shore. Gloves, bags and totes will be provided. Garden rakes are helpful for those working on the water to collect trash. There's no RSVP required. Volunteers will meet close to the intersection of Burnt Mill Road and Lee Avenue. The event is from 1-4 p.m.
The put-in will be located near the dumpster next to the bridge going over the creek. There's only room for one car at a time, so organizers will be out helping direct volunteers where to launch their watercraft and park.
Contact staff writer Mark Pace at mpace@timesfreepress.com or 423-757-6659. Follow him on Twitter @themarkpace and on Facebook at ChattanoogaOutdoorsTFP.