Photo Gallery
Trash in Chattanooga Creek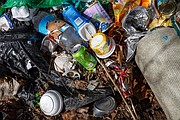 Chattanooga Creek remains filled with trash despite months of work by community leaders and volunteers who have removed thousands of pounds of waste from the polluted waterway.
A continuous line of garbage remains in the water and along the shore. Nowhere is it more apparent than the several dump sites where people have dropped off their unwanted waste along roadsides. Plastic bottles dot the shoreline where rolled-up carpet, a menagerie of trash and dozens of tires pile up before rain brings higher water to sweep it into the creek and toward the Tennessee River.
Randy Whorton lives near the creek and paddles it regularly.
"The trash has never been worse," he said. He estimates there's more in that one creek than the other creeks running through Chattanooga combined.
Last