Photo Gallery
Daily Photos 01/20/2007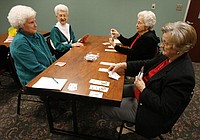 Community members and law enforcement agencies here and across the country expressed shock and grief Sunday as word spread that Chattanooga police officer Nicholas Galinger had been killed in a hit-and-run.
Galinger, 38, was struck by a car late Saturday while he was inspecting a manhole cover that had water flowing from it in the 2900 block of Hamill Road just after 11 p.m. The driver fled the scene.
He was taken to a local hospital with life-threatening injuries and later died.
Galinger, who was from Cincinnati, Ohio, graduated from the police academy in January. He was with his field training officer when the incident occurred.
During a news conference Sunday morning, Chattanooga police Chief David Roddy announced Galinger's death.
"It is with great sadness that I inform you that Chattanooga police officer Nicholas Galinger succumbed to his injuries," the chief said, stepping away from the podium and taking a moment to collect himself.
"The department, this community lost not just an officer but a son, a father, a friend and a protector," he added.
Chattanooga police officers and law enforcement in surrounding communities worked throughout the night searching for the suspected vehicle, and Roddy called for the public's help in locating the vehicle and its driver. It was described as a 2017 or 2018 Honda CR-V with heavy front-end damage.
Investigators were reviewing any surveillance footage and the field training officer's body-worn camera footage for answers.
"I assure you that we will not stop until this vehicle and its driver are located," he said Sunday morning. "I implore the driver to turn him or herself in immediately."
On Facebook, an East Ridge resident who said she owns a CR-V said police came to her house twice Sunday, once at 3 a.m. and then at 8 a.m.
"They are determined to find this person!!" she wrote in an East Ridge neighborhood group.
By about 3:30 p.m. on Sunday, police located a white Honda CR-V parked in the driveway of a home in the 200 block of Port Drive in Hixson. The vehicle had extensive front-end damage to the hood and a severely cracked windshield.
Investigators knocked on the door of the home, but no one answered. They believed no one was home at the time.
Police worked to obtain warrants for the house and to remove the vehicle to collect any evidence, such as fingerprints and any DNA.
Around 7 p.m., a large covered trailer was seen pulling into an area police had blocked off to remove the damaged vehicle.
Police hadn't named a suspect but did say a woman who owned the house and the vehicle was a person of interest. However, they hadn't established whether she was the one driving the vehicle at the time it hit Galinger.
At the scene Sunday, circles of blue spray paint and a pair of orange gloves remained just feet away from the still-bubbling manhole cover on Hamil Road.
An orange construction barrel was positioned in the middle of the road to warn drivers to slow down before hitting the standing water caused by the overflow from the manhole. Several drivers continued without slowing down, while others heeded the warning and slowed to a crawl.
A police vehicle was parked in a crowded church parking lot not far from the scene, and law enforcement from surrounding agencies passed by periodically.
"The Chattanooga Police Department appreciates all of the support we've received during this most difficult time," Roddy said at the news conference.
Law enforcement agencies took to social media Sunday to extended their condolences to the Chattanooga Police Department and the victim's family.
"Law enforcement is a dangerous career and those who heed the call to serve do so willingly and selflessly," Hamilton County Sheriff Jim Hammond said in a statement. "Despite the dangers of the profession, each day men and women across our nation choose to don the uniform of their local law enforcement agencies to serve and protect. They leave their homes not knowing if they will return In the case of last night's tragic incident, our community, our nation, lost another brave public servant."
THP's tribute to Chattanooga Police Officer Nicholas Galinger killed in the line of duty. @ChattanoogaPD pic.twitter.com/NoObuDNyt3

— THPChattanooga (@THPChattanooga) February 25, 2019
Hamilton County Mayor Jim Coppinger said Galinger died while serving and protecting the public.
"We join the Chattanooga Police Department as they mourn this loss and join his fellow officers in their prayers and thoughts for Officer Galinger's family during this terrible, tragic time," he said in a statement.
Chattanooga Mayor Andy Berke added that it was "a life cut short in service to our community is a uniquely terrible loss."
"Chattanoogans join with the members of the Police Department to mourn this tragic event," he said.
The police department is working with Galinger's family on arrangements, according to a news release.
His death was the second loss to the Chattanooga Police Department within a week.
Sgt. John Monroe, the department's training sergeant, died unexpectedly at his home while off-duty Thursday. He had been with the department since 1998.
The last Chattanooga police officer to be killed in the line of duty was Sgt. Tim Chapin, who was gunned down in 2011 while responding to a pawnshop robbery on Brainerd Road. Galinger's death marks the 23rd for Chattanooga's police department since 1879.
Contact staff writer Rosana Hughes at rhughes@timesfreepress.com or 423-757-6327 with tips or story ideas. Follow her on Twitter @Hughes Rosana.