Missing the bus, a failed test, a fight at school, a sleepless night - these are all things that can lead to a bad day for any student at school. But when piled together and coupled with more traumatic experiences such as physical or emotional abuse, violence, hunger or the death of a loved one, these experiences can significantly impact a student's success.
Dozens of Hamilton County's Opportunity Zone teachers had the chance to learn about trauma and how they can respond to students who've had traumatic experiences during the district's second Urban Education Institute on Friday.
"If we understand our students and the challenges they face, hopefully we can put strategies in place to help address them." said Jenn Whalen, behavioral specialist and member of the Opportunity Zone leadership team. "In my career, when I think back through the things that were most challenging, it's not the academic piece - it's the people piece."
Whalen and Celeste McKenzie, exceptional education director for Hamilton County's 12 highest-need schools that make up the Opportunity Zone, used the Tennessee Department of Education's "Building Strong Brains" training to give educators strategies to help their students cope.
Photo Gallery
Urban Education Institute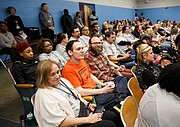 Oftentimes, students who are overwhelmed by traumatic experiences or stress misbehave, fall behind in class or simply don't show up at all.
"I've had situations where I didn't know what happened to my students the night before," Whalen said. "I've had situations where I read in the news that one of my student's siblings was shot and killed the night before and they still came to school the next day. We really don't know what our students are going through at home."
Trauma-informed teaching at schools has been championed by the state's education department in recent years, as research has proven that it impacts student performance. Locally, multiple summits and conferences have been held over the past few years as the school district and community organizations work to understand and address toxic stress in children.
More than 73 percent of teachers in Tennessee reported that they wanted more support on how to meet the non-academic needs of their students, according to the state's 2015-16 Educator Survey. Last fall, the state offered grants for schools to become "trauma-informed model schools," a two-year process that includes all staff members taking part in multipart training in trauma and developing strategies at the schoolwide and classroom levels.
Two Hamilton County schools, East Lake Academy and Hardy Elementary, received grants and are in the process of creating those models.
During Friday's abridged workshop, school staff including teachers, exceptional education teachers, reading specialists, school counselors and even a head chef, discussed how to build positive relationships with students, what a healthy brain needs in order to develop, and what trauma means to them. They also shared ways to take care of themselves and overcome secondary trauma that many teachers experience as they are overwhelmed by their students' needs.
"This is going to look different at different schools," McKenzie said. Different resources are sometimes needed by different students or in different classrooms, she explained. "Sometimes giving students the exact same supports isn't enough. Some kids just need more supports than other kids, just like academics."
The institute, held at Brainerd High School, brought together hundreds of school staff and faculty for a day of professional development and breakout sessions on topics such as cultural competency, classroom management for new teachers, school culture and trauma-informed classroom strategies.
"This work is not easy," said Jill Levine, chief of the Opportunity Zone. "I don't think there is ever a perfect day. However, I believe this work and the work that you are doing is the most important work."
Educational consultant Robert Jackson served as the keynote speaker for the half-day event. He encouraged educators to get to know their students and persevere through their difficult work.
"Some days you feel like quitting. Some of you are burnt out already and you just got off break. This job is for the humble. Education is bigger for you," Jackson said. "You don't have to like all your kids, but you have to love all your kids," Jackson told the auditorium filled with educators at the start of the day. "And to do that, you got to get to know your kids."
Contact staff writer Meghan Mangrum at [email protected] or 423-757-6592. Follow her on Twitter @memangrum.