Photo Gallery
Flying robots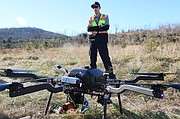 Would you rather be a lineman elevated high above the road in a bucket inspecting a power line or a sewer worker crawling underneath city streets?
How does dangling from a rope to inspect buildings or bridges sound? If a suspected bomb was placed outside a public place, would you want to be the one to investigate it?
Probably not, but these jobs - the ones that the average person might grimace or gasp at or would consider dirty and dull or deadly and dangerous - need to be done somehow and in some way. With rapidly evolving technology and the growing acceptance of drones, they could become a lot easier and safer, local business leaders and industry experts say.
When the word "drone" enters every day conversation, the first image that might come to mind is that of a small robot flying overhead at Coolidge Park or the Riverbend Festival- whether they are legally allowed there or not.
Leaders in drones, also referred to as unmanned aerial vehicles or UAVs, say they have the potential to be so much more, though. Drones could one day reshape the way we work across several industries from agricultural, mining and surveying to how public safety entities, like police, fire and emergency services, operate, said Ryan Wood, co-founder of Rocky Mountain Unmanned Systems, a Utah-based company that provides thermal package solutions for UAVs for industrial, commercial, government and educational entities.
While drones can't fix power lines or clean windows on the 20th floor of a building quite yet, agencies are using them for visual inspection and other purposes. The Hamilton County Sheriff's Office has a dedicated "drone pilot" and students at the University of Tennessee at Chattanooga have even used drones to test water samples for the larvae of mosquitoes, which carry Malaria, to conduct research on the prevention and eradication of the disease in Africa. Tennessee Valley Authority uses drones for dam and power line inspections.
"Drones aren't exactly taking people's jobs, but (they are) making jobs a lot less dangerous," Wood told the Times Free Press. "It's technology that benefits everyone."
Commercializing the technology
On a 200-acre tract of land in McDonald, Tennessee, two Chattanooga-based companies are partnering to harness some of the most sophisticated drone and imaging technology in the world right now for commercial interests.
Sitting in an open field on a clear, December afternoon, a black, gas-electric hybrid drone, about 8 feet in diameter and with six propellers was outfitted with a LiDAR sensor to collect measurements that will eventually help create 3-D maps and photos. The six-figure investment is called a Harris Aerial H6. It can fly for up to five hours with little cargo on board and ideal weather conditions and could possibly be one of the only ones in use in the domestic U.S.
The owners of the drone, Skytec co-founders Bill Rogers and Andy Carroll, joke that the drone resembles a charcoal grill with six robot arms coming out of it. Rogers and Carroll started Skytec in 2015 to provide clients with leading-edge UAV mapping, inspection and data analysis services and have since grown to a 10-person team with six full-time employees, including themselves.
Rogers is the CEO and formerly worked in the health care industry but said he has always had a fascination with the latest gadgets. Carroll, the former head of UTC's Interdisciplinary Geospatial Technology Lab, serves as the chief technology officer. While they also have battery-powered drones that can fly anywhere from 10-30 minutes on a good day, the significant investment they made in the Harris H6 puts them years ahead of some competitors.
"I was just excited from the aspect that it was a truly disruptive technology," Rogers said. "I mean here you have traditional methods of gathering data and along come the flying robots that have a myriad of different sensors that you could put on there and gather information."
"It's all analytics with industries these days so with this it's just flying robot information analytics," Carroll added.
When Rogers and Carroll first formed Skytec, it was during what they referred to as a kind of "early drone, unmanned-hype stage" before reality set in and the Federal Aviation Administration began regulating drones more. As operators of drones, they have to have a Part 107 remote pilot certification and stay updated on safety and fedearl regulations.
They have worked on a variety of projects from mining to more environmentally friendly projects, like stream restorations. Their drones have been clipped by manned aircraft flying too low and attacked by birds of prey that deemed the flying robot a threat. All that to say that Skytec is the world's first "Drone as a Service" provider to be awarded the ARGUS International platinum safety rating for successful implementation of the drone industry's best practices.
"I think people are starting to be a little bit more accepting of the industry, so we have to manage the number of requests we get because the technology is not an answer to every problem," Rogers said. "It is a specific tool for a real high-end use."
Drones open new markets for 81-year-old firm
Wingfield Scale and Measure and Skytec are providing clients with services that weren't even possible just a few years ago. Wingfield, a third-generation family business based in Chattanooga that has been providing scale rentals since 1937, saw the benefit of working with Skytec a little over a year ago.
Scales can tell a business the weight of something, like stockpiles in a landfill or the weight of a truck on the highway, but they give no indication of the volume, so Wingfield started a measuring department about five years ago to meet client requests. A few years after that, senior engineer James Kenney joined the company and helped forge a relationship with Skytec.
"We are both definitely start-up companies in regards to their company and our department," Kenney explained. "We have more roots tied to Wingfield but we are both new."
Wingfield's measuring department has anywhere from 80-100 clients with a majority of their customers from the mining industry, according to Kenney. They also work at places like landfills and cement facilities, using $150,000 laser scanners they can place on tripods or mount on vehicles with a GPS unit and integrated camera that will take a photo and overlay it with laser points, Kenney said.
Wingfield uses LiDAR technology on the ground, which is remote sensing technology that uses the pulse from a laser to collect measurements and create 3-D maps and photos, but they partnered with Skytec to use it in the air.
For mining clients who needed more information about areas with heavy brush and overburden, Kenney and his crew couldn't provide that, or at least in a timely manner. In older, traditional ways of surveying, a surveyor might go out and have to hike the whole piece of land and do some extensive groundwork for hours, or even days, to yield less accurate results or manned aircraft could attempt it but would provide lower-resolution data as a final product. Without Skytec's technology, Kenney said there would be several jobs they couldn't accept because they lack the time and/or resources.
"This technology - the way it is being used - is probably eight months old," Kenney said.
With anything new, comes trial and error. Kenney said the more clients Wingfield and Skytec take on together, the more they understand when it is beneficial to use this technology and when it isn't. Together, they have worked with about 25 mining and landfill clients, Kenney estimates.
With all this new technology raises the increasingly popular question, "Will robots one day replace us all?" Wood of RMUS doesn't think so.
"Automation is the future but only to a certain degree," he said. "You are going to need someone to repair the drones and also fly them. I don't think it's going to be nearly as extreme as people think."
There will always be the need for someone to operate the drone and fix any broken parts. Some colleges and universities, like Embry-Riddle Aeronautical University in Daytona Beach, Fla., have started degree programs to train future UAV technicians.
There is no such program in Chattanooga yet, although schools like UTC are experimenting and researching with the technology, but Rogers and Carroll said they have been taking their drones to local schools to show students. They once worked with the Chattanooga STEM school on a campus mapping project.
"The look on those kids' faces when they see the technology tells you it is absolutely the future because you can see the imagination in their eyes," Rogers said. "It has a very bright future when you see kids that excited. We are just busy putting that potential to good use."
Contact staff writer Allison Shirk Collins at ashirk@timesfreepress.com, @AllisonSCollins or 423-757-6651.