Photo Gallery
Lacrosse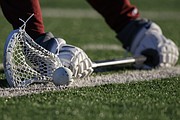 While McCallie School's lacrosse team has won 10 state championships and sent 85 student-athletes to college programs since its program came into existence in 1989, something has been missing.
For eight-time state champion Blue Tornado coach Troy Kemp, the chance to play for TSSAA state championships beginning in spring 2022 is a dream come true.
A sport that originated in the 17th century, played by Native American tribes, became the first sport added by the Tennessee Secondary School Athletic Association since bowling debuted in 2002. The legislative council voted last month to approve a proposal to sanction boys' and girls' lacrosse.
"If your school doesn't get varsity letters, it's hard to justify the amount of time kids put in to not be recognized," said Kemp, who took over McCallie's lacrosse program in the 1993 season. "The sanctioning of the sport allows a chance for us to become legitimate. Our guys have been putting in the same hours as others do on the track, baseball, soccer field, etc."
Tennessee is the 25th state in the country to sanction high school lacrosse, which has grown rapidly in the South in recent years. Atlanta welcomed a Major League Lacrosse team in 2017, while there are more than 100 prep teams in Georgia, where the GHSA has recognized boys' and girls' state champions since 2005.
"We have seen tons of excitement and positive feedback whether on social media or from member schools interested in adding the program at their schools," TSSAA assistant executive director Matthew Gillespie said. "There will be significant growth over the first few years. This is another great opportunity for students to become student-athletes and participate in a sport."
This past season there were 11 lacrosse programs in Hamilton County that competed in the Tennessee Scholastic Lacrosse Association. Baylor and Signal Mountain had both boys' and girls' teams, and there were boys' teams for Boyd Buchanan, Chattanooga FCA (Hixson), McCallie and Soddy-Daisy. Ooltewah had a girls' team, and Girls Preparatory School and Chattanooga Girls Leadership Academy also had programs.
After a breakthrough spring season for Soddy-Daisy, which went 13-2 and was a state runner-up, coach Joshua Wicks is elated to see the sport continue its upward trajectory. The Trojans believe they can make their division final again this year, and the school is adding a girls' team this spring.
"I have dreamed of the TSSAA making lacrosse a sanctioned sport," said Wicks, a Baylor graduate who is 32-17 overall in three seasons with the Trojans. "Not only is this big for existing club programs, but now with the state backing us up, every high school out there has the opportunity to get funding from the state and start a program."
The typical lacrosse season for Tennessee teams begins as early as late February and can last through May.
"I have to give a huge thanks to our athletic director Jared Hensley, who voted to sanction the sport and has allowed us to play games on the varsity football field," Wicks said. "The support from the community and Jared has helped lacrosse become a growing power here. Not only do we have the opportunity for more financial help, but we have a family vibe now."
With standout lacrosse players around the area, including McCallie senior defender and Duke signee Cameron Henry - the No. 13 prospect in the nation, according to InsideLacrosse.com - the platform will continue to grow for athletes to showcase their talents.
"Any time there is an opportunity for guys and girls to get more involved in sports, it helps build resilience," Kemp said. "Having another option is a win-win for everybody. I don't care whether you are a public or private school. It will be really neat to see more teams in Chattanooga in the near future."
Kemp believes the biggest challenges ahead for lacrosse are finding coaches capable of moving the needle for players as well as finding officials who can manage the game.
However, a dream has come to life.
"Lacrosse is going to become an actual sport like football, basketball and baseball," Wicks said. "Our kids will have support from the faculty, student body and whole community. This really takes a weight off our shoulders."
Contact Patrick MacCoon at pmaccoon@timesfreepress.com or 423-757-6311. Follow him on Twitter @PMacCoon.