Photo Gallery
Hamilton school system progress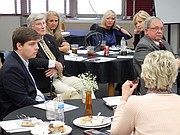 Hamilton County's state representatives are encouraged by the school district's progress under Superintendent Bryan Johnson, but still had some questions for the school board at a joint meeting Tuesday.
In stark contrast to a joint meeting between the school board and the Hamilton County Commission the previous day, the legislative delegation had much to say, including questions about career and technical education, student performance and other changes seen under Johnson's leadership.
The two groups met at Orchard Knob Middle School Tuesday for a review of Johnson's five-year strategic plan and the school board's soon-to-be-ratified legislative priorities.
Workforce development and focus on literacy will remain significant for lawmakers in the upcoming legislative session, as well as the focus on testing and how it can be improved.
State