Photo Gallery
Kevin Easley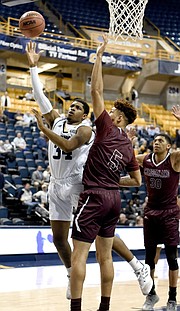 Forget, for a minute, that Kevin Easley has quickly emerged as the face of a resurgent University of Tennessee at Chattanooga men's basketball team that, frankly, didn't even have a body when the season started.
Set aside the fact he came to the Scenic City as the proud program's most decorated recruit ever, an ESPN-rated four-star forward from basketball-crazy Indiana who had offers to play for college programs including his home-state Hoosiers, Purdue, Nebraska, Butler and Cincinnati. It's not important that early in his prep career, Easley was mentioned prominently as a top-five player in the country for his signing class.
Put down the stat sheet that shows he is the Mocs' leading scorer and rebounder so far this season, with per-game averages of 14.9 points and 6.0 rebounds, and that the 6-foot-6, 232-pounder has made an insane 29 of his past 52 attempts from 3-point range.
What the Mocs want you to know about "Kev" is he's kind of funny and quite normal.
Well, the funny part depends on whom you talk to.
"He's a little bit goofy," sophomore transfer Ramon Vila said with a smile. "He's a freshman, you know. Like, sometimes we're in the locker room and the freshmen are making some jokes that are, to me, a little childish, but you see them just laughing and I end up laughing, too, because of just how dumb it is. You can't help it."
Added junior transfer Jonathan Scott: "He's goofy - a fun-loving guy who everybody wants to be around. If you are looking for a laugh, turn to Kevin."
It's also not a bad idea to seek him out when you need a big basket, such as the step-back 3-pointer he nailed to turn a precarious two-point lead over Samford to five with less than a minute to play this past Saturday at McKenzie Arena, sealing UTC's third Southern Conference win of the season.
Afterward, when asked about the shot and his team-high 20 points, Easley quickly deferred to his teammates and how he was just taking shots within the flow of the offense. Local media have quickly learned you cannot get Easley to brag on himself.
It's a characteristic that endeared him to his teammates, who were well aware of Easley's four-star status.
"I knew he was a good player. I mean, he came in as the highest-rated recruit in Chattanooga history," Scott said. "Most guys who are really good and have been hyped up their whole life are not usually good guys. Kevin is not like that."
The fact he's not caught up trying to promote himself or build a big reputation is part of the story of Easley becoming a Moc. After de-committing from Virginia Commonwealth University when former UTC coach Will Wade left the Rams in March 2017 to take over at LSU, Easley turned down more prominent programs in favor of the Mocs for two main reasons: honesty and the opportunity to play early.
"There were some big schools who were there and were wanting to see some development maybe they didn't see," said UTC coach Lamont Paris, who credited the job assistant coach Walter Offut did with Easley's recruiting. "They were kind of hanging around and playing it funny, but whereas once we identified him, we let him know we wanted him.
"I spoke with the dad a few times, and we hit it off immediately. He could tell I was a straight shooter, and he saw this as a place where we could really help his son develop and how much we cared for him."
But why would a star recruit go to a program that had exactly one player returning from a last-place mid-major conference when he had his pick of several perennial NCAA tournament schools?
The fit, it seems, was too good to pass up.
"I've been getting offers since the eighth grade. My dad and Coach Mike (AAU coach Mike Saunders) are the two that helped me" Easley said, referring to his AAU coach, Mike Saunders. "We picked the first school, VCU, but Coach Wade went to LSU, so things got a little crazy afterwards.
"We were really looking for a school that fits and not just go off a name, so I came down to Chattanooga and I really liked it. It had potential, you could see that. It was more of an opportunity, for me, to come in and play right away and make a difference."
And that he has done, leading a group of players who had never been on the court together to respectability. Early games were full of disjointed play as the Mocs tried to learn on the fly how to execute as a team.
As SoCon action began, Vila started to establish himself as a dependable option inside after being cleared to play and freshman guard Donovann Toatley found his niche off the bench. Those developments are some of the reasons why the Mocs have, their young star believes, turned their first of many corners.
UTC (8-10, 3-2) hosts Mercer (6-11, 1-4) tonight, with the men's game following a 5:30 p.m. women's game between UTC (6-10, 1-0) and Wofford (14-4, 6-0).
"I like the team this year," Easley said. "We are really good, in my opinion. We have a big man down there, Ramon, who is going to be a problem for teams. For me, it's not all about scoring. If teams are just focusing on me, someone else will step up and produce. It's okay for me to get four or six points and maybe eight or 10 rebounds and a bunch of assists; whatever will help us win.
"We haven't even turned a full corner yet, just a little one."
So has Easley's jump shot. In high school, he was a 6-foot-6 freshman who ate opponents up inside. As his North Lawrence team got more size around him, Easley was asked to move to the wing after his sophomore year, an adjustment that took time.
At UTC he's playing the No. 4 position, power forward, but his comfort on the perimeter has created mismatches in favor of Easley and the Mocs. After starting the season 5-for-24 from 3-point range, he has taken off, including a 5-for-5 performance in a SoCon win at Western Carolina on Jan. 3.
"Once he makes one or two early in the game, that's it," Vila said with a smile. "Every good player, if you let him get some easy buckets, he's going to end up destroying you, and Kevin is that guy for us.
"Man, he may be silly off it, but he doesn't act like a freshman on the court. He has shown he can play, score and rebound. I love playing with him, too, because if I have the ball and they are crowding the paint, I know I can kick it out and he can hit a three. Also, if he has the ball and they focus on him, I can get better looks. I really like it."
So does his coach, who said the obvious talent wasn't the first thing he noticed when he got to know Easley.
"His love for basketball stood out," Paris said. "He stands out for his passion about the sport. When you have that, you don't have to talk yourself into working hard or doing things outside your comfort zone; you can become special."
Contact Lindsey Young at [email protected] or 423-757-6296. Follow him on Twitter @youngsports22.