Photo Gallery
Medal of Honor Center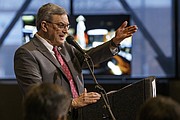 The invited guests, longtime supporters and vendors of the National Medal of Honor Heritage Center were still milling around the photographs and video on display Thursday when Andy and Chris Polahar walked in the ground floor of the visitor's center near the Tennessee Aquarium.
The Polahars were the first Chattanooga citizens not affiliated with the ceremony to come and see what the museum will look like when it opens in February 2020. Despite the rain, others would follow in the two hours of public time at the museum.
"Both of us are history buffs," said Chris, a former history teacher. "We love history. The museum will tell stories of heroism and bravery, the kinds of things you want your students to experience."
Heritage Center Board Chairman Maj. Gen. Bill Raines and Executive Director Keith Hardison welcomed more than 100 invited guests to the official groundbreaking for the museum, named after Medal of Honor winner and Signal Mountain native Charles H. Coolidge. Among those who came for the event was Molly Hudgens, recipient of the Citizen Honors Award from the Medal of Honor Foundation.
The foundation awards four medals to citizens each year who model the same character traits as those who have received the military Medal of Honor. There are currently 47 recipients. Recipients must be nominated by a Medal of Honor recipient, and the four are selected by all living Medal of Honor recipients.
Hudgens, from Ashland, Tennessee, is a guidance counselor at Sycamore Middle School. On Sept. 16, 2016, a 14-year-old walked into her office with a loaded 45-caliber handgun with an extra clip of bullets and told Hudgens he intended to shoot up the school and kill students. Hudgens knelt by his side and held his hand while he held the gun in the other.
"I didn't know if he was going to kill me or kill himself, but I just knew he was not going to leave my room," said Hudgens. "I told myself that this will not happen in my school."
Hudgens started at Sycamore in 1999, the same year that 13 people were killed and 20 wounded at Columbine High School in Littleton, Colorado. On that day, she committed herself to the study of school shootings, organized curriculum for schools and became a voice warning of future shootings.
"I felt like Noah building the ark when nobody thought it was going to rain," said Hudgens, who said she believed that God was preparing her for 19 years for that single day and single student.
It took Hudgens 90 minutes, all spent kneeling beside the student, to convince him to lay down the gun. The youth was never publicly identified and was committed to a mental health facility. After the event, the national media descended on Sycamore Middle School, but Hudgens refused to be interviewed, spoke only on video and only recently began speaking of the traumatic event.
"Yes, I was very scared," said Hudgens. "I have never prayed harder. It was the most earnest prayer of my life. When I received the award, one of the Medal of Honor recipients told me that 'fear is not a weakness, it is a tool,' and I realized how my fear had helped me."
After winning the award, Hudgens learned about Coolidge and sent a message to his family that she would like to meet him. She knew that Coolidge had just turned 95 and was battling multiple sclerosis. Without expectations of meeting Coolidge, Hudgens accepted an invitation to visit the Medal of Honor Museum in Northgate Mall. When she arrived, members of the Coolidge family met her and took her to Signal Mountain to meet Coolidge.
"It was an amazing experience," she said. "He was so humble and so kind. There was just something about him that connected with me. I told his family when I was leaving that I felt like we were kindred spirits. It was amazing."
Contact Davis Lundy at davislundy@aol.com.