Photo Gallery
Medal of Honor Center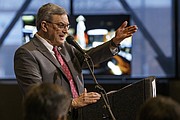 The invited guests, longtime supporters and vendors of the National Medal of Honor Heritage Center were still milling around the photographs and video on display Thursday when Andy and Chris Polahar walked in the ground floor of the visitor's center near the Tennessee Aquarium.
The Polahars were the first Chattanooga citizens not affiliated with the ceremony to come and see what the museum will look like when it opens in February 2020. Despite the rain, others would follow in the two hours of public time at the museum.
"Both of us are history buffs," said Chris, a former history teacher.