Photo Gallery
Chattanooga FC stock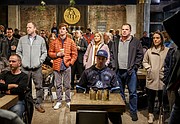 Similar to how the Green Bay Packers have survived in the National Football League, the Chattanooga Football Club is binding itself to the city that has built the soccer organization from the ground up.
From their motivation to remain in the Scenic City for the next "90 years," CFC owners decided to allow the public to buy stock in the team.
On Thursday, front of a packed crowd at the Camp House, CFC announced 8,000 shares of the club were made available for supporters to buy and become "true owners."
According to CFC, it is the first soccer club in the country to offer public shares. One share costs $125, and the maximum investment is $10,000.
By 8:30 p.m. Thursday, the club already had raised $122,750 from 347 investors.
"People keep running up to me saying have you seen the numbers grow," CFC co-founder and president Sheldon Grizzle said. "It's an honor to have people love and respect what we do. For our fans to actually invest and own part of the club is incredible."
Having attended his first CFC match in 2010, Chattanooga native Matt Sanders bought two shares right away for him and his wife.
"This club has given so much to the city," Sanders said. "CFC has brought a lot of people together that would never have met. I would have never met my wife if it wasn't for this team and bringing the city together."
The public is allowed to buy multiple shares until all 8,000 are bought up, however long that takes, Grizzle said.
There are six levels of investment tiers, each coming with its own benefits, ranging from a customized name on the back of an alternate CFC jersey to lifetime passes to games. Full benefit details can be found at wefunder.com/chattanoogafc.
"We are not buying stocks in the club for the benefits. We are in it to show our support for CFC, who has always been supportive of us," shareholder Jorge Loa said. "Our family business, Super Carniceria Loa (Latino grocery in Chattanooga and Dalton), has worked along with the club since the start. We love that they have always worked alongside the community."
Chattanooga Mayor Andy Berke attended the announcement and said he is excited to see what is in store for the soccer club.
"Chattanooga is a city of creators," Berke said. "We find out different ways to do things. This is a chance for us to show a different path in how you get involved in true ownership. CFC has been an incredible attraction for this city over the last 10 years."
Grizzle said the chance to grow a team owned in part by its fans is fitting.
"From the very beginning we wanted this to be Chattanooga's club/team," he said. "This is the perfect demonstration of the alignment from our ownership group and the city of Chattanooga. It's about growing something locally, owned by the people."
Contact Patrick MacCoon at pmaccoon@timesfreepress.com. Follow him on Twitter @PMacCoon.