Photo Gallery
Bearettes roll past Lady Hurricanes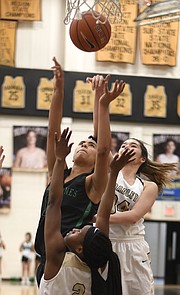 CLEVELAND, Tenn. - For nearly a decade Bradley Central has controlled District 5-AAA girls' basketball.
While one of the top freshman college hoopers in the country has moved on to Kentucky, the sixth-ranked Bearettes continue to cruise in the post-Rhyne Howard era.
Junior forward Anna Walker helped key a 75-38 dismantling of East Hamilton as the "Black and Gold" picked up its 62nd consecutive victory over a league foe Tuesday night in Jim Smiddy Arena.
"The streak is a really big deal to us," said Walker, who shot 9-of-11 on 2-point field goals on her way to finishing with a game-high 19 points, nine rebounds and three blocked shots. "We want to make this program proud.