Photo Gallery
Bearettes roll past Lady Hurricanes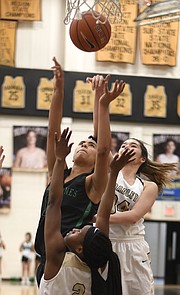 CLEVELAND, Tenn. - For nearly a decade Bradley Central has controlled District 5-AAA girls' basketball.
While one of the top freshman college hoopers in the country has moved on to Kentucky, the sixth-ranked Bearettes continue to cruise in the post-Rhyne Howard era.
Junior forward Anna Walker helped key a 75-38 dismantling of East Hamilton as the "Black and Gold" picked up its 62nd consecutive victory over a league foe Tuesday night in Jim Smiddy Arena.
"The streak is a really big deal to us," said Walker, who shot 9-of-11 on 2-point field goals on her way to finishing with a game-high 19 points, nine rebounds and three blocked shots. "We want to make this program proud. We knew what we were up against tonight. We had to shut Madison (Hayes) down."
With more than 2,000 points and 1,000 rebounds in her skyrocketing career as just a junior, East Hamilton's Hayes picked up three fouls early.
One of the state's highest recruited players, with offers from more than 20 Division I schools, Hayes finished with a respectable stat line of 11 points, eight rebounds, three steals and a block but fouled out with 1:36 left in the third quarter. She averages 25 points a game.
In a game where depth matters a great deal, Bradley Central (20-3, 8-0) had much more of it.
Junior Amelia Reuter was in full rhythm as she fired home a trio of open and assisted 3-pointers in the second quarter from the left wing. She had 11 points for the game. Fellow third-year reserve Alexis Barnes scored 13 of the Bearettes' 34 bench points on 4-of-6 shootiing from the field and 5-of-7 from the charity stripe.
"We are trying to win championships, and to do that takes strong depth," said Bradley coach Jason Reuter, who is aiming for the program's ninth district championship in as many seasons at the helm. "We were built to play this game, foul trouble or not."
The Bearettes scored 21 second-quarter points, of which 17 came from the red-hot duo of Reuter and Barnes.
East Hamilton (14-10, 5-4) put itself in severe foul trouble by the halftime break with two players already with four fouls facing a 31-16 deficit.
Hayes was the only player for the visitors to score in double figures, but senior Dezah Lacy nearly hit the double-double mark with nine points and 10 rebounds.
Walker came out firing for eight points in the first 3:27 of the second half as the Lady Hurricanes' defense kept space trying not to foul.
"Anna and Alexis are both mature and polished players," Coach Reuter said. "They are big enough to be very effective down low and can handle the ball and shoot from further out, too. They have worked extremely hard for this program."
The Bearettes finished a lopsided battle emphatically with a 21-0 run over the final 5:05 of the fourth quarter.
Bradley shot 48.2 percent from the field despite missing its first seven 3-pointers of the game. East Hamilton shot just 23.4 percent.
"They can shoot, they have great post play and they're hard to guard," East Hamilton coach Hunter Gremore said. "They do a good job defensively. They just have a really good system. Getting in foul trouble from the start cost us tonight."
Contact Patrick MacCoon at pmaccoon@timesfreepress.com. Follow him on Twitter @PMacCoon.