Photo Gallery
Shortened Riverbend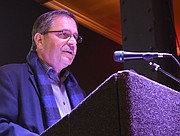 Country superstar Keith Urban will be one of four acts headlining this year's Riverbend Festival, which will be a couple of weeks earlier and five days shorter than in past years, Executive Director Chip Baker said Thursday.
The festival will take place May 29-June 1 with Urban headlining the May 31 date. The festival had been held over nine days in early to mid-June.
Baker confirmed the changes during a news conference and celebration Thursday night at Songbirds South. Baker said the Friends of the Festival board, which produces the event, realized changes needed to be made a couple of years ago, and he believes the leaner, shorter festival will allow them to focus on the fan experience and that the changes are part of the evolution of the 38-year-old festival.
"Riverbend has always been evolving. This is going to be really great," he said. "And, it will be a great experience."
Baker said that Friends of the Festival will work with AC Entertainment in booking the four headlining acts, with the other three to be announced in mid-February. AC produces the Bonnaroo Music & Arts Festival in Manchester, Tennessee, as well as the Moon River Festival here. It also programs the Tivoli, Walker and Memorial Auditorium theaters, and works closely with The Signal and Songbirds in booking touring acts at those local venues.
AC Vice President Ted Heinig said the Knoxville-based company views Chattanooga as a burgeoning music market that has seen a great deal of growth in recent years.
"We wanted to work with Riverbend because we are committed to the community of Chattanooga," he said.
"Chattanooga has been a tremendously underserved city for years, but now the city is on fire. The activity and excitement with what is happening in Chattanooga is through the roof. So when Chip asked us, we felt like it was a great opportunity to help Riverbend continue to be successful."
Other announced changes are that tokens will no longer be required for purchasing food and drink items and admission wristbands will feature an RFID chip that can be used for tracking festivalgoers' habits and purchasing. They will essentially double in price, though there will be reduced pricing available for buying early. Tickets go on sale Monday, starting at $60, and will rise in increments of $5 as certain sales targets are reached.
The Unum Stage will go away and that area will be used for parking. The Bessie Smith Strut and Faith and Family Night also will no longer be a part of Riverbend, at least for now.
Board member Mary Kilbride said the festival is hoping to find another entity to produce the strut, which has previously taken place on M.L. King Boulevard on the Monday during the festival "but it will no longer be a part of Riverbend."
She said the board struggled with losing Faith and Family Night, which was held on Tuesday of the festival and featured contemporary Christian music on a night when alcohol sales were suspended.
She said the decision to go to four days greatly impacted both decisions. She also said the changes were "long overdue.
"We had to make a change with two years in row where our audiences were not what we were accustomed to," she added.
She said making the changes reduces the costs of producing the festival, and coupled with the increased ticket price means more money can be spent on getting better acts. Heinig said his organization is pleased with the budget for booking acts.
"We are looking to book some really great acts, like Keith Urban. Chip and his staff do a great job, and we are really looking forward to booking the four main Coke [stage] acts," he said.
The Riverbend Festival started in August 1982 and included five nights of music mostly on the riverfront, but with a few other events spread throughout downtown.
In creating the festival, organizers listed almost two dozen original objectives. Among them were civic publicity, stimulating new architecture, national image promotion, economic benefit, artistic pleasure, attracting people to downtown and fun.
The first festival was free. Pins used for admission were introduced in 1983 and remained a part of the festival until 2014, when they were replaced with wristbands.
The event is run by Friends of the Festival, a nonprofit organization that produces other events, such as Riverfront Nights on the 21st Century Waterfront. Its first executive director was Bruce Storey, who was followed by Richard Brewer, who was followed by Baker in 1999-2000.
Early festivals actually lasted 10 days, as a speedboat race was held on the final Sunday. Riverbend has been a nine-day festival for most of its existence and it has been held in early to mid-June for many years as well.
Since 2002, it has coincided with the Bonnaroo Music & Arts Festival in Manchester, Tennessee, about an hour from Chattanooga, and the CMA Fest two hours away in Nashville. Bonnaroo will be held a week later on June 13-16 this year to avoid conflicting with CMA Fest, which will be June 6-9.
Contact staff writer Barry Courter at bcourter@timesfreepress.com or 423-757-6354.