Photo Gallery
Bus vendor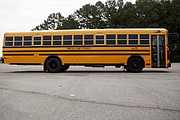 When Hamilton County students return to school this August, many of them will be arriving on one of 185 new buses outfitted with advanced safety features, thanks to the district's new transportation provider.
The district approved an $11 million contract with First Student Inc., one of the country's largest school bus vendors, in March. The contract ended the district's relationship with Durham School Services, which had been transporting Hamilton County Schools' students for more than a decade.
First Student officially took over bus operations as of July 1 and is working to get the new buses and drivers ready to hit the ground running on Aug. 7.
"We are committed to having a wonderful first day of school and a wonderful start and finish to the school year," said Anita Brown, senior location manager for First Student. Brown previously worked as transportation director for Hamilton County in the 1990s.
First Student is providing 185 new buses "straight from the factory," per its contact with the school district, Brown said.
Each bus has air conditioning and is outfitted with six cameras, including three interior cameras (in the rear, middle and front); a forward-facing dash camera; a back-up camera; and a camera triggered by the bus's stop arm.
"That camera will activate when our crossing gate is out," Brown said. "That lets the motorists know that students are getting on and off the bus."
The buses do not have seat belts, which are not required by the state of Tennessee. District spokesman Tim Hensley said the district is working with the state on getting grant funds to install seat belts on buses in the future.
The district will have 100 bus monitors for the 2019-20 school year, with 64 of those monitors on routes with special education students.
First Student is also implementing a feedback system called First Feedback. Every bus will have a sticker prompting anyone with a concern or question to call 423-498-5555 and report it.
Bus safety has been a significant concern for Hamilton County district leaders and parents since the 2016 Woodmore Elementary School bus crash.
The crash was one of the main reasons school board members sought to separate from Durham, which found itself at the center of the Woodmore tragedy after one of its drivers was convicted in the deaths of six children and community members raised questions about safety.
"I'm excited that we get to start afresh from Durham and for our kids to be on brand-new buses and with some new drivers," said school board member Karitsa Mosley Jones, who represents Woodmore's District 5.
Board member Tiffanie Robinson, of District 4, echoed Jones.
"I think the safety enhancements are really important for building trust back for parents and for making students feel safe on the buses," Robinson said. "Even beyond the safety features, First Student seemed to really press that they are much better at communication than Durham is, and I think that will be a really key piece for judging how strong of a vendor they are."
District leaders and board members have previously discussed moving the school system's transportation system in-house. Some argue it would be cheaper and give the district more oversight over safety and communication.
The new three-year bus contract also does not cover all of Hamilton County's bus routes. The district still contracts with 74 private contract drivers, which it explored increasing in 2016 after the Woodmore bus crash.
These independent contractors own their own buses and have been servicing the district this summer, since Durham closed shop at the end of the school year.
Many of the safety features available on First Student buses are not available on contractor buses, according to Hensley.
"The contractor buses are owned by the contractors and will not have the same features as the new buses purchased by First Student," Hensley said in an email.
Most will not have A/C and contractor buses have cameras but not as many as the new buses, he said.
Brown said First Student is still in the midst of hiring and training bus drivers, but is committed to having the fleet prepared for the first day of school.
Drivers are required to complete 50 hours of both in-class and behind the wheel training, she said. They receive training on passenger management, student behavior and how to operate the bus, she said.
Drivers also undergo background checks, fingerprinting, drug testing and a physical.
"Our biggest safety feature are the drivers," Brown said. "We transport thousands of students every day and that's the most important thing we do."
Hamilton County Schools Transportation Director David Eaves said the district is excited about its new partnership with First Student.
"We have had a very smooth transition and excellent support from the First Student staff, and we look forward to a very successful working relationship," reads a statement from Eaves.
Contact Meghan Mangrum at mmangrum@timesfreepress.com or 423-757-6592. Follow her on Twitter @memangrum.