Photo Gallery
USA Baseball national program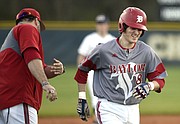 Three players from Baylor's state championship baseball team have been selected to participate in USA Baseball's 16-under National Team Development Program.
Rising juniors Daniel Corona, Cooper Kinney and Nick Kurtz, who also were part of the USA 14-under national team that competed in Taiwan, were chosen as part of the 36-man roster that will train at the USA Baseball National Training Complex in Cary, North Carolina, from July 31 to Aug. 5.
"It's a prestigious honor," Baylor coach Greg Elie said. "They're in elite company, the top 36 guys in the country. USA Baseball is held in such high regard by everyone involved in baseball around the country, and they'll get to learn from some of the best coaches in the country.
"USA Baseball only takes the best team guys because they build teams, so it says something about what great teammates those kids are along with how talented they are. It's a great opportunity."
The NTDP offers players an opportunity to connect with USA Baseball staff to prepare for future national team experience. The program includes skill-development sessions, off-field education seminars, an intrasquad series and exposure to professional scouts, college recruiters and the 18-under national team staff.
The players were chosen based on their participation and performance at USA Baseball-sanctioned events.
Corona, who batted .367 with 15 RBIs last season, has committed to Wake Forest, and so has Kurtz, who hit .337 with three homers and 20 RBIs and was 3-0 with a save and 36 strikeouts in 24 innings pitched. Kinney, who has committed to South Carolina, batted .393 with five homers, 26 RBIs and 18 runs scored.
"It's a really great honor just being a part of it," said Kinney, who was also a part of USA Baseball's 12-under team. "I certainly don't take it for granted, and I know not many kids get this experience. I'm pretty proud of it."
"It's very hands-on, and you're competing with some of the top players in the country."
The three were part of a group that helped Baylor repeat as TSSAA Division II-AA state champion in late May. That team was comprised of eight players who had either signed or committed to college programs, and the five pitchers the Red Raiders used during the state tournament, including Kurtz, had more strikeouts (26) than hits allowed (17) over 19 innings pitched, including a 17-inning scoreless streak.
Contact Stephen Hargis at shargis@timesfreepress.com or 423-757-6293. Follow him on Twitter @StephenHargis.