Photo Gallery
USA Baseball national program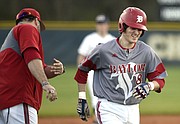 Three players from Baylor's state championship baseball team have been selected to participate in USA Baseball's 16-under National Team Development Program.
Rising juniors Daniel Corona, Cooper Kinney and Nick Kurtz, who also were part of the USA 14-under national team that competed in Taiwan, were chosen as part of the 36-man roster that will train at the USA Baseball National Training Complex in Cary, North Carolina, from July 31 to Aug. 5.
"It's a prestigious honor," Baylor coach Greg Elie said. "They're in elite company, the top 36 guys in the country. USA Baseball is held in such high regard by everyone involved in baseball around the country, and they'll get to learn from some of the best coaches in the country.
"USA