Photo Gallery
Grundy man's hearing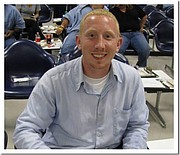 ALTAMONT, Tenn. - After a morning of testimony Wednesday from a private investigator, two inmates and a former Grundy County sheriff's detective, Circuit Court Judge Justin Angel halted court action after the state and murder convict Adam Braseel's attorney agreed to reconvene July 31 for expert testimony.
Braseel, 36, was in court in Altamont, Tennessee, for a hearing on his petition for a new trial stemming from his 2007 first-degree murder conviction in the December 2006 beating death of 60-year-old Tracy City resident Malcolm Burrows and an assault on Burrows' sister, Becky Hill.
More than 100 supporters and Braseel family members packed the gallery, many in screen-printed shirts with supportive slogans. When Braseel appeared in the courtroom he was greeted with cheers from the gallery, followed by a warning from Angel for the gallery to remain quiet.
Witnesses called to the stand were questioned by Braseel's attorney Alex Little, 12th Judicial District Assistant District Attorney Steve Strain, District Attorney General Mike Taylor and Judge Angel himself.
In February, Braseel sought a new trial based on "new evidence" in the case after the release of fingerprint evidence found in Burrows' car at the crime scene in 2006. That fingerprint wasn't identified until last year when the TBI matched it to Kermit Eugene Bryson, who in 2008 shot and killed Grundy County deputy Shane Tate, then took his own life later the same day. Braseel contends he and Bryson resemble each other, the cars they drove at the time were similar and that a wallet was found on Burrows by a Grundy County sheriff's investigator who never testified at Braseel's 2007 trial. The state contended the motive was robbery because the wallet was said not to have been found.
On Wednesday, Little first called on Robert Young - a former Nashville police officer who works as a private investigator - who testified about the similarities between a car Braseel was said to use in 2006 and another said to be used by Bryson, who Little suggested was a potential suspect overlooked by investigators.
Little then called two inmates. The first, Cody Crisp, testified that he knew Bryson from when he was about 16, hung out with him frequently and knew that he sometimes drove his girlfriend's car around the time of Burrow's murder.
Crisp also testified about others who hung out with them, including Elizabeth Rector, another inmate, who testified about a conversation she and Bryson had while they were parked in the woods getting high sometime in 2006 or 2007, she said.
In her testimony under direct examination by defense lawyer Zack Lawson, Rector said she and Bryson often rode around getting high in her truck, but on one occasion he was "venting," and it was this account Little wanted Angel to hear.
Rector said Bryson was talking about Burrows and how he "had to kill him" and the shocked Rector said, "I didn't ask questions. That's something big. Sometimes you don't want to know all the answers ... "
Rector, who testified that she doesn't know Braseel, said she came forward because "it needed to be out there" and "because I needed to get it off my chest."
Under cross examination by Taylor, she testified she couldn't remember when the conversation with Bryson took place and only came forward recently after having gone through drug rehabilitation for her addiction.
She told Taylor, "I ain't been in my right mind in 12 years."
Little then called Michael Brown, a former local law enforcement officer who worked as a deputy at the Grundy County Sheriff's Office under then-sheriff Brent Myers.
Brown testified that on Dec. 7, 2006, he was called to the Burrows home on Melissa Rock Road by the first deputy who got there and said he'd found an assault victim they later identified as Becky Hill.
Brown testified that he drove past a blue Chrysler a short distance from the house as he got there. He said Hill was bleeding profusely and said a man who'd asked for help from Burrows with his broken-down car returned saying Burrows told him to get some starter fluid.
When Hill bent to get the starter fluid from under a sink, she was attacked and beaten.
Document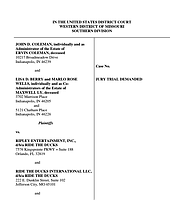 Another person at the house, Kirk Braden, was awakened when he heard her screaming. The attacker threw a fire extinguisher at him and fled, Brown testified he was told.
Brown testified he walked around the house and went down the road "to check on the Chrysler" he'd passed earlier. He said he noticed a trail into the woods, walked along it and spotted a body.
He said he checked for a pulse, found none, and then saw "a large wallet in the pocket of this individual and I pulled it out and looked in it and the ID was 'Malcolm Burrows.'"
Then, he testified, he returned the wallet to Burrows' pocket and walked back to the house.
Brown said he produced a written report on his home computer during the next week and developed film he shot at the scene to submit to the sheriff. He said the report, to his knowledge, had since disappeared.
Strain attacked Brown's recollections of the report and showed him a statement from Angie White that Brown had signed during the investigation but he couldn't recall on Wednesday.
Strain showed Brown a copy of a 911 dispatch traffic the night of the killing and grilled Brown on the timeline of events.
After the lawyers were through, Angel asked questions on details about the wallet; it was a bifold, thick and full of something Brown assumed was money.
Brown also testified that he relayed information to investigators about Braseel fitting the description of a young man with "short red hair," something, according to testimony, not common in Grundy County.
Brown stepped down from the stand and, after a short conference with state and defense lawyers, Angel halted court action so the attorneys can prepare for expert witness testimony when the hearing reconvenes July 31.
Braseel was sentenced in 2007 to life in prison with the possibility for parole, and prosecutors have said he will serve at least 51 years behind bars before parole eligibility. By then, he would be in his mid-70s.
As Braseel left the Grundy County Courthouse to be returned to prison a large group of well-wishers cheered "Bring Adam Home."
After the hearing, his sister, Christina Braseel, said she was "very hopeful, even more so than before."
"We had high expectations," she said. "But realistically we know that it is a process and we are confident that Judge Angel is thoroughly going through all the information given on all the testimony today."
"I believe the next time we have court on the 31st, we'll actually be able to bring Adam home," she said. "I hope."
Contact Ben Benton at [email protected] or 423-757-6569. Follow him on Twitter @BenBenton or at www.facebook.com/benbenton1.
BRASEEL CASE TIMELINE
Jan. 7, 2006: Malcolm Burrows found dead near his home in Tracy CityJan. 8, 2006: Adam C. Braseel developed as a suspect in caseMarch 2006: Braseel indicted for first-degree murder, felony murder, especially aggravated robbery, attempt to commit first-degree murder, aggravated assault, especially aggravated burglary and assaultNov. 7, 2007: Braseel convicted by a jury of first-degree murder, first-degree felony murder, especially aggravated robbery, attempt to commit first-degree murder, aggravated assault and assault. Sentenced to life in prison on the murder charge with other sentences on other charges ordered to run concurrently with the life sentenceSept. 17, 2010: Braseel files appeal, challenging sufficiency of convicting evidence for murder and the other charges arguing the pre-trial identification process was flawedFeb. 17, 2011: Appeal denied by the Tennessee Court of AppealsNov. 17, 2015: Petition seeking new trial claiming insufficiency of counsel, identification issues and a lack of any other evidence aside from witness identificationDec. 25, 2015: Judge Justin Angel grants Braseel's motion for a new trial and releases him from prisonOctober 2016: Angel's ruling overturned and the convictions reinstated by the Tennessee Court of Appeals and Braseel is returned to prisonFeb. 24, 2017: Tennessee Supreme Court denies Braseel's application seeking a hearing on caseMay 23, 2017: Braseel appeals murder conviction based on new evidence regarding a wallet found at the scene belonging to the victim that at trial was said to be missingMay 23, 2017: Braseel seeks Habeas Corpus in U.S. District Court to declare his convictions unconstitutional, with the federal filing meant to preserve his rights with respect to the original post-conviction petitions while state filings are resolvedJuly 3, 2017: State files motion to dismiss the state appealNovember 2018: Fingerprint found on the victim's car matched to Kermit BrysonFeb. 13, 2019: Braseel files petition for new trial based on new evidenceApril 12, 2019: State files motion to dismiss petitionJune 26, 2019: Hearing in Grundy County Circuit Court on petition and associated motionsJuly 31, 2019: Hearing reconvenes in Grundy County for state and defense expert testimonySource: Grundy County Circuit Court, Tennessee Court of Criminal Appeals, Tennessee Supreme Court