Photo Gallery
Hamilton County Commission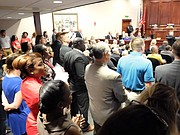 School leaders are disappointed but say "it's not over" after the Hamilton County Commission on Wednesday voted down a 34-cent property tax rate increase to provide more funding for the school district in the county's fiscal year 2020 budget.
Commissioners voted 5-4 to amend Mayor Jim Coppinger's proposed $819 million budget, which included an additional $34 million for Hamilton County Schools on top of predicted growth money from state and local taxes.
"I'm just really disappointed in the five commissioners who made a choice not to support education in Hamilton County," said school board member Kathy Lennon, of District 2. "It's really sad that our community is speaking so loudly and is supporting [Superintendent Bryan] Johnson and these five commissioners are stuck. They aren't supporting our children. They aren't supporting our teachers. I think they made a statement today. But we are going to keep fighting. ... I'm going to remain hopeful because we have to be hopeful to our kids."
Board member Joe Smith, of District 3, was also discouraged. On Wednesday, he testified in favor of the increase during public comment at the commission, noting that Hamilton County's children need additional supports in schools.
"When I was a little boy, my monsters were pretend," Smith said. "A lot of these kids, their monsters are real."
But Smith said after the meeting that "maybe the answer today wasn't 'no,' maybe it was 'wait a minute.'" He told the Times Free Press he hopes commissioners will explore other ways to fund an increase for schools whether through a wheel tax, increased sales taxes or other funding alternative.
Meanwhile, District 8 school board member Tucker McClendon said the school board will be going "back to the drawing board" and will have to come up with another budget request, now that its original request - approved on May 9 - has been sent back.
"We have some really tough decisions [to make] that are going to impact our students for years," he said. "We are going back and not making the progress we could be making and not putting this county in the right direction."
Both McClendon and Smith are in favor of continuing the budget discussion after state test results and the facilities audit report that several commissioners have said they want to see before increasing school funding are released.
The entire county budget will remain in limbo until the commission approves a full budget and both the county and school district will be operating under continuation budgets.
Johnson doesn't anticipate that will affect the district as it gears up for the 2019-20 school year, but Chief Business Officer Brent Goldberg said there will be some impacts as schools prepare for students to arrive on Aug. 7.
"We are essentially using the FY 2019 budget as amended, we can still allocate money to schools like we did last year," Goldberg said. "The real impact is on the positions and all the other things in the budget that are in the budget."
Goldberg said the budget limbo puts the district in a hiring freeze for any of the more than 350 additional positions that were included in the requested budget.
Even if some of those positions are ultimately approved, the district could miss out on certain individuals who were left in limbo during the hiring freeze. Students will most likely be affected by uncertainty around school fees, he said.
The proposed budget included an elimination of general instruction school fees, but as the school board reviews its proposed budget, it will determine what it can afford and what it can't.
Any pay raise for district employees and step increases for teachers will also be on hold as of July 1 until a budget is approved. Any approved raise and annual step increases will be retroactive after a budget is approved, though.
The county is required by law to have a budget by Aug. 31.
Johnson told the Times Free Press he shared board members' disappointment.
"Obviously, the budget was and is a statement of values. And this budget was compiled based on feedback from the community and our teachers and leaders and students," he said. "We obviously are disappointed for children in regards to the outcome of today's decisions by the commission."
The board and Johnson's staff will work collaboratively to put together another budget, he said. But he does not anticipate that results of the facilities audit will play a role in further budget discussions.
"Whether it's post-secondary opportunities, or student achievement or teacher pay this budget is really about schools," Johnson said. "As far as the facilities conversation, this is really a two-part conversation the capital piece is going to be a different discussion. That's going to be a reality we're going to have to continue to deal with for years and years and years."
The school board has not announced a special-called session or a meeting to discuss the budget, but it does have a meeting scheduled for July 11 to discuss policy and the new proposed student code of conduct.
It is unclear if the board will discuss the budget at the July 11 meeting or schedule a meeting before then.
Contact Meghan Mangrum at mmangrum@timesfreepress.com or 423-757-6592. Follow her on Twitter @memangrum.