Photo Gallery
Captain Phillips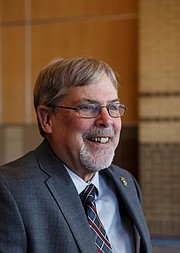 Richard P. Phillips sees himself as a retired merchant marine. A sailor. It's all he really wanted to be since his first taste of life on the open sea.
His boyhood experience as first a Cub Scout and later as a Boy Scout for about three years taught Phillips to be prepared, a motto that would serve him well in his adulthood, Phillips said Wednesday, prior to speaking to attendees of the 15th Annual Friends of Scouting Luncheon at the Chattanooga Convention Center.
Phillips, 63, was the captain of the MV Maersk Alabama in the spring of 2009 when four Somali pirates in an open skiff in the Indian Ocean pursued and boarded the cargo ship he was sailing, beginning a five-day ordeal that would become the subject of Phillips' own book, "A Captain's Duty: Somali Pirates, Navy SEALs and Dangerous Days at Sea," and the basis for the 2013 film "Captain Phillips," starring Tom Hanks.
Phillips was introduced after Friends of Scouting campaign chairman Jeff DeLoach, president of the Times Free Press, and Rich Mozingo, the friends luncheon chairman and president and general manager of the Chattanooga Lookouts, talked about the impact scouting made on them and their families, going back to their own childhood memories and giving accounts of how the experience carried through into their families' lives.
In an interview prior to Wednesday's luncheon, the Winchester, Massachusetts, native Phillips said he had never really set his sights on a career on the sea and was a high school graduate with no college plans working as a cab driver when a fare he picked up at Boston Logan International Airport told him about his life as a merchant sailor.
Phillips' mother had connections that helped him get into Massachusetts Maritime Academy, where he learned his trade.
And Phillips' first summer at sea convinced him.
"As soon as I did that, I knew that was what I wanted to do with my life," said Phillips, who now lives as a "retired sailor" in Underhill, Vermont, where he's made his home the last 30 years.
Phillips said he learned immediately that piracy and the possibility of hijackings are a constant threat.
"Piracy has always been a part of the sea. It's what I call the second-oldest profession we come into contact with frequently as a merchant marine," said Philips, a sturdily-built man sporting salt and pepper hair and the beard recognizable from media coverage of his capture and rescue in 2009 and from Tom Hanks' portrayal of Phillips in the 2013 movie.
"There's always been pirates, and I believe there always will be," he said.
On Wednesday, Phillips said he always told his crews that it was a matter of "when," not "if."
On the first day of their ordeal, three boats were following the 17,000-ton Maersk Alabama, but "we relied on our procedures and our planning. Much like the Boy Scouts, my story is about being prepared," Phillips said. "We learned some things that first day, we got away from the pirates and we felt pretty good."
But in 30 minutes' time the next day, the whole world changed for Phillips and 18 other crew members of the Maersk Alabama.
"The next morning at 6:45 we had a small skiff following us and at 7:15 they were boarding our vessel," Phillips said.
Lessons learned in his years as a sea captain include three primary points, he said. First, you are much stronger than you even know. You can do more and you can take more. The strength is already within us. Second, nothing is completely lost until we choose to give up. Failure is only final when we give up, give in or quit. Thirdly, a dedicated and motivated professional team working together can overcome most any obstacle or solve most any problem, the sum being greater than the parts.
Phillips, who'd been sailing through the area for more than four years, said he joined the crew of the Maersk Alabama on March 31, 2009, and got underway for Djibouti, knowing pirates were active all across the western half of the Indian Ocean.
Phillips, standing before a map showing three years of widespread pirate activity in the area in the years prior to 2009, said he first noticed the ship's security was a bit lax and planned to have a surprise drill after a couple of days.
At 9 a.m. a few days ahead of the attack, the crew had a drill involving a hypothetical "small boat with four armed men 400 yards off the starboard side coming at us in a hostile manner," Phillips said. The drill was followed by a thorough critique to help improve response, including a new plan for a backup safety area in the engine room.
It turned out to be a very appropriate drill for what they would soon face.
The night of April 7, 2009, an eerie voice came over the ship's radio, "Somali pirate coming to get you, Somali pirate coming to get you."
The next morning at 6:45, the pursuit began and by 7:15 four pirates on a small wooden skiff had overtaken and boarded the ship, beginning five days that included a bit of a cat and mouse game, with the pirates seeking the rest of the crew that had hidden out in the ship's engine room. The pirates' leader was overpowered and captured by the crew and negotiations began for an exchange of captives.
During the attempt to trade the captured pirate for Phillips, the Somalis broke the agreement and made off with food rations and the captain in the Maersk Alabama's lifeboat.
The U.S. Navy's USS Bainbridge responded to the scene and began negotiating with the pirates.
The standoff lasted until April 12 when Phillips was finally rescued from the lifeboat by Navy SEALs who killed the three pirates aboard the vessel while their leader had gone aboard the Bainbridge to negotiate for Phillips' release. He he was placed in custody there.
During his more detailed description of his experience as the pirates' hostage, Phillips talked about "mind games" and being forced to tie and untie knots between he and the Somalis.
An accidental shot fired inside the lifeboat caused Phillips to start yelling, the pirates to start yelling at one another and that set up the moment for the Navy SEALs to make their move and take out the pirates.
"Are you all right? Is it safe?" an American voice said. It was Phillips' moment of rescue.
"It really wasn't until I was being hoisted up to the main deck on the Bainbridge that I realized that I'm safe. I'm alive. I'm out of there," Phillips told the luncheon crowd Wednesday.
"The real heroes of this story, of my story, are our U.S. military and especially the U.S. Navy SEALs, the dedication they have to one another and the precision in which they execute their missions proves beyond any doubt that a well-trained, focused professional group can overcome most any obstacle or solve most any problem."
Contact staff writer Ben Benton at bbenton@timesfreepress.com or 423-757-6569. Follow him on Twitter @BenBenton or at www.facebook.com/benbenton1.