Photo Gallery
United Way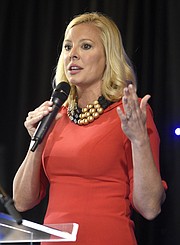 Despite a decrease in workplace giving last year, leaders of the United Way of Greater Chattanooga announced Thursday that they exceeded a lofty $11.5 million campaign goal in 2018.
Michael Mathis, United Way's 2018 campaign chairman, said that numbers were still rolling in from last year, but that as of Wednesday afternoon, the nonprofit organization had raised $11,506,420 - the highest amount in the local agency's 96-year history, he said. The announcement was made to a room full of business leaders and community representatives at the agency's annual meeting.
"I had the privilege and the challenge of leading this campaign in a year of renovation, laying groundwork for our new community impact approach, which has been more about listening and going into the community to better understand the needs," said Mathis, market president of Regions Bank in Chattanooga.
Mathis now officially steps down as campaign chairman, but United Way officials said a new one has not yet been selected. Chattanooga Mayor Andy Berke and Hamilton County Mayor Jim Coppinger made an appearance at the announcement to officially commemorate March 7 as "Michael Mathis Day" in honor of Mathis' work this past year. They presented him with a Connect 4 board game for being a "community connector," which earned a round of laughs from the crowd.
The local United Way announced a dramatic change to how it allocates dollars to its nonprofit partners last year. In the past, the same nonprofits received the same amount of money year in and out, but that allocation model is being replaced with a more competitive, flexible and streamlined process.
The new "Community Impact" approach took effect at the beginning of this year, and it will support its strategic investments with three funds - an innovation fund that will provide small, one-time grants to help nonprofits take risks, scale up or invest in their own capacity; an impact fund that will provide multi-year grants focused on education, economic mobility and health and well-being; and a United Neighborhoods fund, which will roll out at a later date and will make five- to 10-year investments in efforts helping neighborhoods thrive.
Mathis said that United Way's focus in 2018 was to share its new strategic initiative. With 295 workplace campaigns and more than 14,000 donors, McKee Foods was the largest corporate campaign in 2018, Mathis said.
The campaign total is a sum of a variety of different areas in which the United Way generates funds. Corporate and workplace campaigns are the largest, even with a continued downward trend in giving locally and nationwide.
"We've historically connected so well with our companies, but we have not done a good job of building relationships with individuals," Mathis explained. "My sincere hope is that we can see that engagement flourish in the years ahead. We absolutely must have our employers and our workplaces come together, so we can capitalize on the postiive momentum and see everyone in our community have the opportunity to thrive."
In previous United Way campaigns, larger fundraising numbers were announced that included one-time gifts and earnings from the agency's endowment fund as well as other funds that weren't solely raised by United Way, officials said Thursday. The agency also used to count "pass through" money, or grant money that it helped facilitate but wasn't administering, in total revenue figures, but those dollars stop being counted in 2015 when Lesley Scearce came on as president and CEO.
Contributions, gifts and grants were just $5,751,350 in 2015, but in 2016 local gifts spiked more than 50 percent to $8,948,829. Figures for 2017 were not immediately available on Thursday.
"When it comes to the community campaign, we've just gotten really clear and really transparent about what that is," Scearce said after the announcement.
Scearce said she is hoping that a new initiative and partnership with Salesforce.org will help increase engagement among area employees. The "Philanthropy Cloud" is a digital platform that gives companies and its employees a more streamlined, modernize way to look through and learn more about philanthropic programs and volunteer opportunities offered by their company and/or the local United Way. Chattanooga's United Way will be one of the first organizations to use it nationally.
Communities that have already piloted the "Philanthropy Cloud" say there have been significant increases in employee engagement, according to Scearce.
"It's not just an opportunity to give but also to volunteer and connect," she said.
There also are initiatives coming later on that are more specifically catered to women and retirees. Later this year, Venture Forward, which receives 60 percent of its funding from United Way, will break ground on its new "Hub for Social Innovation" on the first floor of the United Way building downtown. The hub is meant to be a community space that nonprofit members and others can use to brainstorm innovative solutions to area problems.
"We want to bring together our companies to not just give dollars but to dig deeper," she said.
Contact staff writer Allison Shirk Collins at ashirk@timesfreepress.com, @AllisonSCollins or 423-757-6651.