NASHVILLE - Saturday was going to be their wedding day. But instead of getting ready for her nuptials, Sara Baluch was planning a visit to her fiancé's grave.
Mohammad Sharifi, 24, was shot and killed in the parking lot of a Hixson Pike apartment complex while trying to sell his Xbox One gaming system on Feb. 19, just over two weeks before the wedding, police say. D'Marcus White, 20, has been charged with criminal homicide.
Up until Friday evening, 22-year-old Baluch remained steadfast in her plan to visit Sharifi's grave at Harpeth Hills Memory Gardens in the outskirts of Nashville. But the promise of thunderstorms forced her to postpone the visit until the next day.
The Times Free Press was given permission to attend the small gathering.
Photo Gallery
Family mourns loss of Mohammad Sharifi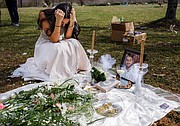 So when Sunday came, she put on her ivory chiffon wedding dress and a white tulle veil fastened by a pearl hair piece.
But instead of walking down the aisle, she walked up a rain-saturated hill to her would-be husband's gravesite.
Without a cloud in sight and surrounded by their families, she knelt by his grave and began to cry. Her sequin bodice glistened in the sunlight.
"We were supposed to be together," she sobbed, tears cascading from already exhausted eyes. "I'm so sorry, Mohammad."
"I'm so sorry."
"So sorry."
For about a month after they first met, Baluch said Sharifi kept trying to ask her on a date. She kept turning him down because she was focused on school and didn't want to be in a relationship.
But he never gave up, and finally, she accepted.
"I know this sounds like a movie and that it can't be true," she told the Times Free Press in an interview on Feb. 27, "but that night, I knew he was it. And so did he!"
She said they fell in love within two weeks.
"It was perfect," she said.
He was so patient, she said, recalling a time when she accidentally burned his neck with a candle.
"I just looked at it, 'cause I was in shock," she said. "Then he got up, and I was waiting for him to yell at me, waiting for something. But he just looked at me. He said, 'It's OK, baby. I love you."
He never raised his voice at her, she said. When she was feeling anxious, he would calmly talk her through it until she felt grounded again.
"When you came to him with a problem, it became his problem," she said. " He would sit there and try to tell you how you can fix it. He wouldn't just sit there and be like, 'Oh, I'm sorry.'"
Both Baluch's father and Sharifi's father echoed her words, noting that many of his friends made the trip from Chattanooga to attend his funeral on Feb. 22.
They stood in the rain until the ceremony was over, Mohammad's father, Mohssen Sharifi, said, and they all talked about how his son always tried to be of help.
"So [it's] no wonder we had a lot of people that came here at that moment," Mohssen Sharifi said.
Sara's father, Masoud Baluch, said the couple was "full of joy."
"Every time they came to my home, they brought joy everywhere," he said. "It was happy. I'm just waiting for them to come back."
For Mohssen Sharifi, Mohammad wasn't just his son.
"He was my adviser for finances, taxes, organizing. Recently, he was my teacher. [Now], I can't see him and ask him for his advice. 'What do you think, my son, about this?' What am I supposed to do?" he said tearfully.
Mohssen Sharifi said there hasn't been a day that he, his wife and the rest of the family haven't cried.
Everywhere they go, something reminds them of him, Mohssen Sharifi said.
"Until we go to the grave, we will not forget Mohammad," he said.
"He always tried to please us," Mohssen Sharifi said. "He always asked me, 'Are you happy? Are you OK?'"
And every time he went home, Mohammad Sharifi always told his parents that he loved them.
It was just one of Mohammad Sharifi's many characteristics Sara Baluch said she loved about him. His selflessness, his eagerness to help others, his ambition.
"He was so organized," she said. "He was so motivated. He wanted make a life. He wanted to make a life for us so bad."
In fact, he had already renovated a small house for them, Baluch said. It was just his parent's mother-in-law suite, but it was something they could call home.
"He worked really hard to make that place ready for them to move in," Masoud Baluch said.
"He was so excited to move in," Sarah Baluch said. "We were going to get married and he was going to graduate in two months."
But Mohammad Sharifi didn't show care only for her, she said.
"All he wanted to do was make people smile," she said. "He would say anything just to make people laugh. You don't find that kind of care in people. People our age are just so selfish now. But him, he was nothing like that."
"You'd have half a cup, and he would fill that cup for you. Somehow, he would give you the world. Oh my God, he was perfect."
He loved surprising people, Sara Baluch said, and she loved seeing the joy he got from making people happy.
Her birthday was Feb. 27 - a week after his death - but he'd bought her birthday gifts early.
"He was so excited to give it to me. He said, 'Whenever you have it, you have to promise me that you're gonna wear it for our aghd," she said. (Aghd is an Iranian wedding ceremony.)
So when she went home to Nashville for the funeral, his mother gave her the gifts. There were several presents, one of which was the Rolex watch he promised to get her while on vacation once in Hawaii.
"I had no idea he kept his promise," she said through tears. "That's why he was so excited to give it to me. It was the hardest thing because he got them for me. He's not here and he's still surprising me. He's not here and he's still giving me the world!"
She was the first to arrive at the hospital on Feb. 19.
She asked hospital staff for Mohammad Sharifi, but they told her he wasn't in the system.
"I had the worst feeling," she said.
Then a detective and two police officers approached her and asked if she knew anyone in Hixson and why Mohammad Sharifi would be there. She kept asking them what happened, but they told her they weren't allowed to tell her.
"And then the nurse came in," she said, sobbing. "She sat down next to me. She held my hand, and she said, 'I'm so sorry. He was shot. He didn't make it.'"
"It was like the world was ripped from underneath me. It felt like I was falling and it wasn't stopping. I fainted. When I woke up, I was like, 'No. This is a dream. We were getting married in two weeks. I just saw him last night. I just saw him.'"
They took her to his room.
"He was lying there so peacefully," she said. "It wasn't fair. I told him, 'I'm so sorry I couldn't protect you.' He protected me every day, and I failed to protect him."
She memorized his face.
"He has one freckle on his left ear, and his right ear is perfectly clean," she said. "And in his beard, he has a few strands of hair that were longer. He was so handsome."
He comes to her in dreams, Sara Baluch said.
"But he won't talk to me," she said. "I begged him. I made him a promise. I said, 'I promise I'll love you forever if you promise just to come to my dreams so we can make memories together."
"But he won't talk to me. He just comes to me and he holds me. That's all he does. I'm happy. I'm so grateful. That's the closest thing I've been getting to holding him. But I want to ask him, 'Are you OK?'"
She said people have told her they think her and Mohammad Sharifi's love "was so powerful that it couldn't exist on this earth, that the only way to separate us was through death."
"Our love had to exist in a different world," she said tearfully. "It couldn't exist here. It was too perfect it seemed unnatural."
At the cemetery Sunday, tearful family members took turns comforting her, reciting prayers and reading from the Quran. Toward the end, Sara's mother, Sona Baluch, draped a black veil over her daughter's head, exchanging it for the white wedding veil.
Then, as a far-off clock struck 1 p.m., Sara Baluch, tears still in her eyes, picked herself up, helped by her father and Mohammad Sharifi's father, and started the short walk back down the hill to the car.
Flowers covered Mohammad Sharifi's grave, which has yet to have a headstone.
"We were so happy," she said just before she left. " I want to be with him. Why do I have to wait?"
Contact staff writer Rosana Hughes at rhughes@timesfreepress.com or 423-757-6327 with tips or story ideas. Follow her on Twitter @HughesRosana.