Photo Gallery
Free health clinic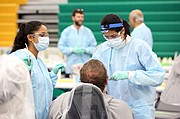 More Info
THE NEXT CLINICAnother clinic will take place at Cleveland High School in Bradley County on June 1-2. For more information, visit ramusa.org.
EVENSVILLE, Tenn. - Most of the 500-plus people who attended a free health clinic at Rhea County Middle School this weekend were gone before its final hour Sunday.
Some who remained sat in chairs surrounding long white tables near the entrance of the gymnasium. Nurses finished the last several examinations: checking blood pressure and taking patients' pulses. About 400 volunteers worked over three days. Most are from the area, but others came from Florida and as far away as New Hampshire.
More patients lined the hall to the school's locker room to get a pair of glasses before they left. The coach's office next door doubled as a dim eye-examination room. Others were given eye tests on the green bleachers.
But in the center of the gymnasium, the most popular service of the weekend remained bustling.
A dentist pulled another tooth, his 41st of the weekend by one volunteer's count. Hygienists and assistants worked on patients who needed to be seen before the clinic packed up and rolled out of town to its next stop.
"The dental problems have been huge," registered nurse Kayla Marzullo said. "They are debilitating on every aspect of their life; you can't eat, you can't sleep, you're in constant pain."
Marzullo works as a nurse at a Level 1 trauma center in Coastal Florida.
She flew to Nashville with two other nurses she works with and drove to Rhea County to help with the event. They had heard of RAM clinics and wanted to help. They waited for a clinic that worked with all three's schedules and then volunteered.
"It adds more value to what we do," she said. "It helps people with limited access to basic things in life many take for granted."
The Rockford, Tennessee-based nonprofit has been providing free medical services for nearly 35 years. This will be one of about 70 clinics this year, with almost all of them in the U.S. The clinic travels to other countries after natural disasters, too.
Teams of volunteers give eye exams, pull teeth, write prescriptions, give flu shots, offer general medical exams and provide other services.
There is no charge or fee. There is no identification check. No residency requirements. No insurance check.
It's open to anyone. There are no qualifications.
"You could sit down, register and tell us you were Donald Trump. It's none of our business. We just want to help people," RAM disaster response manager Stephen Blackstock said.
One-third of patients typically are unemployed, with about half of those actively looking for a job; one-third are employed; 20 percent are retired or disabled; 3 percent are children; and 5 percent are veterans.
The program is funded through donations, and there are no tax dollars used, Blackstock said.
The program was founded in 1985 by the late Stan Brock, a former cowboy and television co-host. He sold his belongings and began the organization to primarily bring health care to people in other countries. He quickly discovered a desperate need in the U.S. for such services, so he began hosting clinics in areas that asked for help.
Brock had previously stumbled upon the Knoxville area when a plane he was flying needed to refuel. He was struck by the kindness of the people, so he built the headquarters nearby and hosted the first clinic in Sneedville, Tennessee.
Brock died last year at the age of 82. Now, CEO Jeff Eastman leads the organization, and he attended the Evensville clinic.
"Stan put in place the executive structure we have now, and he and the board invested in expanding," Eastman said. "The need was constant. We needed to treat more patients."
In 2012, there were 12 clinics. That's increased more than sixfold.
They now serve about 47,000 patients per year and provide about $15 million in free care with the help of 17,000 volunteers.
A 500-patient clinic is typical.
"It's a good mid-range size clinic," Blackstock said. "We do a handful of larger clinics, but this is very much in our ballpark."
About 75 cars lined up Friday night - hours before the clinic opened - as volunteers finished transforming the school into a medical clinic.
The first patient would be seen at 6 a.m. Saturday for the full-day event.
It closed that evening so volunteers could rest for another half-day of services Sunday morning. As they rested, others lined the property to be seen.
Dayton Mountain resident Lesha Forsberg and Charlie Clayton arrived shortly before midnight Saturday night to be seen Sunday.
Neither had been to an eye doctor in years and had other health concerns they needed to be examined.
Forsberg calls Clayton her inherited son. Her aunt was his foster parent until her death. Forsberg promised her aunt she'd look after Clayton and his brother after she passed.
The three and Forsberg's husband live together and share the bills, scrounging together the money they can earn, but medical services are a necessity they can't typically afford.
"When you don't have income, it's hard to see a doctor or save the money," she said. So they get by and make use of the help they can find.
The RAM clinic will travel to Cookeville, Tennessee, next weekend. It will be held Saturday and Sunday at Cookeville High School. Admission tickets are passed out at 3 a.m., and the first patients are seen at 6 a.m.
The clinic will return to the area June 1-2 at Cleveland High School in Bradley County.
Contact staff writer Mark Pace at mpace@timesfreepress.com or 423-757-6659. Follow him on Twitter @themarkpace and on Facebook at ChattanoogaOutdoorsTFP.