Photo Gallery
Budget talks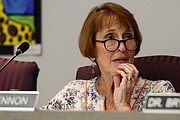 Budget talks have officially kicked off for the Hamilton County school board, with a review of community priorities including increased student access to opportunities, social-emotional supports, transportation options and teacher compensation.
At the board's first work session dedicated to the 2019-20 fiscal year budget, Superintendent Bryan Johnson and his staff presented Thursday the themes gleaned from five community listening sessions conducted this spring.
The priorities discussed differ significantly from those proposed by Hamilton County commissioners and discussed in a Feb. 28 meeting between Johnson, Hamilton County Mayor Jim Coppinger, two commissioners and two school board members.
HAMILTON COUNTY SCHOOLS FY19-20 BUDGET TIMELINE
March 14> Work session to discuss an overview of district facilities assessment and community prioritiesMarch 28> Work session to discuss capital projects and a proposed capital maintenance budgetApril 11> Work session to discuss federal programs, self-funded programs and the school nutrition budgetApril 18> Work session to discuss revenue projections for 2019-20 and the general purpose school fund base budget projectionApril 25> Work session to continue to discuss general purpose budgetMay 2> Work session to continue to discuss general purpose budgetMay 9> Board is expected to vote on the 2019-20 proposed budget* Times and locations for these meetings were not available at Thursday's meeting. Most meetings will take place in the Board Room at the Hamilton County Department of Education, 3074 Hickory Valley Rd
Commissioner priorities centered around athletic facilities and playgrounds, but there was no mention of athletics by school board members Thursday night.
District 6 board member Jenny Hill said that access to the district's Future Ready Institutes was one of the things closest to her heart this budget cycle.
"Access," Hill said. "Transportation to Future Ready Institutes is what's really important to me. We have amazing opportunities in Hamilton County and I don't think people realize that. We have really amazing opportunities that can have amazing impact on students' and families' lives."
Future Ready Institutes are smaller, industry-themed learning communities embedded in the district's traditional high schools. Most give students the opportunity to earn industry credentials, access dual credit courses and more. The programs at Lookout Valley High School for example, Hill said, give students the chance to earn up to seven industry credentials.
Currently, the district doesn't provide transportation to students who attend an institute outside of their zoned school, though all the institutes are open to any Hamilton County student. Fewer than 100 of nearly 1,200 students enrolled in a Future Ready Institute this year is attending a school outside their zoned school.
District 3 board member Joe Smith has been a vocal about providing busing to the institutes, since the district already provides transportation to students attending magnet schools.
District 5 board member Tiffanie Robinson also said transportation is one of her main priorities. Neither she nor Hill were surprised by the feedback from the community.
"It really affirms our priorities," Hill said.
Robinson said special education resources and discipline or behavioral supports are also some of her priorities.
Supporting social and emotional learning with additional school counselors, social workers and behavior specialists were the first community priorities that Chief of Staff Nakia Towns Edwards highlighted in the budget presentation Thursday.
Last year, the school district added seven school counselors, but the district's current counselor-to-student ratio, 1 to 612, is well above the 1 to 250 that the American School Counselor Association recommends.
Hill said she hears every day of another child struggling and thinks that additional counselors and supports are vital to ensuring the health and well-being of the district's students.
Smith said he'd like to see additional graduation coaches, which are currently part-time positions. Johnson said his staff members have discussed what it would take to add graduation coaches to every high school - $750,000 for 19 positions.
The board will discuss a proposed capital maintenance budget on March 28, and will continue with budget talks through May. On May 9, the board is scheduled to vote on a proposed budget, before presenting it to the Hamilton County Commission this summer.
Contact staff writer Meghan Mangrum at [email protected] or 423-757-6592. Follow her on Twitter @memangrum.