Photo Gallery
Crime evidence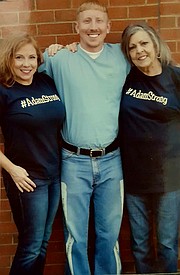 A Grundy County, Tennessee, man serving a life sentence for first-degree murder says he has new evidence that suggests another man committed the crime.
Adam Braseel was convicted in 2007 in the beating death of Malcolm Burrows in 2006. From the beginning, Braseel has maintained his innocence.
He has now filed a petition in Circuit Criminal Court alleging there's forensic evidence that could help set him free.
In the petition, filed in February, Braseel's attorneys claim the real killer was Kermit Eugene Bryson, a man suspected of killing Grundy County Deputy Shane Tate in 2008. Bryson killed himself after a day-long manhunt. The attorneys say this is a case of mistaken identity.
Now Braseel and his attorney, Alex Little, are hoping the information will lead to a new trial.
Ongoing legal battle
Braseel's case traces a roller coaster-like legal trail over more than a decade.
It started when Grundy County deputies responded to Melissa Rock Road on Jan. 7, 2006, and found 60-year-old Burrows next to a car about 200 yards from his residence, archives show. His sister, Rebecca Hill, had been beaten and sustained severe head wounds.
Braseel was charged by the Grundy County Sheriff's Department and TBI in connection with the assault and slaying.
In November 2007, the 23-year-old was found guilty of first-degree premeditated murder, first-degree felony murder, especially aggravated robbery, attempt to commit first-degree murder, aggravated assault and assault.
He was sentenced to life in prison with the possibility for parole, court records show. Prosecutors have said he will serve at least 51 years behind bars before parole eligibility. By then, he would be in his mid-70s.
A 2011 appeal was denied. But good news came for Braseel in 2015, when new judge in the case, Judge Justin Angel, overturned the conviction and ordered a new trial. Braseel was released while the state appealed, records show.
Ten months later, he was back in prison. The Court of Criminal Appeals had reinstated the original conviction.
In 2017, Braseel sought a review by the Tennessee Supreme Court, but the court declined to take up the case.
As a result, he then filed a motion in federal court in Winchester, Tennessee, to preserve his rights with respect to the original post-conviction petitions. That petition remains there awaiting resolution of pending state court filings.
The 'new' evidence
Braseel's February petition says there are five new pieces of evidence, among them a fingerprint, which he says will point toward Bryson's involvement.
The state's investigation "determined that the physical evidence it found (a fingerprint on the passenger door of the decedent's vehicle) did not match anyone it could identify. To explain why Mr. Braseel murdered Mr. Burrows - a man he did not know - the state claimed that the murder was a robbery gone bad. To justify this motive, [the state] elicited testimony that no wallet was found on the body of Mr. Burrows," the petition states.
"We now know that none of this is true," it continues. "Newly discovered evidence flatly destroys the government's case and makes clear that - had the new evidence been admitted at trial - the jury's verdict would have been different."
That first piece of new evidence, the petition contends, is a finding that the fingerprint matched someone - Kermit Bryson - who was dating a woman who was raising a child Burrows considered a grandchild, creating a familial connection between the two, according to the petition. Prosecutors learned about the fingerprint in June 2017.
The fingerprint places Bryson in the passenger seat of Burrow's car at the time the victim's body was found lying beside the car, the petition states.
Attorneys also say Bryson and Braseel drove similar cars, which could have been easily confused by witnesses.
"Incredibly, the car owned by Mr. Bryson's girlfriend looks nearly identical to the car owned by Mr. Braseel's mother," the petitions states.
Bryson was also a violent felon with a long criminal record and killed a police officer, the petition states, and he "was the kind of man who would have killed Mr. Burrows in cold blood."
He also "matched the description given by eyewitnesses," the petition states, setting up the argument of mistaken identity. "His photograph and that of Mr. Braseel are strikingly similar."
And finally, they say, there was no robbery or missing wallet, contrary to trial testimony, which said Barrow's wallet was not in his pocket at the scene of the crime, pointing to a robbery.
Braseel's petition contends that the first officer to arrive on-scene, Sgt. Mike Brown, found Burrow's wallet in the dead man's back pocket, according to a sworn affidavit from Brown filed with the petition, but it wasn't recorded as evidence.
"Neither the sheriff nor any other deputy logged it into evidence, and the officers kept mention of the wallet out of any police report," the petition states. Records state Brown had moved out of state and didn't testify at trial because he was told by the district attorney's office in 2007 that he wasn't needed.
It's all this new evidence, Little argues, that warrants a new trial, adding that the prosecution's evidence was "weak" and rested on unreliable witness testimony.
On Wednesday, 12th Judicial District Assistant District Attorney Steve Strain, who prosecuted the 2007 trial, said Braseel's mistaken identity argument fails to meet the standard needed to get a new trial.
He said the state has until the end of March to answer Braseel's petition. A hearing before Judge Angel is set for June.
He also said Bryson was never considered a suspect.
"Quite frankly, there's no connection," Strain said. "His name never came up in this entire case."
But Little said the evidence involving Bryson "could not have been discovered earlier because the fingerprint report was only disclosed by the state a few months ago and [Little] diligently discovered evidence of Mr. Bryson's appearance and his girlfriend's vehicle in the intervening weeks."
On Wednesday, Strain said there was some delay in giving Braseel's attorney the TBI's fingerprint data matching Bryson to one of the fingerprints found at the crime scene because the district attorney's office conducted a follow-up investigation of its own.
"We followed up on some leads and information that we had. Once we completed that, we sent the information to Mr. Little," Strain said.
Strain said the follow-up probe cleared Bryson of any suspicion.
"We do not think he was involved in the crime."
Braseels stand firm
Christina Braseel said Thursday that her brother continues to be the strongest among his family members despite the despair and frustration of their ongoing fight. Word of new evidence in the case brought fresh hope along with anxiety, she said.
Christina Braseel said she doesn't know if Bryson is Burrows' killer, but she believes he and others should have been considered suspects. The original investigation produced more questions than answers, she said.
"Adam should never have been a suspect," she said.
She described her brother as a man whose Christian faith is strong and infectious and has weathered the highs and lows better than his family, she said.
The experience of going through Adam's release from prison and then his re-incarceration on the reversal of Angel's 2016 ruling has made her more realistic.
At the same time, she said the support her brother has had from the community and people across the country who've become interested in the case make her more hopeful "Adam's going to be coming home soon," she said.
Contact staff writer Ben Benton at [email protected] or 423-757-6569. Subscribe to his Facebook posts at facebook.com/ben.benton1 and follow him on Twitter at twitter.com/BenBenton.