Photo Gallery
Ringgold baseball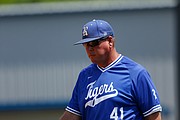 RINGGOLD, Ga. - Brent Tucker has been through this before - too many times for his liking, to be honest - but this season's earlier-than-expected exit in the GHSA Class AAA baseball state playoffs for Ringgold's powerful program hit home harder than ever.
Hart County beat the host Tigers 1-0 and 10-5 on Thursday to end the best-of-three series, leaving Ringgold's veteran skipper frustrated and perplexed at the same time. The second-round loss ends the careers of a handful of senior stars, including the coach's son, pitcher/outfielder Holden Tucker, catcher Daulton Schley and center fielder Andre Tarver.
The three had played for Coach Tucker for more than a decade.
"The thing about them is you can talk about the 100-plus wins they had, the four region championships, all those things, but just the young men they are, the way they played the game, the bond they had with themselves, the effort they gave, that means more to me," he said.
"They didn't care about press clippings or tweets, they just wanted to play baseball and be out there together. That was more important to me. Those three just loved each other. They were really for each other, truly uniquely, 100% for each other's success, and they had each other's backs in failure."
Thursday's first game was the continuation of game two of the series (Ringgold won the series opener 5-4), which was suspended Wednesday due to inclement weather. The game picked up in the bottom of the second inning with two outs.
The Bulldogs (18-15) scored the game's only run in the third inning against Ringgold starter Wyatt Tennant with a two-out RBI single from Eli Jones. Hart pitcher Will Dean used an array of breaking pitches and a sneaky fastball to keep the Tigers (27-8) off balance, limiting them to four hits.
Ringgold's best chance came in the sixth inning, when Tennant led off with a single but was caught stealing on a failed hit-and-run before Tucker followed with a deep fly ball that was caught against the fence in center field. Tarver then doubled and Schley was walked intentionally before Dean induced Brayden Broome to fly out to right.
Dean retired the Ringgold lineup in order in the seventh to secure the shutout win.
The Tigers led 4-2 in the deciding game before a disastrous fourth inning turned things in Hart County's favor. The Bulldogs scored four runs on one infield single, three walks, two hit batters, an RBI fielder's choice and a wild pitch.
"We went up 4-2 and went back out there, and they got four," Coach Tucker said. "If we had shut them down right there we would have had momentum for the first time really in the series. Even in the game we won, we didn't have momentum."
Meanwhile, Hart County continued to make plays. In addition to three double plays on Thursday, the Bulldogs had two stellar outfield catches and maybe the play of the series in the sixth inning. Ringgold, still down two, had a runner on first with two out when the left-handed Holden Tucker laced a line drive down the third-base line. Dean made a diving stop and a strong throw to end the threat.
"That's a double down the line, and we at least had second and third with Andre and Daulton coming up," Coach Tucker said. "Who knows what that could have turned into, but that kid made a great play."
The Bulldogs put the game away in the sixth when Dalton hit a one-out grand slam to up their lead to six. Hart County, the No. 3 seed from Region 8, will travel to either Cook or Southeast Bulloch in next week's quarterfinals.
"They are just having fun and peaking at the right time," said Hart County coach Josh Osborne, whose team defeated Lovett in the first round on the road. "It's been fun to watch. We're real young, so we spent a good bit of time trying to figure out who we are. The Lord is just blessing us right now, that's all I can say."
» Also in Class AAA, Calhoun's season ended at 25-7 as Pace Academy swept the series-opening doubleheader, 10-1 and 12-0 in Atlanta. Region 5 champion Pace is 21-6.
» In Class AA, Bremen (27-6) won game three against Dade County 13-3 with a nine-run second inning, ending the Wolverines' season at 15-10.
Chattooga's season also ended as host Social Circle swept the series-opening doubleheader, 3-0 and 13-2.
» In Class A public, Trion split a doubleheader at Clinch County, winning the series opener 3-2 before falling 11-3.
The 11th-seeded Bulldogs used eight innings of two-run pitching from Logan Bicknell and an RBI double from Will Wyatt to win game one. Game three is at 2 p.m. Friday in Homerville.
Contact Lindsey Young at lyoung@timesfreepress.com or 423-757-6296. Follow him on Twitter @youngsports22.