Photo Gallery
Corridor project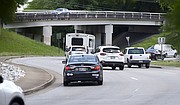 The Third and Fourth street corridor face-lift is one step closer to reality after $8.5 million in funding was allocated in Chattanooga Mayor Andy Berke's proposed 2020 budget.
The project, originally estimated in 2015 to cost $15 million, now is being budgeted at around $24 million just four years later.
More Info
More information on CDOT's plan for the corridor is available here.
According to the Chattanooga Department of Transportation, the original estimate was "high level" and did not reflect the current scope of the project or the inflation of construction costs.
"Until [the 2015 estimate], we were using long-range planning cost estimates," CDOT Administrator Blythe Bailey said. "Since that time, the scope has broadened, construction pricing has risen, and we've benefited from more detail in the design by way of our engineering consultant being on board."
The