Photo Gallery
Corridor project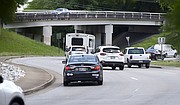 The Third and Fourth street corridor face-lift is one step closer to reality after $8.5 million in funding was allocated in Chattanooga Mayor Andy Berke's proposed 2020 budget.
The project, originally estimated in 2015 to cost $15 million, now is being budgeted at around $24 million just four years later.
More Info
More information on CDOT's plan for the corridor is available here.
According to the Chattanooga Department of Transportation, the original estimate was "high level" and did not reflect the current scope of the project or the inflation of construction costs.
"Until [the 2015 estimate], we were using long-range planning cost estimates," CDOT Administrator Blythe Bailey said. "Since that time, the scope has broadened, construction pricing has risen, and we've benefited from more detail in the design by way of our engineering consultant being on board."
The project will receive 80% of its funding from the state and Chattanooga will front the other 20%. With $8.5 million budgeted in both fiscal years 2020 and 2021, and about $7 million budgeted in years past, the work should be fully funded next year.
Though funding is almost complete, even the updated cost estimate is preliminary since the project is still in its design phase.
"Essentially, what we're doing is banking money, because it is extremely difficult to budget that volume of money in one year," Bailey said. "I would rather, when the time comes, be able to say, 'We didn't need all this, you can have some of this back,' than to be the other way around."
The project, designed to foster a more urban environment in Chattanooga's health and wellness district, has taken on significant design changes since its inception.
Most notably, Bailey says the traffic circle originally proposed to merge Third and Fourth streets with Riverfront Parkway has been removed from the plan. Instead, the city is planning a divided Fourth Street to provide two-way accessibility where there now is one way.
Consistent with the original plan, the project still calls for improvements to the walkability and urban development of the area, including:
* New sidewalks and streetscaping on Third Street, Fourth Street, Mabel Street, Riverfront Parkway, Lindsay Street and Houston Street.
* A new intersection at Siskin Drive and Riverfront Parkway
* A new intersection at Third and Riverfront Parkway
* A new street between Mabel Street and Siskin Drive to connect Fourth Street and Riverfront Parkway
The fate of East Third Street remains undetermined. Bailey said the flyover on Third will definitely be removed, and the street itself may be, as well. If so, the city would plan to rebuild it later in order to provide vehicular access, though that would be a separate project after the completion of the corridor improvement plan.
In general, the plan is designed to undo the area's current highway infrastructure, create at-grade intersections and create a more inhabitable environment in one of the most vehicle-centric parts of town.
"As our city continues to grow, we need to plan for a future that accommodates this growth responsibly and productively. The renovation of Third and Fourth streets will do exactly this by making it safer and easier for people to reach our health and wellness district," Berke said. "As employers in these sectors continue to thrive, they will create more good jobs with real potential for economic mobility, and it is imperative that we support them. This project will also create new parcels for future development, generating additional economic activity on land that is presently tied up with roads. This is one of the most transformative projects on Chattanooga's horizon and one that will benefit numerous people, neighborhoods, and institutions for generations."
Bailey said the transportation department's phasing plan is too preliminary to share, but construction will roughly work from east to west and will be done to accommodate traffic.
"We've already started thinking about the logistics because it is going to be challenging to build," Bailey said. "Because this is a major infrastructure project, we are going to phase it as best we can to maintain traffic."
Construction is tentatively set to begin in 2021 and likely will take at least 18-24 months, though an official end date cannot yet be estimated, he said.
For more information, visit www.3rd4thstreetimprovements.com.
Contact Sarah Grace Taylor at staylor@timesfreepress.com or 423-757-6416.