Photo Gallery
Gun permit law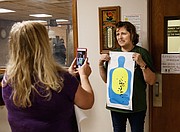 A controversial gun permit bill signed into law by Gov. Bill Lee last week has drawn criticism across the state, with some opponents saying it either makes it too easy to obtain a carry permit or not easy enough.
The law, which will go into effect on Jan. 1, 2020, creates a new concealed handgun carry permit and redesignates the existing permit as an enhanced handgun carry permit, which allows residents to openly carry. There are 631,430 adult men and women ages 21 and older who now have state-issued permits that allow them to carry handguns either openly or concealed in public under the existing law.
The new concealed-carry permit is cheaper and requires no live-firearm training, but it can be carried in fewer public places. Anyone who wants the new permit can complete any firearms training or safety course online, submit fingerprints to the Tennessee Bureau of Investigation and pay a $65 fee for a permit valid for eight years.
While no live-fire training is required, the course must be at least 90 minutes in length, cover the current state laws on carrying handguns and include a test that "confirms competency of the course," the bill states.
How Chattanooga representatives voted on HB 1264/SB 0705
Rep. Yusuf Hakeem-D: NoRep. Patsy Hazlewood, R: NoRep. Esther Helton, R: YesRep. Robin Smith, R: YesSen. Todd Gardenhire, R: YesSen. Bo Watson, R: YesSource: Tennessee General Assembly
Those who wish to earn an enhanced carry permit may carry the gun openly or concealed to more places but must still take an eight-hour live training course from certified instructors, undergo a criminal background check and pay a $100 permit fee.
It 'ups the level of responsibility'
Most of the Chattanooga-area representatives in the legislature voted in favor of the bill, including Republican Reps. Esther Helton and Robin Smith and Sens. Todd Gardenhire and Bo Watson.
Gardenhire said he thinks the bill will encourage people illegally carrying guns in a concealed manner to get the less expensive permit that also requires less training.
"It makes more people do it legitimately," he told the Times Free Press. "The people who are carrying concealed now don't have training. This just ups the level of responsibility."
The legislation states there is at least an estimated 5% increase in people who will apply for the new concealed carry permit who previously would have applied for the existing permit, now called the enhanced handgun carry permit. It's estimated the Department of Safety will issue 8,361 of the new permits per year.
The department expects a 15% reduction in enhanced carry permits, equivalent to 7,963 new applications. The Department of Safety issued an average of 53,805 new handgun carry permits a year in the last five years, the legislation states.
Watson said he looked at two factors before voting in favor of the bill.
"The first was that Virginia has been doing this for about five years, and actually their online education requirements are even a little less than this," he said. "And to my knowledge, there was no presentation of any data that indicated or suggested that they had a huge problem with it."
There is conflicting information on whether or not gun permit laws that require none or very little training are harmful to public safety and increase crime. The Rand Corp., a global research organization, reviewed existing studies that researched the effect of crime on right-to-carry laws, which allow residents to carry concealed handguns when away from home without a permit, or with a permit issued by a state. Forty-two states have right-to-carry laws, with 16 requiring no permit to conceal carry a gun, according to the National Rifle Association.
The Rand study found that right-to-carry laws have "uncertain effects on total homicides, firearm homicides, robberies, assaults and rapes."
"Some studies find that right-to-carry laws reduce violent crime, others find that the effects are negligible, and still others find that such laws increase violent crime," the research states.
Watson said he also based his decision on reciprocity laws in the state. Tennessee recognizes Virginia's gun permit and vice versa.
"Particularly, if you live in the northeast area of the state, there are people who are exercising the same kind of concealed carry capability using the standards that Virginia had passed," he said.
A 'reckless' and 'poorly written' bill
The Tennessee Chapter of Moms Demand Action for Gun Sense in America, part of Everytown for Gun Safety, criticized the governor for signing the "reckless bill that guts [Tennessee] gun permit safety" into law. Officials say 26 other states require live-fire training before obtaining a permit, including Arkansas, Florida, Louisiana, North Carolina, South Carolina and Texas.
While the nonprofit is vocally against permitless carry laws and permits requiring less training, other organizations that are usually in favor of less strict requirements for gun owners opposed the bill for an entirely different reason.
John Harris, executive director of the state advocacy group Tennessee Firearms Association, said he worries the law delays the state even longer in adopting a constitutional carry law.
Constitutional carry allows residents to carry a handgun, either openly or concealed, without a license or permit.
Harris, also a private attorney in Nashville, said the bill was poorly written and poorly thought out with an agenda that is not clear.
"It was introduced as a bill to provide a no-cost, no-training route for citizens to get a carry permit of some sort and it didn't even accomplish that goal in the end," he said.
Harris says he also worries about reciprocity with other states and how many will honor the new Tennessee carry permit. Right now, 36 states honor Tennessee's existing gun permit. He said it's always possible some might amend reciprocity agreements with the state or terminate them if they don't agree with the new carry permit.
"My experience after a quarter-century with the [Tennessee] legislature is that when they adopt a change in the laws, they have a hesitation about coming and revisiting that issue until the change has been out there awhile and they can see if it works," he said.
Mark Haskins is a former Chattanooga Police Department officer and has been a firearms instructor since 1996. He taught a gun permit safety class at Shooter's Supply and Indoor Range in Hixson one Saturday earlier this month.
He called the new law "ludicrous."
Most of the students in Haskins' classes have shot a gun at least once, but he said many people have misconceptions about laws surrounding when they can shoot. The eight-hour class he teaches costs $65 and includes a written test of 50 multiple-choice questions and live-fire training test at the shooting range.
"They think they can use deadly force to protect property, saying that if someone is trespassing on their property then they can shoot them - no, you can't," he said.
In Tennessee, a gun owner can't use deadly force to protect property and can shoot only if they fear their life is in danger.
Not requiring live-fire training affects more than skill, though. Handgun carry permit classes are a source of income for local gun stores, including Shooter's Supply in Hixson.
Haskins said the new permit will hurt the store's bottom line. When Haskins taught at Shooter's Depot before the store burned down last April, he said he would easily teach 150 people each month.
Shooter's Supply instructor and employee Shaun Cross said it will certainly take business away unless people still decide to earn an enhanced carry permit, but he said he's more concerned about having "too many good guys with guns."
"You don't need too many roosters in the henhouse," he said. "If you have too many good guys with guns, you have bullets going everywhere and you worry if it's untrained."
Cross said the store does see customers who come in, purchase a gun and then go sit in the classroom and they have never shot a gun before.
"If they did not have that live-fire training time then they would buy it and go sit up somewhere," he said. "There have been people we actually have not passed because of unsafeness on the range and not paying attention and listening."
It's a small percentage, Cross said, but it does happen.
'A public safety issue'
Kathy Eaves earned a 77% on her shooting test during Haskins' class earlier this month at Shooter's Supply - students need at least a 75% to pass.
"I work downtown, and we have had incidents - not criminal - but you never know what the next step may be for someone," she said. "Even though I have to leave it in my car and can't carry it into the office, I feel better."
Eaves said she was glad she took the class and learned when she can use her weapon and where she can have it. Even if she had the option to not take the class, Eaves said she probably still would.
"[Haskins] was very informative and easy to follow. I think a person is better than watching a [video]," she said.
Cherria Provey was a police officer for a short time in Columbia, Tennessee, and a firearms instructor in the 1990s. The 56-year-old hadn't shot a gun in 25 years, though, before taking Haskins' class this month.
She earned a 94% on her live-firing test and said she would take the class even if it wasn't required.
"I need to brush up on my shooting, and I bought a new gun," she said. "And I need to get get well-versed in the laws again."
While most Chattanooga-area state lawmakers were in favor of the bill, two voted against it: Democratic Rep. Yusuf Hakeem and Republican Rep. Patsy Hazlewood.
Hazlewood said she thought the state had a good permitting plan already in place, and she didn't see the need to weaken it. A poll conducted by SurveyUSA on behalf of Everytown for Gun Safety of 1,000 Tennessean voters found that 79 percent opposed weakening the safety training now required under Tennessee law, including 75 percent of Republicans.
"I feel the public is safer if the people using concealed weapons actually have some practice in using them and have had some training from someone who is qualified to train," Hazlewood told the Times Free Press.
A gun is a powerful weapon, she said.
"It's a balance, always, between Second Amendment rights and other people's rights," Hazlewood said. "To me, it wasn't a Second Amendment issue but a public safety issue."
Contact Allison Shirk Collins at ashirk@timesfreepress.com, @AllisonSCollins or 423-757-6651.