Photo Gallery
East Hamilton vs. Howard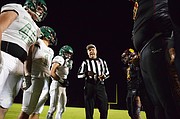 Although East Hamilton's offense has gotten much of the attention for the team's success this season, it was the Hurricanes' defense and special teams that took their turn in the spotlight Friday night at Howard.
Defenders created scoring opportunities early and never allowed the Hustlin' Tigers to threaten in a 23-0 win that sealed a second-place Region 2-4A finish and secured the right to host a first-round game when the playoffs start next week.
"Our coaches put together a great plan this week, and the kids executed it to perfection tonight," said first-year Hurricanes coach Grant Reynolds. "I'm not sure if we'll get the kids some donuts or pizzas, but we'll do something for keeping that zero on the board. We love seeing that shutout. It's a good time of year for our defense to be peaking.
"Getting to play at home is huge. It's been a while since we've hosted a playoff game."
The Hurricanes (7-3, 5-1) will host Sullivan South (5-5) in the first round while Howard (7-3, 4-2) will travel to Greeneville (8-2), which won last year's Class 4A state title.
Although the East Hamilton offense, which had averaged 40 points in the first nine games, was held to just 119 total yards (54 rushing, 65 passing) the Hurricanes capitalized on every opportunity their defense created. Howard finished with just 157 total yards, with 113 coming on 45 rushes.
East Hamilton's defense and special teams either accounted for or directly set up the team's first three scores. After a bad punt snap, the Hurricanes had to cover only 25 yards for their first touchdown, a 2-yard dive by Adam Caudle.
Both offenses struggled throughout, but another bad snap by Howard, this time on a third-down play from its own 7, led to the ball rolling through the back of the end zone for a safety and East Hamilton held a 9-0 advantage at halftime.
"We just didn't come out very focused tonight," Howard coach John Starr said. "It was like football wasn't very high on our priority list. I'll put this on me because I've got to do a better job of making sure our guys are focused, especially in a game this big."
After forcing a turnover on a sack at the Howard 24, the Hurricanes extended their lead midway through the third quarter on Caudle's 7-yard touchdown run, then put the game away with a 12-yard scoring toss from Haynes Eller to Blaine Savage early in the fourth.
"I'm really proud of the way our defense took care of business - they stepped up big time," Caudle said. "We needed this going into the playoffs."
Contact Stephen Hargis at shargis@timesfreepress.com or 423-757-6293. Follow him on Twitter @StephenHargis.