Photo Gallery
Crimson Tide football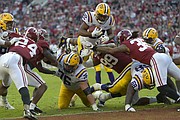 TUSCALOOSA, Ala. - Saturday's LSU-Alabama football game inside Bryant-Denny Stadium featured the top two teams in the Associated Press poll and was cloaked in patriotism to accompany a visit from President Donald Trump.
There was plenty of dynamic offensive play to go around - 1,100 combined yards to be precise - but LSU's 46-41 victory will be remembered most for banishing an eight-game losing streak to the Crimson Tide and for catapulting the top-ranked Tigers into the driver's seat for their first Southeastern Conference Western Division title since 2011.
"Obviously I'm very happy with how we played," LSU coach Ed Orgeron said. "It's been a long time coming. We felt it all week, that we were the better football team. I said to our team on Monday, 'We're the better football team, but we have to play to prove it.' We played."
LSU scored the final 17 points of the first half to build a 33-13 lead at intermission before spending the fourth quarter producing two 75-yard touchdown drives that provided double-digit leads after Alabama had pulled within a single possession.
Tigers quarterback Joe Burrow completed 31 of 39 passes for 393 yards and three touchdowns, and he rushed 14 times for 64 yards. LSU running back Clyde Edwards-Helaire, who had six carries for just 14 yards in last season's 29-0 loss to the Tide in Baton Rouge, complemented Burrow with 20 carries for 103 yards and three scores.
LSU improved to 9-0 overall and 5-0 in SEC play, with the Tigers needing to take two of three against Ole Miss, Arkansas and Texas A&M to win the West. The Tigers will be decided favorites in all three, especially the next two against Ole Miss and Arkansas.
Alabama, meanwhile, dropped to 8-1 and 5-1 and will need to be impressive down the stretch against Mississippi State, Western Carolina and rival Auburn to potentially slip into the four-team College Football Playoff. The Tide lost the SEC West to Auburn in 2017 but still won that season's national championship.
The first CFP rankings were released this past Tuesday, with Ohio State first ahead of LSU, Alabama and Penn State, which lost 31-26 to Minnesota on Saturday. Reigning national champion Clemson is fifth and Georgia sixth.
"We don't want to waste a failure," Alabama coach Nick Saban said. "There are a lot of lessons to be learned from the things we did and didn't do today. I think that everybody has to make a commitment to finish the season the right way. We don't really control our own destiny, but if we finish the season the right way, we can see where it takes us.
"We've been in this situation before, and I think the big thing is that everybody needs to learn from the mistakes we made today and try to get better."
The Tide made most of their mistakes late in the first half, when a 1-yard touchdown run by Edwards-Helaire put LSU up 26-13 with 26 seconds remaining. On Alabama's next possession, Tua Tagovailoa was intercepted by linebacker Patrick Queen, who returned the gaffe 16 yards to Alabama's 26.
A personal foul on Alabama center Landon Dickerson after the interception gave LSU first-and-10 at the Tide 13 with 11 seconds left in the half, and Burrow connected with an open Edwards-Helaire on the next play for the touchdown and a stunning 33-13 advantage.
"Since the result that we got was what we got, I wish we had run the ball or taken a knee," Saban said. "We had two timeouts and tried to throw a chunk play, which we have a lot of capability to do. We trusted the quarterback to make a good decision, and they played zone. A guy broke on the ball and intercepted the ball.
"If I knew that was going to happen, we would have kneeled on the ball."
Tagovailoa, making his first appearance since spraining his ankle against Tennessee on Oct. 19, threw for 248 yards after halftime and finished with 418. His final pass was a 85-yard touchdown to DeVonta Smith that pulled the Tide within 46-41 with 1:21 remaining, but the Tigers recovered the onside kick and ran out the clock.
"I thought he was a warrior in terms of what he did," Saban said, "but missing some practice over the last couple of weeks may have resulted in him not being quite as sharp as normal. I'm proud of the way he competed."
Said Alabama running back Najee Harris: "He looked fine to me. Tua did well."
Saturday marked Alabama's first loss at home since the 2015 season. While it will be remembered as a crowning achievement for Orgeron and his program, it also will have a stinging effect for a Tide defense that struggled in September but had performed better in October.
"We didn't do a good job tonight on defense at all," junior safety Xavier McKinney said. "We couldn't get a stop. We really didn't do anything well.
"We're putting this game on us, because I missed a lot of tackles tonight that I don't typically miss."
Contact David Paschall at dpaschall@timesfreepress.com or 423-757-6524. Follow him on Twitter @DavidSPaschall.