Photo Gallery
Chattanooga fighting hate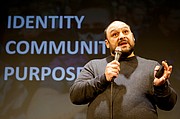 Fighting extremism and white supremacy requires people to create meaningful communities, along with providing a sense of purpose and identity, said Christian Picciolini, a former neo-Nazi and founder of the Free Radicals Project.
Picciolini's message, including his own story of joining then leaving the white supremacy movement, was part of the latest Mayor's Council Against Hate meeting. Around 70 people filled the seats of The Camp House on Tuesday night to listen to Picciolini, who detailed the factors that led him to create an identity as a neo-Nazi.
At 14 years old, Picciolini was recruited and found meaning in turning the hatred he felt for himself toward other groups, he said. The bullying he experienced as a child made him susceptible to neo-Nazi propaganda. The identity they created for him was intoxicating. It was not until he had two children and began interacting with people of different faiths, ethnicities and worldviews through a record store he owned that he decided to leave the movement.
Now, as a speaker and advocate, he works with others trying to leave the white supremacy movement and educates local groups, such as the one in Chattanooga on Tuesday night. Today's white supremacy movement looks much different than it did when he joined. In the 1990s, the movement shifted away from skinheads in combat boots, Picciolini said.
"It's not how it used to be anymore with shaved heads and Klan robes," he said in an interview before the Tuesday meeting. "It's the average kid these days who's getting sucked into these movements. I think that even if we're not addressing it ideologically, a good practice is just treating everybody with compassion, because we don't know who's going to benefit from it the most."
READ MORE: Pro-Israel advocacy group continues to receive support from local Christians
Nationwide, incidents of hatred are on the rise. The previous two years have among the highest annual numbers of anti-Semitic incidents in the 40 years the Anti-Defamation League has done yearly audits.
More Information
During the April meeting of the city's Council Against Hate, the group unveiled its priorities, which include the following:1. Advocate for public policies to protect targeted constituencies from hate crimes.2. Push for more thorough and consistent reporting of hate crimes at a local, state and federal level.3. Engage young people in combating hate.4. Ensure educators have the skills and resources to identify discrimination and bias and how to properly address it.5. Engage the private sector by surveying employers and workers about workplace attitudes, cultures and incidents of bias.6. Improve the community's media literacy around hate speech and radicalization.7. Create more cultural programming to foster interactions between people who wouldn't normally interact.
The Chattanooga Police Department recorded more than 130 bias incidents between 2012 and 2018, according to department data. These incidents include bias against religion, gender or gender identity, race and sexual orientation.
In the past year, the Anti-Defamation League recorded six incidents in Chattanooga, which included anti-Semitic acts and distributing white supremacist propaganda at the University of Tennessee at Chattanooga.
The council, formed in 2018, works with outside advocacy groups and local residents, seeks to build a safer city by advising the public and private organizations on more inclusive policies. In April, the 21-member committee announced its priorities, which include engaging young people in the work and improving ways to report incidents.
READ MORE: Stopping Islamophobia means recognizing its racism. Interfaith panel talks solutions for hate.
The white supremacy ideology is the final piece that gives a disenfranchised person a sense of meaning, Picciolini said. They feel outcast or marginalized by things like trauma, poverty, mental illness or even social privilege if it is isolating, he said. Local communities should work to build human infrastructure to re-engage these individuals, not push them further away, he said.
"For many people who are in these movements, offering a way out and a way to repair the harm that they've caused is always something that we should be doing, because it's difficult to leave once you're in," Picciolini said. "But I also know that many people in these movements, if given a chance to leave, would."
Alison Lebovitz, co-chairperson of the council, said Picciolini's story shows how people can move from a seemingly regular American experience to such violent extremism. His message also shows how engaging with others can break down hateful ignorance, she said.
"People have to understand that seeds of hate are planted just as easily as seeds of love," Lebovitz said.
From the reporter
I became a journalist to help people see people as people. But highlighting the human side of every policy decision, and how it is affecting your community, takes time as well as support from readers. If you believe in telling the stories of people in your community, please subscribe to the Times Free Press today. Contact me at wmassey@timesfreepress.com or 423-757-6249. Find me on Twitter at @News4Mass.