Photo Gallery
Collegedale police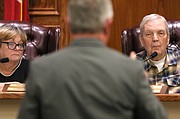 The Collegedale Police Department has received largely positive feedback by the Municipal Technical Advisory Service, which reviewed its policies, though it did not address the department's alleged quota system due to an ongoing state investigation.
"It would be terribly irresponsible of us to look into something like that at the same time there's an ongoing investigation," said Rex Barton, MTAS police management consultant and former police captain.
MTAS, which is a part of the University of Tennessee's Institute for Public Service, evaluates a department based on its employee satisfaction, the readiness of its equipment and the effectiveness of its training program. To do so, consultants interview officers and look at crime rates, Barton said.
Barton initially was going to interview only a random selection of officers, but after noticing a "trend" he interviewed all sworn police officers. He said after a Monday night city commission meeting on the review that the city's human resources department coordinated the interviews but he selected the names, which was "everybody in the organizational chart I got."
The "trend," he said, was that "a very small number of police officers were unhappy."
The reason the dissatisfaction seemed so widespread, Barton said, is that "there is an inference that one or more employees have direct connection to one or more commissioners."
(Read more: City of Collegedale, police chief and city manager face $2.4 million lawsuit by three fired police officers)
"There is a perception on the part of several folks in the police department that they had to watch what they were saying in the police department or it would come back to a commissioner or two," Barton said.
And that can become problematic, he said.
"There are folks here who would not disagree with other folks. They would not argue. They wouldn't, they wouldn't say you're wrong because they've got fear for their jobs," Barton said. "We had a couple people who actually say they fear for their jobs. And that's not a good thing to have happen here."
Barton also noted two "high profile" incidents that garnered media coverage: the demotion of a sergeant who allegedly made negative comments to female officers and an officer who was found to have violated multiple policies after he muted his body camera and stopped a man twice within 30 minutes.
The traffic stop incident took place during the MTAS review period, and when Barton read about it in the newspaper he spoke to the chief about the issue, he said.
"I think that the police department and the city's investigation into the incident was adequate," he said. "And I think the findings and the disciplinary action was appropriate."
Barton said he brought up the incidents because he didn't want it to seem like the city has "a bad police department because you've had a couple of hiccups."
"You're going to have glitches and hiccups," he said. "When you're in the news, you're going to stay in the news ... that's the way it is when we work in government. I wouldn't have it any other way. We have to be transparent."
(Read more: Collegedale police lawsuit dismissed as city claims named officer was misidentified [video])
Some recommendations Barton made included the department seeking accreditation, creating an annual report on department statistics, initiating a citizens' police academy and posting more criminal activity on the department's Facebook page in addition to the congratulatory posts for officers who've received awards and commendations.
"You got a good police department, you really do," he said.
Vice Mayor Tim Johnson said he wanted the MTAS report to be posted to the city's website so that people "can see the data for themselves," and he said he appreciated Barton addressing the Tennessee Bureau of Investigation probe into the reported quota system.
Within minutes of the commission meeting's conclusion, the police department's spokeswoman Bridgett Raper posted her own report of the meeting, claiming that, "in fact, the vast majority of the police officers have few issues with the management of the police department or the City."
Contact Rosana Hughes at rhughes@timesfreepress.com or 423-757-6327 with tips or story ideas. Follow her on Twitter @HughesRosana.