Photo Gallery
DuPont Elementary reading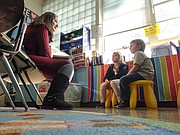 Growing up, Brenda Morris doesn't remember reading a lot of books that had characters who looked like her.
Usually, when there was a character that did look like her - an African American girl - the story was a historical one featuring a slave.
"... I couldn't remember a lot of books ... matching me, which led to low self-esteem or insecurities," she said.
As a beginning teacher at a school with teachers who are predominantly white women - as the majority of educators are - she also noticed that many of the books, passed down from teacher to teacher through curriculum and lesson plans, also didn't depict very many students of color or living in unique circumstances.
But