Photo Gallery
The Barn Nursery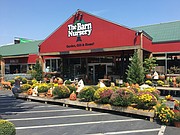 * Founded: Originally known as the Barn, the business began in 1960 in a pre-Civil War dairy barn located on McFarland Avenue in Rossville, Georgia, and was bought in the late 1960s by Frank and Wanda Webster who operated the business as a produce stand selling fruits and vegetables.
* Ownership: After the death of Frank Webster in 1980, his son Jim and his wife Cindy took over the business and have operated it since. Cole Webster, the third generation leader, now heads the daily operations.
* Location: Since 1989, the business has been located on a 7.5-acre site along Interstate 24 at the 4th avenue exit at 1801 E.