Photo Gallery
Nokian Tyres Dayton plant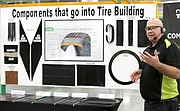 DAYTON, Tenn. - Nokian Tyres on Wednesday marked the opening of what its officials say is one of the most modern tire production plants in the world and the company's largest-ever individual investment.
"We want to double sales within five years time," said Nokian Tyres Chief Executive Hille Korhonen. "It's important to have a factory here. It's a big milestone."
The Finland-based company's $360 million factory was unveiled before several hundred people during a ceremony. By year's end, the 830,000-square-foot plant aims to have as many as 150 employees. Nokian plans to have 400 workers on board when the plant is at full production, making 4 million tires annually.
"It was built on time and on budget," Korhonen said about the company's first plant in the United States.
Tennessee Gov. Bill Lee called Nokian a global company that has made a deep commitment to Rhea County and the state.
"It will change the landscape of this community for a long time," he said. "There's so many things right about what's happening here today."
Lee added that the plant is "right in the heart of rural Tennessee."
Korhonen said the greenfield site in Dayton also has room to expand the plant twice should the company make the investment. Each expansion would add another 4 million tire production capacity, bringing the total to 12 million, she said.
Korhonen said there's no time frame or budget for such additions. But, she said, Nokian is "ambitious and believes in setting the bar high."
Peter Chia, the plant's operation's director, said the factory now is making test tires. Production of tires to sell is expected to begin early next year, he said.
"It's a sense of achievement," Chia said about the plant. "We want to show off what we can do in Dayton."
Former Tennessee Gov. Bill Haslam, who traveled to Finland to recruit Nokian while he was in office, said the company started with 80 possible sites for the plant before landing in Dayton.
BY THE NUMBERS
* $360 million: Plant investment* 4 million: Tires produced at full capacity* 600,000: Tires new warehouse will holdSource: Nokian Tyres
"It will not only provide jobs, but be the kind of community member we love to have," he said.
Nokian officials said the company will maintain "strict sustainability standards" at the factory to minimize waste and emissions.
Solar panels will be installed in the parking lot and the company will recycle excess materials resulting from production.
Bob Rolfe, the state commissioner for economic and community development, said Nokian sells tires in more than 50 countries worldwide and the company is another in Tennessee's large automotive sector.
"Nokian Tyres' substantial investment in Dayton speaks to how attractive rural Tennessee is to international businesses," he said.
U.S. Rep. Scott DesJarlais, R-Tenn., said the state is seeing "a tremendous influx" of growth.
"We know there's more great things to come," he said.
The plant will build a mix of all-season and all-weather tires. The company, which now has production facilities in Finland and Russia, has specialized in winter tires.
Officials said the new factory will enable the company to more efficiently deliver tires to customers.
"By producing our tires closer to wholesale and retail partners, we can continue to expand availability of our tires to consumers throughout North America," said Nokian Senior Vice President Mark Earl.
Contact Mike Pare at mpare@timesfreepress.com or 423-757-6318. Follow him on Twitter @MikePareTFP.