Photo Gallery
Toxic lead testing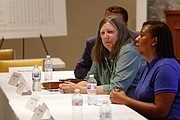 Thousands of properties within Chattanooga's Southside Lead Superfund Site - an area listed among the nation's most toxic places - still need to be tested for lead contamination due to hazardous waste dumped by industrial companies in the past.
Health and environmental officials from the agencies tasked with removing the lead said Monday about 1,100 of the nearly 5,500 yards that need to be tested for high lead levels had been sampled as of May 7, 2019. Of those that were tested, about 450 yards contained dangerous amounts of lead that need "remediation," meaning the top two feet of soil from the yard is removed and replaced. Results from the latest round of sampling, which began in September, are not yet available.
The eight neighborhoods with homes flagged for testing include Alton Park, Cowart Place, East Lake, Highland Park, Jefferson Heights, Oak Grove, Richmond and Southside Gardens.
The Southside site gained public attention after a local resident reported lead poisoning in 2011. The Tennessee Department of Environment and Conservation then alerted the U.S. Environmental Protection Agency, which established a task force and removed contaminated soil from 84 properties along Read Avenue.
The agency promised to remediate all properties with elevated lead levels once the site was added to the National Priorities List in 2018, which led to more funding for the efforts.
Dawn Ford, assistant provost for teaching and learning at the University of Tennessee at Chattanooga, said a group from the university has been conducting door-to-door surveys to help educate residents and better understand their concerns.
"What we are finding from the survey is that many people aren't aware of the soil contamination, and we're not sure why," Ford said after a Regional Health Council meeting on Monday.
HOW TO GET YOUR YARD SAMPLED
Residents who live in the site can get their yards sampled for lead by filling out an access form and submitting it to the remedial project manager or community involvement coordinator. Jasmin Jefferies EPA Region 4 Remedial Project Manager (RPM) jefferies.jasmin@epa.gov 404-562-8443
Ford said the group has worked to translate information from the EPA into layman's terms and Spanish.
"Ultimately, what we're concerned about is the blood lead level of the kids," Ford said, adding that UTC recently obtained two machines that can easily test kids' blood in the field using a finger prick. So far, they have tested 20 children, with one child from the site testing positive for dangerous blood lead levels.
Lead is toxic when ingested and is especially dangerous for young children, who are also more likely than adults to accidentally consume lead. Lead is tasteless, invisible and there are no obvious symptoms of lead poisoning, so it often goes unrecognized.
In developing children, lead can damage the brain and nervous system, as well as slow learning, behavior, hearing and speech. It can also harm adults, causing high blood pressure, kidney damage and, possibly, cancer.
Children are usually poisoned through lead paint or contaminated water, but the EPA believes children have a 90% probability of experiencing elevated lead levels if they play in the Southside site's most contaminated yards.
Officials urged parents to have kids who frequent these areas tested for lead, because the EPA's cleanup effort will take at least several years.
Jasmin Jeffries, project manager with the U.S. Environmental Protection Agency, said the biggest challenge has been getting residents to submit the permission forms that grant the agency property access to collect and analyze soil samples. If results reveal dangerous lead, residents and property owners need to fill out a second agreement allowing the agency to remove contaminated soil.
"It's contingent upon getting these access agreements, which we are working very diligently to get," Jeffries said. "To get our contractors out to actually start doing the remediation, we have to have so many access agreements."
For lawns within the site, the EPA will remove and replace contaminated soil at no charge. For rental properties, a tenant's permission is all that's required for sampling, but tenants and owners both need to consent to remediation.
Ford said many property owners in the Highland Park neighborhood, which is now the highest priority area for remediation, have objected in order to protect their landscaping. However, Jeffries said that's improving as more cleanup takes place and residents realize the yards come out looking as good if not better than before.
Properties with soil samples containing more than 1,200 parts per million lead are first priority for remediation, followed by ones where children live that contain more than 360 ppm. The EPA is planning to eventually redo all yards containing more than 360 ppm.
As of September, 47 properties containing more than 1,200 ppm had undergone remediation. Most of those properties - 26 - are in the Highland Park neighborhood.
Highland Park has had more of its yards sampled and remediated than any of the other neighborhoods in the site.
Jeffries said that's because the FDA's investigation revealed Highland Park contained the most properties with the highest amounts of lead. Residents from that neighborhood also have returned the most access agreements, she said.
The East Lake neighborhood, which has a large Latino population, contains the most properties overall with 2,235, but only 140 had been sampled as of May.
Residents have questioned the FDA since learning of the problem, asking why they were allowed to live in an area with unsafe soil for generations. They've also questioned why the historically black, low-income communities were cleaned only after investors built newer homes and white residents moved into the neighborhood.
However, EPA site leaders have maintained they began cleanup operations once they learned a problem existed.
The Southside site is the final Chattanooga location on the National Priorities List in need of remediation. The Amnicola Dump site was remediated and removed from the list. The Tennessee Products Superfund site has been partially cleaned, and current contamination does not threaten people living and working near the site, according to the EPA.
More information on lead safety and testing is available by visiting the Chattanooga-Hamilton County Childhood Lead Poisoning Prevention Program website or calling 423-209-8080.
Contact Elizabeth Fite at efite@timesfreepress.com or 423-757-6673.