Photo Gallery
TennCare waiver public hearing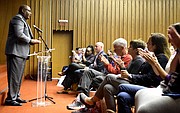 Chattanoogans are among a growing group of Tennesseans voicing opposition to a plan for the state to fund its Medicaid program, TennCare, through a lump sum from the federal government called a "block grant."
About 40 speakers at a public hearing Wednesday included nurses, doctors, educators, advocates, politicians, concerned citizens and TennCare recipients themselves. All but two who spoke at the downtown Chattanooga Public Library outright opposed the plan.
Chattanooga's hearing was the last of five public hearings on Gov. Bill Lee's block grant proposal and wasn't originally scheduled. It was also the only public hearing at which someone spoke in favor of the plan. Chattanooga's meeting was added after the initial hearings announcement, along with one in Memphis, home to the county with the most TennCare enrollees.
One of the more impassioned speeches Wednesday came from Rosalie Howes, who spoke against the proposal as her son, Hyrum Howes, sat beside her in his wheelchair.
"Without the help of TennCare, we would not be able to afford the co-pays on all of Hyrum's life-saving medications," she said with tears in her eyes.
Many of those opposing the controversial plan said it contains too many unknowns and not enough oversight for a state government that has watched its number of residents without health insurance reach a six-year high. Several also questioned the state's claim that the block grant would save money without cutting services, especially considering TennCare is already strapped for cash. Others said it would lead to higher health care costs and poorer health at a time when rural hospitals in Tennessee are closing at an alarming rate.
TennCare is the state and federally funded health insurance program that covers 1.4 million low-income Tennesseans - mostly women, children and people with disabilities - including nearly 66,000 Hamilton County residents. The federal government funds 66% of the program.
In May, Tennessee's Republican-controlled General Assembly passed a bill directing the governor to submit a waiver amendment to the federal government seeking permission to convert its portion of TennCare funds to a $7.9 billion block grant. The block grant would provide an increase to the current amount of federal TennCare funds, according to a TennCare spokesperson.
Proponents contend the block grant will give the state more flexibility to tailor TennCare to its needs and save money by freeing the state from federal regulations that come with the current system. Democrats and many health care groups, including the Tennessee Medical Association, fear a block grant will result in less coverage and limit future TennCare funding.
Of the two speakers not opposing the governor's plan, one was neutral and talked of Hamilton County's health disparities. Chris Ramsey, president of the Southeast Tennessee Health Consortium, said he would be for the block grant if it actually improves the community's health. The other, Marty Lotito of Franklin, Tennessee, said he supports Gov. Bill Lee for wanting to change a flawed system.
"No one's ever done a block grant, so how can we sit here and say what is going to happen? We don't know," said Lotito, who called on people to unify and look more to the faith community for solutions to health care problems.
Although representatives assured her that TennCare services wouldn't be cut, Rosalie Howes said the amendment states, "the state wants flexibility to exclude covering high cost, newer prescriptions until the market price of those medications are consistent with fiscal administration This prescription policy would be devastating for a family like mine."
Children with neurological disorders similar to Hyrum Howes' often take a combination of medications to control seizures, and these drugs are not "one size fits all," Rosalie Howes said. For years, her son had numerous, uncontrolled seizures every day as doctors experimented with different drug combinations until finally a new, "pricey" drug hit the market.
"It saved my child's life, and it gave him quality of life back," she said. "A generic and affordable version of that medication just now - five years later - has hit the market. Five years would've been too late for him."
Several others with disabilities who are enrolled in TennCare shared stories about how the program is a lifeline and allowed them to live healthy, productive lives.
Robert "Ned" Giles, a doctor of pharmacy who used to manage TennCare's pharmacy benefit, said the program as it is now is far from perfect but does a "pretty good" job considering the limited funding it gets. While he commended some of the governor's other efforts to improve the state's health, the block grant proposal isn't one of them.
"The governor says, 'People just don't understand the block grant.' He's absolutely right. Because with my education and experience, I don't get it," he said. "I just don't fully understand what the benefit of that is going to be."
Giles also said the state's refusal to adopt Medicaid expansion is "unconscionable" - a common complaint from others throughout the hearing. Tennessee is one of just 13 states that refused to expand Medicaid when the option became available under the Affordable Care Act. The move would have used federal funds to expand health insurance coverage to 300,000 adult Tennesseans, advocacy groups say.
Many voiced concern about the current 468,096 adults and children in Tennessee without health insurance. Some of those uninsured people qualify for TennCare but were kicked off due to flaws in the current system.
Dr. Clif Cleaveland, a past president of the American College of Physicians who spoke Wednesday, questioned how a government that ignores the needs of the uninsured could be entrusted to manage the block grant.
"The state would have complete, non-reviewable control of federal funds and would be exempt from federal regulations," he said. "Without federal oversight, eligibility for TennCare as well as the content of therapeutic services would become a political and economic football."
Everlena Holmes, who is executive director of Enroll the Region, a volunteer organization that helps vulnerable people in the Chattanooga region enroll in health insurance programs or find other health care options when they don't qualify for insurance, said she also opposes the governor's plan.
"We are definitely against this block grant. We see the people that are being neglected," Holmes said. "I'm here to represent all those people who could not come to the library to pay the parking."
State Rep. Yusuf Hakeem, D-Chattanooga, who voted against the initial waiver bill, was the only state legislator who attended the meeting.
Rep. Robin Smith, R-Hixson, chairwoman of the House Insurance Committee, did not attend the meeting but on Wednesday afternoon said she voted for the waiver under the premise that the state has done a "terrific job with TennCare compared to other states through innovation" and she wants to give the governor the ability to reinvest the money it saves. TennCare already operates under a waiver from the federal government, and if the program saves any money, it goes to the federal government.
"TennCare is run in such a fashion that it saves [the federal government] a great deal of money," Smith said in a written response. "We should have that for use for Tennesseans if [the federal government] sends back a waiver that doesn't fit the needs of Tennesseans, I won't support [it]. But, I'm hopeful."
Those who were unable to attend Wednesday's meeting can submit comments online by visiting public.notice.tenncare@tn.gov. Comments are due by 5 p.m. Friday.
After the comments are reviewed, TennCare will submit its final proposal to the Centers for Medicare and Medicaid Services in November, at which point that agency likely will hold its own comment period. The federal government will then decide to approve or reject the proposal. If it's approved, it will come back to the General Assembly for a final vote.
Contact Elizabeth Fite at efite@timesfreepress.com or 423-757-6673.
THE PROPOSAL
Tennessee Gov. Bill Lee's $7.9 billion proposal would dramatically change both the funding and operation of the program that covers an estimated 1.4 million low-income children, mothers or other caretakers, seniors and disabled persons on the program.Under current federal law, eligible individuals have an "entitlement" to coverage. States are guaranteed federal matching dollars. There is no pre-set limit.A pure Medicaid block grant program, which the Trump administration hopes will save federal dollars, could end the entitlement and set limits on federal matching of state expenditures, in exchange offering states more flexibility to reduce costs in various ways.But what Lee is pursuing is somewhat different. His administration is calling it a "modified block grant."It includes a "base" block grant amount that is set on applicable TennCare experience over Tennessee's three last fiscal years.The dollars would then be "trended forward" annually by using inflation projections made by the Congressional Budget Office.And growth in TennCare membership rolls would be accounted for through per capita increases in the block grant amount under the governor's plan.Lee is also proposing a "shared savings" provision in which he expects the state to benefit as a result of cost-saving measures he wants to implement under the flexibility of the block grant.The shared savings are the difference between what TennCare actually spends and what the federal Centers for Medicare and Medicaid Services projects would be spent if TennCare didn't exist and the state instead relied on a more expensive traditional fee-for-service Medicaid program.Differences between actual TennCare expenditures and the higher costs without TennCare are called the "neutrality cap." And that is what Lee is proposing to split going forward with the federal government, with the state getting half the savings while the federal government gets the remaining 50 percent. Tennessee could reap upwards of $1 billion annually through the split, according to the governor.