Photo Gallery
The Boneses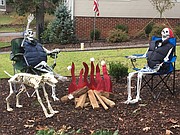 Bev Fulbright and David Winiarski are an active, fun-loving couple, but they're no match for the guests who show up every October.
For the past three years, these energetic visitors have set up camp in the front yard and spent the entire month skateboarding, hula-hooping and biking, even scrambling up the front portico for bouldering practice. Their dog is always along for their adventures, whether he's chasing down a Frisbee or riding along in one of their kayaks. They've used the yard for the occasional luau, but when it's too chilly for tropical attire, they bundle up and relax around a campfire.
They make the most of this time outdoors, the one month of the year when they can really stretch their legs and have some fun. Otherwise, theirs is a bare-bones existence.
Literally.
Send us your pics
Is your Halloween decor the envy of the neighborhood? A boneyard ready for trick-or-treaters? A ghastly display of ghosts and goblins? A bewitching selection of spirits and spooks? Send us your photos and the address of your haunted house to Life@timesfreepress.com. We'll post your photos online at www.timesfreepress.com and include them in a story in next Sunday's Life section.
Mr. and Mrs. Bones and their dog, Ribs, as a neighbor dubbed them, are the skeletons in Fulbright and Winiarski's closet. Every October, they emerge for 31 days of antics that amuse their hosts' North Chattanooga neighbors and have Hixson Pike travelers tapping the brakes.
"We're empty nesters now," Fulbright explains. "We got the idea, and it just snowballed."
For the first couple of days of October, the Boneses take it easy, slowly easing into physical activity. After 11 months of hibernation, they're just happy to be back among the living. "We always start the season with the couple sitting on a bench waving," Fulbright says.
As the month progresses, Mr. and Mrs. Bones embrace the extreme with activities that help them keep those trim physiques. They usually occupy a wood-chipped landscape bed in the front of the house facing traffic, though climbing excursions will have them navigating porch columns to reach the roof.
Ribs' four legs help him balance. Steel rods attached to their spine help the Boneses stand erect when necessary. Because they're fully poseable, their bodies can be bent into kayaks or seated in camp chairs. Zip ties keep the props from falling away. Fishing line helps them maintain gestures, like Mrs. Bones' gleeful arm movements when she's hula-hooping.
For all the fun the Boneses seem to be having, Fulbright and Winiarski are enjoying their guests' short-lived capers just as much.
"Each year we seem to get more into it," says Fulbright. "We have all sorts of props out there."
The Boneses were borne of an Amazon order after Fulbright decided she wanted two full-size skeletons as her Halloween yard decor.
"I remember they came in a box, all folded up," Fulbright says, pausing to consider the unease an X-ray of the package might have caused.
She found Ribs at Home Depot. He's a greyhound, she points out, like their own family pets.
Helping the Boneses strike a pose that first year produced so many ideas that Fulbright and Winiarski decided that maybe their alter egos didn't have to sit still, that maybe the Boneses could change positions as the spirit moved them.
We "came up with so many choices that we ended up changing the display every few days," Fulbright says. "It took on a life of its own."
Ribs and the Boneses may never venture far from their customary spot in the corner lot, but they always dress for the occasion. Campfire nights include down vests and knit caps pulled down to their mastoids. For the annual luau, Mrs. Bones rocks a grass skirt and coconut shell bra, and Mr. Bones and Ribs have straw hats and leis.
The Boneses wear helmets during riskier pursuits. Nobody wants a cracked cranium.
Now that they've reached the third year of keeping up with the Boneses, a few favorite poses are being recycled, especially at the beginning and end of October. Like the casual hellos they favor when their hip guests first appear, there's a farewell look Fulbright and Winiarski give them as well.
"On Halloween, they have pumpkins - jack-o'-lanterns - on their heads," Fulbright says.
The pumpkin heads are a sure sign that, come morning, dem bones will be gone and there's no body in the front yard.
Contact Lisa Denton at ldenton@timesfreepress.com or 423-757-6281.