More federal funding may soon be appropriated to Tennessee for its fight against Asian carp, putting an increased national spotlight on an issue state conservationists argue is the greatest threat to one of the world's most biodiverse temperate aquatic ecosystems.
However, when and how much assistance is yet to be determined, as the U.S. Senate and House are widely separated on how much funding should be given.
Last month, the Senate Committee on Appropriations approved a funding bill that included $25 million for Asian carp management, a $14 million increase from last year. That money would go to the U.S. Fish and Wildlife Service to be divided nationally for areas dealing with the fish.
At the time, U.S. Sen. Lamar Alexander, R-Tenn., was hopeful the bill would give areas including Tennessee more resources to deal with the threat.
"Invasive species, especially Asian carp, are aggressively invading Tennessee waterways and threaten biodiversity, the economy and sporting from Memphis to Chattanooga," he said in a statement at the time. "While the Tennessee Wildlife Resources Agency is working to combat Asian carp in the Tennessee-Cumberland Sub-basin, additional federal resources are needed. I was glad to support the $25 million in funding for the U.S. Fish and Wildlife Service to combat this issue and protect commercial fishing and our nation's waters."
However, the $25 million is not expected to be included in a House appropriation budget. The funding recommendation for the House includes $11.6 million for Asian carp, according to a spokesperson for Rep. Betty McCollum, D-Minn., chairwoman of the Interior-Environment Appropriations Subcommittee.
Photo Gallery
Combatting Asian carp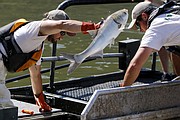 The House's spending is in line with the current budget that will lapse shortly before Thanksgiving.
The House and Senate will have to come to terms in conference - which takes place after the two chambers pass their own appropriation budgets but before a budget is agreed upon. Otherwise, the federal government will pass a continuing resolution that will extend the current budget, without a funding increase.
"Invasive Asian carp are destroying Tennessee's native fisheries in our lakes and rivers," said Rep. David Kustoff, R-Tenn., who was recognized by the Tennessee Wildlife Foundation as Conservation Legislator of the Year for his work to combat Asian carp. "It is my hope that House Democrats will agree to the bipartisan Senate proposed spending level, and rightfully allow the state of Tennessee access to the U.S. Fish and Wildlife Service funds to combat Asian carp."
The region's Asian carp working group believes it has a plan in place to control the problem. It just doesn't have the funding to fully implement it, members argue.
The group includes the Tennessee Wildlife Resources Agency, Kentucky Department of Natural Resources, Tennessee Valley Authority, Tennessee Wildlife Federation, private companies and others.
"All of the effort has generated momentum to get this going," Tennessee Wildlife Federation CEO Mike Butler said. "It's a start. The $14 million increase would be a start. It would help get barriers on several locks in the Tennessee and Cumberland river system. It's going to cost more than $14 million, but we had to start somewhere. We hope to get this recurring in the budget."
Fleischmann statement
Statement from Chuck Fleischmann, R-Tenn., a member of the House Committee on Appropriations:"Invasive species, especially Asian Carp, are a direct threat to Tennessee's vibrant ecosystems. I have worked with members of the Tennessee delegation to ensure adequate funding is available to mitigate the harmful effects of Asian Carp, and I commend members of the Tennessee wildlife community for their tireless work advocating on behalf of our State's natural beauty. The House Appropriations Committee has tackled this issue in a bipartisan fashion, and I look forward to the Senate's bill being voted on in the near future. It is imperative that Congress provides robust funding to combat this issue and protect Tennessee's waterways, and those across our nation."
The funding increase would be used to expand a block and tackle plan. The plan includes installing sound barriers that would keep carp from traveling through dams and then paying commercial fishermen to harvest the fish.
A prototype sound barrier is being built on Lake Barkley in Kentucky, where millions of pounds of fish are congregated. If it works, the group plans to install the barriers at additional locations.
The Tennessee Wildlife Resources Agency now manages a 10-cent statewide initiative to subsidize Asian carp harvesting. Commercial fishermen receive 7 cents per pound from the state on top of the market value for the fish. The additional 3 cents goes to markets that buy the fish. Both the commercial fishermen and markets are required to fill out paperwork to receive the subsidies. The data provides state agencies with now-unknown information about Asian carp such as population numbers, fish size and locations.
More than 1.5 million pounds of Asian carp had been pulled out of Tennessee waterways this year by late July. A processing plant near the Barkley Lock and Dam, which takes the fish from Tennessee and Kentucky, expects to reach 5 million pounds by the end of the year.
"Tennessee and Kentucky, with some aspects of Alabama and Mississippi, are the states that are really ready to put this to work," Butler said. "There are no federal dollars currently in the lower Mississippi River Valley, which would include the Tennessee and Cumberland. Statewide, TWRA initially appropriated $500,000 for the incentive program and just re-upped another quarter of a million dollars. We're concerned that that's not sustainable, and it's not enough. It's significant but we need more if we're going to really pull down these populations."
Contact Mark Pace at mpace@timesfreepress.com or 423-757-6659. Follow him on Twitter @themarkpace and on Facebook at ChattanoogaOutdoorsTFP.