Photo Gallery
GPS vs. Soddy-Daisy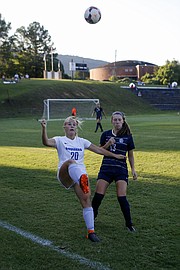 Going up against a well-organized Soddy-Daisy defense on the road, Division II-AA's defending state champions stretched the soccer field Tuesday night.
With its top three scorers back from a historic run last season, Girls Preparatory School's relentless attack broke through as two star playmakers each scored twice in a 4-0 victory.
"We have really been focusing as a team to get to the end line," GPS junior Ashley Grant said. "We want to get there and drive the ball back to the 6-yard box to get some easy tap-in goals. Soddy-Daisy did a great job of pressing in man-to-man. When you do that you have to find that width and find the easy tap-in goals to keep them from getting the counterattack."
Grant provided all the offense needed in the 25th minute as junior Sydney Morris assisted her from the right end line.
Playing their fourth match in five days, the Bruisers (7-1) did not score again in the first half as Lady Trojans seniors Amy Rasmussen and Madison Ryans helped present a physical presence in the middle.
Soddy-Daisy (3-2) could not sustain an attack but did make big stops against one of the most skilled offenses it will see all season.
Lady Trojans senior Sarah Williamson dove to deflect a one-on-one shot in the first half and made eight saves on a busy night in goal.
GPS did not wait long to find comfort room in the second half as Morris flashed her unique scoring ability.
Scoring off a tap-in on a free kick in the 47th minute, Morris struck again in the 61st. The crafty forward's spin move at the top right of the box presented plenty of room for her to fire in a shot to the back left for a 3-0 lead.
"Sydney is a very unique talent and was the player of the year last year for the area," GPS coach Patrick Winecoff said. "She certainly can dominate huge sections of any game that she is in. I was really pleased with our attack and how we were able to stretch the field to open up our attack in the middle more."
With 11 upperclassmen and four freshmen who play big minutes, the Bruisers are excited about their staying power and the adjustments they made in the second half against a stellar Class AAA opponent.
"We hope to be an explosive group again this year," Grant said. "Last year we set a new school record for goals, and we have a group who can create a lot of chances again. We have been really progressing the last week or so, and this was a good test for us."
Contact Patrick MacCoon at pmaccoon@timesfreepress.com. Follow him on Twitter @PMacCoon.