Photo Gallery
GPS vs. Soddy-Daisy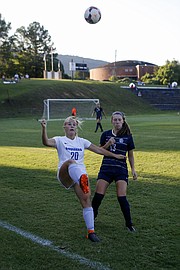 Going up against a well-organized Soddy-Daisy defense on the road, Division II-AA's defending state champions stretched the soccer field Tuesday night.
With its top three scorers back from a historic run last season, Girls Preparatory School's relentless attack broke through as two star playmakers each scored twice in a 4-0 victory.
"We have really been focusing as a team to get to the end line," GPS junior Ashley Grant said. "We want to get there and drive the ball back to the 6-yard box to get some easy tap-in goals. Soddy-Daisy did a great job of pressing in man-to-man. When you do that you have to find that width and find the easy tap-in goals to keep them from getting the counterattack."
Grant