Photo Gallery
Jacksonville State vs. UTC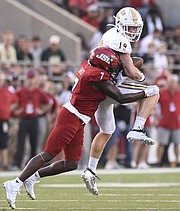 JACKSONVILLE, Ala. - The University of Tennessee at Chattanooga rallied twice to make a game of it Saturday night at Jacksonville State University, but JSU quarterback Zerrick Cooper's heroics kept the Mocs at bay in a 41-20 win at Burgess-Snow Stadium.
The junior had 377 yards of total offense, including touchdown passes of 39 and 40 yards and a pair of short scoring runs. The Gamecocks, who extended their winning streak over UTC to six games, ended with 509 yards of offense.
"We didn't handle things very well in the second quarter when we got behind," UTC coach Rusty Wright said. "That's a good football team, but we got behind them and we didn't give ourselves an opportunity to win, and that's on me.
"Cooper is a Division I transfer from Clemson, so sure, he's a good football player. We talked about it all week long. They couldn't just line up and move it on us, which we knew coming in. It was all broken plays, which is what we saw on film."
JACKSONVILLE STATE 41, UTC 20
Staff writer Lindsey Young breaks down the game in bits and pieces.SATURDAY'S STARAs good as UTC freshman running back Ailym Ford was (127 rushing yards in his first collegiate start), JSU quarterback Zerrick Cooper was the unquestioned star of the night. The junior was 20-for-26 passing for 334 yards and four total touchdowns (two passing). Time and again he bailed out the Gamecocks on third downs and showed a terrific touch deep. His scrambling ability, maybe even more so than his arm, was the difference.SATURDAY'S STAT344 - Cooper's passing yards, with most coming on plays in which the UTC defense had a chance for a stop. The Gamecocks were 4-of-5 on fourth-down conversions, three of them while the game was still in the balance.TURNING POINTAfter the Mocs had scored on two straight possessions to get within seven, Cooper took the Gamecocks on his shoulders and willed them to a drive that took the momentum away. Facing fourth-and-8 from the UTC 27, Cooper rolled left to avoid an early rush before extending the play long enough that he was able to get off a looping pass as he was being dragged down. Tight end Trae Barry, a thorn in the side all night, dove for the catch. JSU scored moments later to extend its lead back to 14.HIGHLIGHT PLAYThe previously mentioned play was pretty, but for Mocs fans it had to be Ford's 42-yard run that sparked a 96-yard drive on the team's first possession of the second half. Ford showed his power and speed on the play and added three more powerful runs on the drive, part of a breakthrough performance.WHAT IT MEANSThe Mocs showed plenty of fight in this one, playing much better than in their opening-week win despite facing a much tougher opponent on the road. The defense could not contain Cooper and get the Gamecocks off the field on third down, and it seemed to wear down in the fourth quarter. The UTC running game showed great improvement, a key factor moving forward.
One of those broken plays sealed the win for JSU. Leading by seven after the Mocs put together a pair of scoring drives in the second half, the Gamecocks went 75 yards on 15 grueling plays. Two of them put Cooper's athletic ability on center stage.
Facing third-and-9 from the JSU 36 early in the fourth quarter, Cooper hit 6-foot-5 tight end Trae Barry (six catches for 151 yards) for 17 yards. Even worse, on fourth-and-8 from the UTC 27, the two hooked up again on a scrambling 12-yard pickup in which Cooper flipped the ball in the air as he was being tackled. Instead of UTC getting the ball trailing by seven, the Gamecocks wound up scoring on an Austin Kinsey 5-yard run.
"We were supposed to be prepared for what he does, but we didn't come out like we were supposed to do," UTC junior safety Brandon Dowdell said. "We let him get around with some things that we shouldn't, and physically we didn't attack him like we should have."
The Mocs were paced offensively by freshman running back Ailym Ford, who ran for 127 yards on 22 tough carries in his first collegiate start. His 42-yard run to open UTC's first possession of the second half - following a CaMiron Smith interception - ignited a 96-yard drive that ended with quarterback Nick Tiano keeping for a 2-yard score to cut what had been a 21-6 halftime deficit to eight points.
Cooper quickly drove the Gamecocks for the answer, covering 74 yards on just five plays - the big one a 40-yard touchdown pass to Barry, who was wide open down the left side after a play-action fake.
The Mocs kept the fight, though, getting within seven on an ensuing 75-yard drive on eight plays that featured a 36-yard Tiano pass to Lameric Tucker and ended with Ford's 2-yard scoring run in the final minute of the third quarter.
Cooper's heroics on the next drive, however, sealed the Mocs' fate.
"I actually felt great going into the second half," Wright said. "I told them, 'This is what's going to happen: We're going to come out and make it close and figure out a way to win it in the fourth quarter.'
"But we're not strong-willed or disciplined enough to take care of things in the end. But I learned this team will play hard, no question. Those cats - they may not play smart all the time, but they will play hard. We've just got to make some plays when we have a chance to turn momentum our way."
Tiano finished 14-of-28 passing for 147 yards, with eight of the completions and 87 yards going to Bryce Nunnelly. Senior linebacker Marshall Cooper had his second consecutive 10-tackle game to lead the UTC defense.
Contact Lindsey Young at lyoung@timesfreepress.com or 423-757-6296. Follow him on Twitter @youngsports22.