Photo Gallery
Conway vs. Bentonville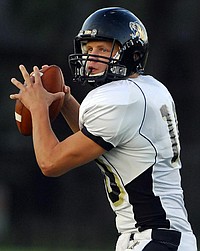 The Times Free Press has made this story available to all readers, not just subscribers, as a public service so all Chattanoogans can get the most recent information about the water outage. Please consider supporting this type of local journalism and subscribe to the newspaper here.
Water service for thousands of area residents and businesses will not likely be re-established until at least Saturday morning after a Thursday water main break left around 35,000 connections with low or no water.
The main break occurred about 20 feet from where crews were working on a planned maintenance project on one of the city's largest water mains late Thursday, leaving thousands of connections in downtown and North Chattanooga disrupted for most or all of Friday, with the majority expected to be down for at least part of Saturday as well.
While Tennessee American Water Chief Engineer Kurt Stafford could not confirm that the break was related to the maintenance, he said that going forward, it is unlikely that the 50-plus-year-old pipe could burst again or cause any additional outages during the maintenance process.
The six- to eight-hour maintenance process began Friday evening after nearly a full day of controlling the break, but re-opening valves and restoring lost connections will take hours after the maintenance is complete, with connections further from the water plant and at higher elevations taking the longest to re-establish.
Tennessee American has asked Chattanoogans to conserve water by not watering lawns, washing cars or expending any unnecessary water until the issue is resolved. In a Friday afternoon news release, the company recommended its customers boil for at least three minutes any water intended for drinking, making ice, brushing teeth, washing dishes, and food preparation to remove any bacteria accumulated because of the system's loss of pressure.
September 13, 2019
September 13, 2019
"Tennessee American Water has experienced a major main break which has resulted in a significant loss of pressure in the drinking water system. Tennessee American Water's drinking water has continued to meet water quality requirements of the Tennessee Department of Environment and Conservation regulations even after the break," the Friday afternoon alert read. "As a precautionary measure, we are asking customers to boil water before using for consumption. We apologize for any inconvenience and thank you for your patience while we work to resolve this problem."
A Chattanooga Fire Department spokeswoman on Friday evening said the department has water tankers available to respond in case of a fire in the affected area.
"If we use a fire hydrant, it will negatively impact the repairs that Tennessee American is making," she said in a statement.
In a Facebook post, the department also said additional resources are being brought in to assist.
"A tanker strike team from Knoxville, Knox Co, Karns is coming to town and a tender strike team from Upper Cumberland is on standby," the post reads. "Tankers are being strategically placed throughout the area to deploy quickly if necessary. Thank you to all of these agencies for the support!"
WHERE TO GET WATER
For those needing water, distribution sites at the city's Youth and Family Development Centers will open at 8 a.m. Saturday, according Amy Maxwell, spokeswoman for the Hamilton County Office of Emergency Management and Homeland Security.
Each family will receive half a pack of water per day.
Those who can't travel can call 423-643-6311.
AREA HOSPITALS RESPOND
Anthony Houston, president and chief operating officer at CHI Memorial, said the hospital activated its emergency preparedness teams upon learning of the water main break.
Although Memorial's hospitals in Hixson and Fort Oglethorpe, Georgia, are open and fully functional, water service to the main hospital downtown - which on Friday had a census of about 300 patients - was interrupted.
The hospital still had some water as of Friday afternoon, but Houston said he anticipates water will be lost before the situation is resolved.
"The city is telling us we have to be prepared - that it may be until tomorrow before we are fully restored with water," he said. "We are prepared to continue to operate, and we keep our patients' safety as our first priority."
Memorial has about three days worth of potable water on hand to take care of patients, he said. However, that won't help the air conditioning chillers that depend on water.
"If we lose air conditioning, the first thing that becomes very difficult to do is to perform surgeries," Houston said. "Surgeries have to be done at certain temperatures and humidity settings."
Warm operating rooms increase the likelihood of infection, he said. For that reason, Memorial's main hospital will only perform emergency surgeries until water is restored. Houston said a portion of the operating room is cordoned off and can function without air conditioning for some time.
Elective surgeries will be rescheduled for a later date, he said.
In the interim, the hospital is conserving water wherever possible by delaying showers and turning off ice machines and coffee makers. To keep the hospital as cool as possible, patients and staff are asked to close shades, turn off lights and take the stairs, since elevators disperse heat.
The downtown emergency department will remain open, he said, but Memorial also has emergency departments in Hixson and Fort Oglethorpe, Georgia, that may be preferable at this time, since those accompanying hospitals are not affected.
Elective and non-emergent imaging procedures, such as X-rays, that were scheduled at CHI Memorial downtown over the weekend are being rescheduled at the Hixson and Georgia campuses, as well as Ooltewah Imaging.
Houston encouraged people seeking medical care for minor emergencies to visit one of Memorial's convenient care locations.
Families are also asked to stay home until water is restored unless it's absolutely necessary to see a loved one.
Once water is back on, hospital officials will need a few hours to check systems and will let people know when operations are back to normal.
No updates on Erlanger Health System were sent as of Friday afternoon, but a statement issued by the Hamilton County Emergency Operations Center on Friday morning said Erlanger's downtown facilities, including Baroness Hospital, Medical Mall, Children's Hospital, Kennedy Outpatient Center and other buildings at the downtown campus were "minimally impacted by the water break."
Amy Maxwell, public relations manager for Hamilton County Emergency Management, said in an email that "levels and pressure are currently being maintained at the downtown campus."
However, Erlanger North Hospital in Red Bank was without water and emergency procedures were in place, she said. Erlanger East Hospital had not been impacted by the water shortage.
"Emergency protocols are in place to ensure water is maintained to provide safe and essential services for patient care," Maxwell said. "Should there be any changes in scheduling, patients will be notified as soon as possible with options to reschedule for non-emergent needs. Erlanger is working with all of our regional and community partners to ensure medical care is not impacted. Erlanger wants to thank all the agencies that are working to resolve the situation. Please understand Erlanger is working hard to ensure services are maintained."
A Parkridge Health System spokesperson said in an email that all Parkridge hospitals were "functioning normally."
HAMILTON COUNTY JAIL
As crews rushed to get water to the city's most vulnerable residents, others were working to make sure staff and inmates at the Hamilton County Jail had adequate hydration and sanitation facilities.
Aside from 6,000 bottles of water, a number of fans, 20 portable toilets and 1,000 gallons of water were delivered to the sally port of the downtown facility.
In a statement Friday evening, Chief Deputy Austin Garret said: "Additionally, we maintain on-site medical personnel to monitor those with medical conditions, brought in additional industrial strength fans to help improve the air flow in the jail, and handed out over forty (20) pound bags of ice to inmates and staff to help keep them cool. I would like to reassure the community and the family and friends of those who are incarcerated within our jail we are operational and meeting the needs of those in our care."
The 505-bed jail has for years struggled with lack of air conditioning.
During a July tour of the jail, inmates and staff members alike voiced concerns over inadequate air conditioning units causing high indoor temperatures during summer months.
Certain floors and areas were significantly warmer than others, with one office being dubbed the hottest area in the jail, and some inmates had taken their shirts off to cool off.
GOVERNMENT SERVICES
County general government offices were closed Friday due to the lack of water and subsequent air conditioning outage, but emergency management services remained available due to contingency plans and support from other local agencies.
"The most important thing to know is there is still going to be emergency response," County Mayor Jim Coppinger said Friday morning. "For firefighters, sheriff, EMS, any emergency personnel, it's business as usual."
For the most part, city and county offices downtown were closed Friday.
Those seeking marriage licenses were told to visit the Bradley County clerk's office and those looking to pay sewer bills were directed to the 311 number.
And while most court proceedings were canceled for the day, the retrial of accused killer Tony Bigoms, 60, continued, at least in part.
Bigoms is accused of the 2012 killing and dismemberment 48-year-old Dana Wilkes.
Jurors were brought to the courtroom to hear testimony from two out-of-state witnesses, but after that, the judge declared a recess until the water issue could be resolved. The trial was expected to continue Saturday, but with a water fix not in sight, it's unclear if the trial would be postponed again.
AQUARIUM IMPACTS
The water main break was also responsible for a number of animal deaths at the Tennessee Aquarium.
In a statement Friday, aquarium spokesman Thom Benson said the buildings' chillers went down, causing four fish, some urchins, anemones and sea stars in the Vancouver Island exhibit to die.
Staff members worked overnight Thursday and into Friday to get the chillers up and running. During that time, attempts were made to cool the tanks with ice. Benson said the animals are sensitive to warming waters and did not respond to the ice.
Benson added that the chillers have been restored in "both buildings and the situation has drastically improved in the past few hours."
"The Tennessee Aquarium would like to thank everyone for their concern," he said. "We will reopen when this water line is repaired."
SCHOOLS SHUT DOWN
Also among those impacted were local schools.
At the University of Tennessee at Chattanooga, officials decided to cancel classes and close the campus. Chancellor Steve Angle's annual State of the University address was postponed.
And earlier in the day, officials with Hamilton County Schools decided to close campuses in the affected area, including Brown Academy, Battle Academy, Chattanooga School for the Arts and Sciences, Chattanooga Center for Creative Arts, the Howard School, Howard Connect, Dawn Program and Normal Park Museum Magnet.
But by 9:40 a.m., the district announced it would be closing all public schools in Hamilton County. Families scrambled as buses were deployed to take students home after half a day of school.
Staff writers Meghan Mangrum, Elizabeth Fite, Rosana Hughes, Dave Flessner and Meg Scarbrough contributed to this story.