Photo Gallery
Hixson High, TWRA agreement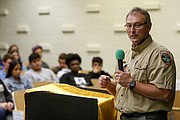 A first-of-its-kind agreement between a school and a state agency is giving Hixson High School students a chance to learn hands-on land management skills in a move that leaders hope sets a statewide precedent on what's possible for the future of education.
Under the agreement, the school's Future Farmers of America club members will lead projects on about 80 acres of state property in perpetuity, conducting a variety of tasks to learn land management skills that include the safe handling of tools and how to care for property. It was publicly recognized by a group of local, state and wildlife leaders in a Hixson High School auditorium in front of the school's more than 70 FFA members Thursday afternoon.
"This is a really big deal. You may not realize that sitting in your seats, but this is the state of Tennessee making a commitment to part of your education," state Sen. Bo Watson, R-Hixson, said. "This is symbolic of the commitment that we are willing to make to make sure you are able to get the best education we are able to provide for you."
The land, which is not all adjoined, is owned by the Tennessee Wildlife Resources Agency in its North Chickamauga Creek Wildlife Management Area in the Hixson area. The school was interested in adding additional land for use as an outdoor classroom for both its FFA program and non-FFA students, according to school principal Lee Sims. Sims approached the agency. A memorandum of understanding was reached between the school and the state last fall, and students began work in recent weeks.
TWRA officials hope to use similar agreements at other schools across the state.
"This is the first time we've ever done a project like this with [a school]," Tennessee Fish and Wildlife District 4 Commissioner Tony Sanders, who represents the state's southeastern counties, said. "I think it gives us the chance for future agreements across the state. We have 5,400 acres, and a lot of it is right here in this area. It's future opportunity for us and you and others to hopefully have some more ventures we can do together."
The agreement was recognized by a panel of officials, many of whom had graduated from Hixson High School. In attendance were Watson; Hamilton County Mayor Jim Coppinger, class of 1973; state Rep. Robin Smith, class of 1981; Hamilton County Commissioner Greg Martin, class of 1981; Hamilton County Assessor of Property Marty Haynes, class of 1977; school board member Joe Smith; North River Learning Center Executive Director Neelie Parker; and others.
Robin Smith believes the program will teach students lifelong skills outside the classroom.
"It's not just about books anymore," she said. "It's not just about how at ease you are on a computer. It really is about what you have made yourself to be and what you're packaged to be as a ready-to-go employee."
FFA's first project will be to restore an old barn on what's known as the Barner Tract of the North Chickamauga Creek Wildlife Management Area. The club has been working on the property for several weeks, learning how to safely use tools to clear the surrounding area and begin restoring the property.
Future projects could include trail work, vegetation management, creek protection and more on the TWRA land.
"Most students came in with little-to-no knowledge of how to use ... basic power tools or hand tools," Hixson senior and FFA chapter President Tanner Moore said. "By the time we're done with this program, we're going to learn a lot more than that."
Contact Mark Pace at mpace@timesfreepress.com or 423-757-6659. Follow him on Twitter @themarkpace and on Facebook at ChattanoogaOutdoorsTFP.