Social distancing amid the COVID-19 pandemic is a tall order for rural jails across the Chattanooga region, but sheriffs in Tennessee, Georgia and Alabama are taking steps where they can - under court order in some cases - though some admit it might not be enough.
It's mostly the older jails that are having space problems, but all are feeling the pressure of the coronavirus.
In general, there's no visitation with inmates anywhere, although a couple of counties have the technology for video court appearances. While most law enforcement agencies are trying not to arrest anyone they don't have to, those who are booked in and, in most cases, any officer or staff member who enters a facility, must be screened for symptoms of the coronavirus.
Photo Gallery
County jails releasing inmates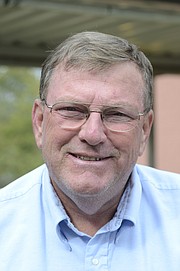 Inmates who have been released are nonviolent, misdemeanor offenders, region authorities said.
Officials at jails and sheriff's offices in Polk and Rhea counties in Tennessee, Murray County in Georgia and DeKalb County in Alabama, did not respond by Friday to queries seeking comment and information about their facilities' COVID-19 response, inmate releases or jail population numbers.
TENNESSEE
In Franklin County, Tennessee, Sheriff Tim Fuller said the six-county 12th Judicial District's circuit court judges responded to the COVID-19 outbreak by ordering a reduction of jail populations and the release of misdemeanor offenders on their own recognizance, if at all possible. The 12th Judicial District consists of Bledsoe, Franklin, Grundy, Marion, Rhea and Sequatchie counties.
"It's been good to us as far as getting the numbers down," Fuller said of the order, "but essentially what it boils down to is it released a lot of pretrial people, the ones sitting here with no bond on violation of community corrections or sitting here waiting for court."
But despite those efforts, Franklin County's already-overcrowded lockup is still over capacity, though it's better than it was, Fuller said. The jail is certified for 114 inmates but has been consistently overcrowded for years. An expansion is underway to boost bed numbers to 307.
Initial efforts tallied a reduction of 26 inmates, but stricter measures ordered since then "substantially reduced our numbers," Fuller said. "When that order came down we were at 226 and we're down to 147."
Fuller said his jail and department have been lucky so far and no COVID-19 cases or suspicions have turned up, but "the other aspect of this is we've got several that have gotten out, recommitted a new misdemeanor crime and have done so two or three times.
"In our case, even though we're down to 147, we're still overcrowded, so I don't have options to be able to isolate," Fuller said.
Sheriff Jimmy Morris in Bledsoe County echoed Fuller's concerns about released repeat offenders bringing the virus back into the jail, but unlike Franklin County's, the jail in Pikeville opened in 2011 and a recently completed expansion brought bed numbers up to 148.
Morris said 15 local inmates and 15 inmates being held for neighboring Rhea County have been released.
BY THE NUMBERS
County jails across the Chattanooga region in Tennessee, Georgia and Alabama are working to lower jail populations and limit the number of people booked into jail. Many have extra space after efforts to reduce jail populations while a few are struggling with space problems that already existed before the coronavirus outbreak began.COUNTY/CAPACITY/POPULATION LAST COUNT/OVER-UNDER EMPTY BED COUNTTENNESSEEBledsoe/148/128/+20Bradley/510/338/+172Coffee/400/306/+106Franklin/114/147/-33Grundy/114/56/+58Marion/118/87/+31McMinn/350/212/+138Meigs/56/63/-7PolkRheaSequatchie/96/71/+25GEORGIACatoosa/248/138/+110Chattooga/47/55/-8Dade/110/41/+69MurrayWalker/240/147/+93Whitfield/556/372/+184ALABAMADeKalbJackson/209/134/+75* Figures in bold represent a shortage of beds* Counties in italics did not provide information by press timeSource: County sheriffs and jail administrators in Tennessee, Georgia and Alabama
No inmates or staff have had any known contact with COVID-19 and incoming inmates are screened for symptoms and held in holding cells for a period, he said.
Marion County Sheriff Ronnie "Bo" Burnett in recent days has already dealt with a possible case of coronavirus exposure shared by his counterpart just over the state line in Jackson County, Alabama, when a suspect in a Tennessee homicide who turned himself in across the state line told authorities he'd been exposed to a person who'd been confirmed as a case of COVID-19.
Marion's jail in Jasper is one of the older jails in the 12th Judicial District but its population has been reduced dramatically, Burnett said, by releasing about 30 inmates and trying to avoid booking anyone new into the jail. The move has reduced the jail population from 130 to 87 at the most recent count this week, he said. The jail's certified capacity is 118 so there are extra beds for the moment.
Grundy County Sheriff Clint Shrum said eight inmates have been released from Grundy's new jail - some given a court date for later, others released on time served - under requirements of the order that opens up more than half the 114 certified jail beds in Altamont.
"All intakes go through a screening process as recommended by CDC, TDOC [Tennessee Department of Correction] and the Tennessee Corrections Institute," Shrum said. Screening includes a series of questions and temperature check, he said.
Sequatchie County Sheriff Coy Swanger said he followed guidance from the judge's order, too, releasing about 13 inmates as a result. Sequatchie's jail was not overcrowded at the time with only 81 of its 96 beds filled. The head count at the jail in Dunlap this week stood at 71.
Bradley, McMinn and Polk counties in the 10th Judicial District all have made moves to reduce jail populations and free up space on orders earlier this month from the state supreme court to limit court operations and jail populations in response to the pandemic.
Thanks to the release of non-violent offenders "since March 13, our jail's population has dropped from 488 to 338, as of today," Bradley County Sheriff's Office spokesman Taylor Woodruff said Wednesday in an email. Bradley also has had no known contract with any confirmed cases of COVID-19 among officers or inmates, Woodruff said.
Staff members at Bradley's jail in Cleveland, like other jails, are screening and conducting interviews during the intake process, he said.
McMinn County Sheriff Joe Guy, in Tennessee's 10th Judicial District, is benefiting from an expansion and already-established medical protocol.
"We were ahead of the game a little, as we implemented medical screenings several years ago," Guy said in an email. "But we added CDC recommended questions regarding travel, contact with any sick persons, fever, etc. We also visually look for the CDC/Department of Health recommended symptoms of cough, difficulty breathing, and fever."
Guy wasn't certain of how many inmates had been released from the jail in Athens, but said, "Our population was reduced from about 340 to 220 between March 12 and today. But a lot of those releases were done through the court system, through normal appearances, and all were low level misdemeanors like failure to pay child support, misdemeanor drug possession, or violation of probation, etc."
Meigs County is part of the four-county Ninth Judicial District, which also includes Loudon, Morgan and Roane counties. Meigs County Jail administrator Russell Grissom said the jail in Decatur was just over its certified capacity of 56, with 63 inmates in custody Wednesday.
The department has only had a handful of new arrests in the last couple of weeks, and precautions have been put in place, Grissom said.
"Everybody gets their temperature and O2 level checked, coming in or out of the jail," he said. That includes all staff members.
About 70 miles to the west in Manchester, Coffee County is in the single-county 13th Judicial District and its jail is one of the region's newest with a capacity of 400, so there was no reason to reduce numbers, Coffee County Sheriff's Office spokesman Frank Watkins said.
"We have not released anyone based solely upon the COVID-19 outbreak," Watkins said. "Courts, however, have delayed court appearances due to the state supreme court ruling."
Coffee's jail population on Tuesday stood at 306, and no coronavirus worries among inmates or staff exist so far, he said.
GEORGIA
Across Northwest Georgia, county jails have fewer space problems and populations are reduced substantially.
Whitfield County Sheriff Scott Chitwood said the jail in Dalton, Georgia, released 120 inmates and put protocol in place to make sure anyone booked has no symptoms before they're moved into the general population.
Released inmates were charged with misdemeanors, while a few that were due pick up by the state were given credit for a day or two served in jail and then released, he said.
Catoosa County Sheriff Gary Sisk is in the relatively rare position in the Chattanooga region of having jail space and no problems, so far, with COVID-19 exposure. But inmates have been released because of state court orders somewhat similar to the one in Tennessee, even though there's room in Catoosa. The jail in Ringgold has a capacity of 248 and the population Tuesday stood at 138.
Sisk said inmates were released not just because of the pandemic but more about the emergency declared by the court and cases getting extended or inmates sentenced to state facilities. He said Georgia's prison system is not picking up inmates or assigning state beds. Some state sentences are being served at the county lockup.
"I really don't know a specific number but somewhere in the neighborhood of 20 to 25 over the month of March," Sisk said of the number of inmates recently released. "They were not 'just released,' they either served their sentences with us or posted a bond as usual."
In neighboring Walker County officials released about 100 inmates in response to the pandemic, Sheriff Steve Wilson said.
"Individuals with probation violations are required to report as directed to the Department of Community Supervision office," he said. "Many probationers were released with ankle monitors."
Those who do not report as directed will be arrested, Wilson said.
Dade County jail administrator Capt. Joe Chambers said about 22 inmates were released amid COVID-19 concerns. Like other jurisdictions, Dade officers are trying not to jail anyone unless they must, and then those intakes, along with all staff, go through a screening process, he said.
"Any new intakes are going into a negative pressure ventilation holding cell," Chambers said. If they don't make bond or are being held without bond, new intakes are placed in a negative pressure cell block for 14 days before they're considered for a move into the general population, he said.
Inmates in the general population have been screened and monitored for symptoms and are believed to be free of the virus, he said.
Chattooga County Sheriff Mark Schrader said the jail in Summerville is slightly over its capacity of 47 with a count of 55 on Tuesday, but between 10 and 15 inmates were released to make room for inmate isolation, if needed. Chattooga's jail officers, inmates and staff have had no known contact or symptoms, he said.
"The district attorney, public defender and judge worked on some releases," Schrader said. "We have inmates here and inmates in another jail."
ALABAMA
Jackson County Sheriff's Office Chief Deputy Rocky Harnen said about 50 inmates were released from the jail in Scottsboro "and we are field arresting most minor cases" to avoid contact in booking.
Those released were "non-violent misdemeanor inmates," he said, "some on OR bonds and others on bond reductions by the judges."
Harnen also noted an inmate who turned himself in last week to Jackson County authorities in a Jasper, Tennessee, homicide and told jailers as he was booked in that he'd been in contact with a confirmed case. He was transferred to Marion County custody and never showed any symptoms of COVID-19, officials said.
Contact Ben Benton at bbenton@timesfreepress.com or 423-757-6569. Follow him on Twitter @BenBenton or at www.facebook.com/benbenton1.