Lakecha Strickland takes people to work. She takes them to visit loved ones. She picks them up hours before the sun rises, making the left turn on Orchard Knob Avenue or at the stop near TVA.
But in the span of a few short weeks, the city Strickland has driven through for more than two decades has changed. Businesses are shut down. Thousands of people are working from home or were laid off. Restaurants and bars are closed to the public. The city government, and dozens of other groups, are no longer meeting face to face.
Strickland would make small talk or wonder about where each rider was going in previous times. But the final weeks of March delivered something new for the bus driver to consider on each stop: the risk of coronavirus exposure.
"Every day, it's running through my mind, 'Am I going to come in contact with that virus and take it home and expose my family?'" she said.
Photo Gallery
Chattanooga's essential workers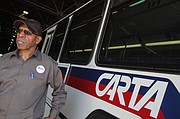 Where the Southeast had previously been divided by political, socioeconomic or racial lines, the coronavirus has created another gap - between those who have the ability to self-isolate and work from home and those who do not have that option.
More than two dozen Chattanooga area residents still going to work described to the Chattanooga Times Free Press a growing sense of anxiety. Facing the daily risk of exposure to COVID-19 for some feels like answering a call of service. For others, the risk is an obligation weighted against the fear of losing employment.
Bus drivers are considered essential and must continue to work amid the global pandemic.
Strickland, president of the Amalgamated Transit Union Local 1212, said some of the drivers she represents think the bus system should be shut down. But people, including the health care professionals treating patients with COVID-19, rely on the transportation system.
"Being frontline workers and carrying other frontline workers is a great risk for any driver," Strickland said.
'We were going to be essential'
The afternoons at the Bethlehem Center are typically abuzz with dozens of children taking part in the nonprofit's afterschool program. Even with schools shuttered until at least the end of April, the building on 38th Street still vibrates with energy. There are meals to prepare and deliver, calls to check in on seniors and a food pantry to organize, all while keeping the center's workers safe.
During his nearly five years as executive director, Reginald Smith developed emergency response plans for him and his staff. If he got hit by a bus, his staff knew what to do, Smith said. If a child got hurt or a car ran into the building, there was a plan in a binder for that. He did not have a binder for COVID-19.
"Pandemic? Not on my screen," Smith said.
The Beth found ways to keep working, even after Mayor Andy Berke ordered non-essential businesses closed last month and dozens of other organizations laid off employees.
"We determined ourselves we were going to be essential to our community," Smith said. "We have been a beacon of light in the community for 100 years and we are not going to be the first one to shut down."
Smith has been spending his days rearranging schedules and checking with foundations to ensure the grant money the nonprofit received for a specific program can be shifted to something new. As he makes calls or answers emails, the TV near his desk flashes the latest death tolls from the novel coronavirus.
Workers at the Beth are delivering meals directly to children and their families throughout the surrounding zip code. The children that would otherwise be coming to the center after school are getting activities, too, such as board games, coloring books and journals.
The building's food pantry, typically open three days a week, remains open. Now people who come mark the things they need on a paper so volunteers can assemble to-go bags of groceries. The number of people using the pantry basically doubled since the local outbreak of the coronavirus, said Karen Nichols, stability supervisor with Partnership for Families, Children and Adults, who organizes the pantry.
Workers with the center are also delivering supplies to local seniors, who would otherwise come to the center for games or socializing. Some are receiving tablets to connect with their doctors through telemedicine, which is especially important in getting them mental health services, said Gloria Dubose, Bethlehem Center director of community outreach.
"A lot of them are struggling emotionally and they are at a critical time," she said. "We have to reach them before they reach that crisis point."
The Beth's staff is "optimistically stressed" by the challenge of continuing to serve the community while balancing safety, Smith said. If anyone is showing the slightest symptom, they are sent home to rest, he said.
"We're still working. We're just not working like we used to work," Smith said. "We're going to have bags under our eyes when this is done."
The fear of community spread
Katelyn Hullander fears spreading the virus more than anything else. The 23-year-old works with elderly people throughout the Tennessee Valley as a caregiver with Caring Senior Service. She also works part-time at the Food City Gas 'N Go in Ringgold, though she cut back her hours lately to reduce her chance of exposure.
"I am over-sanitizing everything," Hullander said. "I am constantly wiping things down. I even go so far as to wear clothes under my Food City uniform and then leave [the uniform] in my car and wash them, so I don't have to bring them near my scrubs."
Hullander plays with her dogs or escapes in a fantasy novel to deal with the stress. For two weeks last month, she was frantic worrying her grandmother was exposed to the virus through someone who had contact with the rector at St. Paul's Episcopal Church, the first confirmed case of COVID-19 in Hamilton County.
"That was the scariest time in my life, waiting for two weeks to see if my grandmother was going to get sick," she said. "I don't think people realize how bad this actually is."
Hullander's family did not get sick, though the risk remains. COVID-19 spreads primarily person to person through respiratory droplets released when someone sneezes or coughs. No vaccine currently exists, so the best way to prevent illness or spreading the virus is to avoid coming into contact with it, according to the Centers for Disease Control and Prevention.
Sam Wolfe, Chattanooga's manager of homeless services, and his team still spend their days driving throughout the county to visit the approximately 120 encampments of people experiencing homelessness. The group carries hygiene products and other items to give out to people in need. Wolfe said his team is screening people they meet for symptoms and can provide basic protective equipment, as well as a short supply of food, for people who may be sick but choose to shelter in place.
The outreach team has yet to encounter anyone with symptoms, Wolfe said. However, individuals who need medical care can be transported in a city-owned, 15-passenger van that has been retrofitted with a plastic barrier to separate the driver from people in the back.
The local homeless community faces a particular risk since many are older and have pre-existing conditions, and often lack a safe place to quarantine if they were to have COVID-19. Local politicians and agency leaders have struggled in the past two weeks to find a safe place to isolate people if there is an outbreak in the homeless community.
While some of the people working on homelessness prevention are working remotely, street outreach remains essential, Wolfe said. It is an ongoing conversation among outreach workers to see if they are feeling sick or are uncomfortable with going out as the virus spreads or government orders tighten, he said.
The team is continuing to get people into housing - 31 people since March 18 and 430 people since July - but the ability to connect an individual to various agencies across Chattanooga has slowed in the past month, Wolfe said.
"We were hitting our stride with getting people housed and I'm a little annoyed the rate is going down," he said.
Hoping and praying
By all accounts, the amount of sickness and death in Chattanooga and across the region will only increase in the weeks to come. There will not be enough available hospital beds in the Chattanooga area over the next six months to meet the demand for the necessary care in treating COVID-19, unless extreme social distancing measures are taken.
On Thursday, Chattanooga Mayor Andy Berke announced the strictest orders yet, issuing a shelter-in-place order and closing even more businesses. But for bus drivers like Strickland, nonprofit leaders like Smith, healthcare workers like Hullander and civil servants like Wolfe, staying at home is not an option.
"It's every day you got your guards up and hoping and praying that you don't come in contact with this," Strickland said.
Contact Wyatt Massey at wmassey@timesfreepress.com or 423-757-6249. Follow him on Twitter @news4mass.