In a typical April, Matt Land would spend his days conducting workouts with nearly 100 high school athletes and preparing for spring football practice.
This past week, instead of barking out orders or registering weightlifting totals, the Dalton High School football coach was in the first stages of a home landscape makeover. Like many Americans who now find themselves with time on their hands due to stay-at-home mandates designed to slow the spread of COVID-19, Land is taking advantage to knock off some long-put-off projects.
"This is almost like Christmas coming early for my wife," Land laughed following a trip to Home Depot over the weekend. "She's got me home with this massive honey-do list. There are so many things we've been needing to do and now is a perfect time to do it. There's been a lot of trial and error - more error than trial - but it's been fun."
Do-It-Yourself projects are soaring in popularity with most of the country in lockdown. Some, like the Lands, are taking advantage of the extra time. Others are finding DIY projects a way to maintain a sense of purpose while also potentially helping others.
Hixson resident Shawn Malone, his wife Dana and teenage son River recently completed a greenhouse that is serving as a starting point for growing vegetables that will, the family hopes, help supplement quite a few meals in the coming weeks.
"With things going on right now we decided, with food being what it is, we would try to make our own little greenhouse," said the 46-year-old Malone, who runs a local stucco business and in his spare time is a river guide in addition to hosting an annual summer camp for kids. "I had been collecting materials over the years and didn't want to waste them, things that were left over from other projects. It's kind of simple, but it's fun.
"We plan to share the food with friends and neighbors who need it. I honestly wasn't anticipating the number of plants it has produced. I mean, we're going to have cucumbers out of the wazoo. Cucumbers and okra are going crazy in the greenhouse."
So much so that Malone has completed the second phase of the project, a raised bed adjacent to the greenhouse where the veggies will continue to grow and he can plant new ones inside. In addition to cucumbers and okra, the Malones are growing onions, zucchini, squash, tomatoes, broccoli, peppers and watermelon.
"I'll be honest, I was just talking with my wife and it's gone better than I anticipated so far," Malone said. "It's been a lot of fun. Just going out and checking the progress from the day before has been gratifying and it's nice to know that we should be able to be a little more self sufficient."
DIY projects, of course, come in all shapes, sizes and cost. According to an impromptu survey of shoppers at the Fort Oglethorpe Home Depot on a recent weekday, interior painting and outdoor landscaping are two of the most popular projects.
"We've been putting off painting our living room for months because it's a big job, but now we have the time to do it," shopper Steve Mason said. "Painting isn't difficult if you have the time to do it properly and it's one of the most noticeable upgrades you can do to your home."
A quick search online offers hundreds of major and minor DIY project ideas. At Architectureartdesigns.com there are plans to create a couch from wooden pallets and homemade shoe organizers out of PVC pipe.
Homedit.com has a section that includes 15 woodworking projects for outdoor areas, including a trellis project, small tables, a potting bench with sink and a homemade porch swing plan. Numerous sites have easy-to-follow instructions on how to make medical face masks.
Among the most popular searches for "DIY projects" include building tables, reupholstering furniture, interior and exterior painting, making and repairing doors, building cabinets, shelves and chairs.
Photo Gallery
DIY projects during COVID-19 seclusion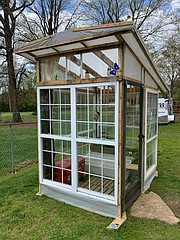 Dalton's Land started his dive into DYI-ing with renovating a large closet into a mud room, complete with shelves, cabinets and wood seating areas inspired by the popular HGTV show Fixer Upper.
"Evidently we watch too many shows with Chip and Joanna Gaines, so we got in on the ship lap thing," Land laughed. "Then we wanted to put in some shelves and cabinets, so it ended up being one of those projects that took a bit of time. We had actually started it prior to all this, but the extra time allowed us to do more with it.
"It was great because I got to do some things I had never done before, like building drawers and cabinets and replacing windows."
Land, in addition to learning new skills, has seen the DIY projects at his home in Dalton's historic district bring his family closer. Wife Amy, daughter Banks and son Cross have all gotten in the act and are currently working together on the landscape project.
"My family has enjoyed doing these things together," said Land, who also has plans to paint five rooms and turn an unused closet into an office. "Yesterday was introductory landscape day. We pulled up shrubs and hedges and dug two loads of dirt and got it leveled out. We seeded and today is the beginning of laying out the bushes.
"The funny thing is you begin to see an affinity for some things with your kids that will likely stick with them. Being able to spend more time with my family is a great byproduct of this. I have a coaching friend who just this week made a great comment. He told me if it wasn't for the sickness and people losing their jobs, this is probably the best thing that's happened to my family and to me in 25 or 30 years."
The Malones will continue to work together as well, with plans to add more raised plant beds and maybe a second greenhouse with materials already on hand. Shawn admits he's not fond of having too much down time and is intent on staying busy, even as he's chosen to turn down potential customers to comply with stay-at-home orders.
"I've got tons of people asking me to give them quotes," he said. "That means I'm going to have to go in and out of Lowe's several times and I'm just not comfortable doing that right now. I hate they have this home project they are really wanting to get done, but my understanding is I'm not necessarily essential. I don't want to be essential right now.
"So, I'm bored to death without being able to work, but these projects have definitely helped."
Contact Lindsey Young at lyoung@timesfreepress.com or at 423-757-6296; follow on Twitter @youngsports22