Dr. Stephen Barnes spent most of March at home, recovering from COVID-19. Despite being temporarily sidelined, he's now back at the hospital bedside, and his potential role in helping patients through the pandemic is even greater.
As a survivor, Barnes' blood contains the antibodies - proteins produced mainly by plasma cells that the immune system uses to combat harmful pathogens - that allowed him to overcome the novel coronavirus.
An investigational treatment called convalescent plasma aims to harness the power of such antibodies to help critically ill patients who are struggling to overcome COVID-19 on their own.
"Part of the reason physicians do what we do is to serve the community, and I just felt like convalescent plasma was another way to do that," said Barnes, an anesthesiologist who practices at CHI Memorial and Parkridge health systems.
"I had mild symptoms, but it's scary because you don't know who's going to be really, really sick," Barnes said by phone. "That's what was really pushing me and an extension of why I chose to be a doctor - to turn around and give back to those who are having a tougher time."
In Chattanooga, Blood Assurance is collecting, processing and sending donated plasma of recovered COVID-19 patients to area hospitals to be given to eligible patients. Although the treatment isn't proven, preliminary trials are showing some positive results.
"I keep referring to this as liquid gold," said Sherri Lee, a registered nurse at Blood Assurance and liaison for the program. "This plasma is just so special, and the possibilities are so promising."
Photo Gallery
Donating blood to help COVID-19 patients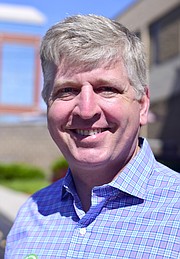 Plasma is the clear liquid portion of blood that remains after blood cells, platelets and other components are removed. It contains water, salts, antibodies and other proteins. It's regularly collected to produce therapies for other conditions, including immunodeficiency, hemophilia and traumas, such as burns or shock.
Antibody-rich convalescent plasma was used to treat bacterial infections before the discovery of antibiotics, and it's been used to treat other infectious diseases- including H1N1 influenza, SARS, MERS and even the 1918 flu pandemic- with varying results.
"It's really normally used as a temporary treatment until something else comes down the pike," Lee said. She's trying to get the word out and draw as many donations as possible to prepare for the expected "peak."
"They say it could be the end of the month, and those numbers change daily," Lee said. "But once we pass that peak, we're looking to stay strong on collection so we can stockpile in case in the fall there's a resurgence."
Depending on the donor, one collection can be used for up to four patients with active disease.
Barnes was the second person in Chattanooga to donate his plasma with the hope that it can help in the area's fight against the coronavirus. The first local donor was Father Brad Whitaker, rector of St. Paul's Episcopal Church, who was declared the first known case of COVID-19 in Hamilton County.
To donate, a patient must have had an official diagnosis of COVID-19 and either be recovered and symptom free for 28 days or be symptom free for at least 14 days and have a negative COVID-19 test. Donors must also be able to pass all standard requirements to give blood.
Barnes opted to obtain a negative test so he could donate as soon as possible.
"I could've waited the 28 days," he said. "The predictions at that time were saying that our peak was going to be sooner, so I wanted to try and get the plasma donation done before the peak."
Lee said donations are picking up now as more people recover and qualify to participate. As of Thursday afternoon, three people had donated and five people were scheduled to donate Friday.
Barnes donated on Thursday and said the experience was similar to donating blood - it just takes more time, about 45 minutes.
He doesn't know for sure how he was exposed to the coronavirus, but he believes he picked it up during a recent trip to Colorado. He recalls first feeling under the weather around March 13 or 14 and believes he was the 10th person in Hamilton County to be diagnosed with COVID-19.
Anesthesia providers such as Barnes are among the highest risk medical specialists for COVID-19 exposure because one of their key roles is to perform intubations - a procedure that involves passing a tube into a person's airway to help them breathe. It requires providers to be in close proximity to the airways where the viral load is highest and most contagious.
Seriously ill COVID-19 patients who need a ventilator must be intubated. But the procedure is common in other areas of the hospital, which means someone who's unknowingly infected could also spread the virus to anesthesia teams.
In Barnes' case, it's likely that the antibodies will afford him at least some protection against COVID-19 going forward.
"We're not 100% sure, but we do feel relatively comfortable that at least some level of immunity is provided," he said. "Now that I've had the disease, and I do have the antibodies and tested negative, it does give me a little bit of comfort going into the hospital."
He'll still use masks and other personal protective equipment, but said, "I definitely feel some degree of comfort or confidence that I wouldn't feel if I had not had the virus."
Barnes, 45, said it's troubling that some people say they want to be a recovered COVID-19 patient like him.
"I was very fortunate, and I feel blessed that I had a relatively light course of the disease," he said.
Initially, he felt tired and developed some aches, pains and a dry cough. Toward the end of the illness he felt out of breath, but he never had a fever.
"The vast majority of people get through COVID and end up well, but you don't know which set of symptoms you're going to have," Barnes said. "It's a very big deal, because if everyone who's going to get sick and get severely sick from COVID, if that happens in a three- to four-week period, that will overwhelm our systems remember that also protecting those who are most at risk.
"We want people to continue to stay vigilant."