Late Sunday night, a rash of severe thunderstorms and at least one tornado ripped through Southeast Tennessee and North Georgia, resulting in miles of downed power lines, uprooted trees and roadway flooding.
By the time the storm gave way to the cloudy Monday morning light, at least 20 people in two Tennessee counties were hospitalized with injuries and more than 150 structures had been damaged or destroyed.
After one tornado ripped through Cleveland, Jerry Wilcox and his family sat on their porch in the dark early Monday morning. It was the only home in their family without significant damage.
While the Wilcox family's problems were contained in that Cleveland cul de sac, the wake of the storms stretched throughout Bradley, Hamilton, Marion and other surrounding counties, leaving many to find similar scenes of destruction outside their front doors.
Photo Gallery
Bearden vs. Mount Ida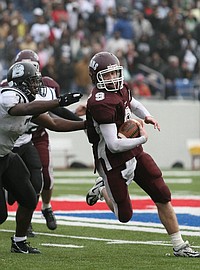 East Ridge, East Brainerd, Collegedale and other areas in Hamilton County were badly damaged by the storm.
"It sounded like a train went through the house and I had to ask my mom if there were trains nearby," Spencer Rienke, 24, said of the storm that hit his mother's house off of Shallowford Road in Chattanooga, where he is visiting from Indiana. "It just took down our fence and there's no other damage to our house, but that was definitely a tornado it threw all kinds of debris in our yard and tied a fence post or some metal into like a knot. It looked like a frayed rope."
(READ MORE: Powerful overnight storms kill 7 in Murray County, Georgia; at least 23 people injured)
Reinke was one of many people surveying damage to homes and businesses on Shallowford Road and throughout the Hamilton Place area in the early hours of Monday morning after storms shook the area. Just after 1 a.m., scores of first responders lined a half-mile stretch of the road, tending to those whose homes and businesses were shredded by the 110-120 mph winds. Power poles along the road were pushed into odd angles or were snapped in half.
"The weather channel and national weather service will be coming today to confirm if there was actually a tornado touching down and what size it was, which is easier to assess in the daylight," Hamilton County Emergency Management Communications Director Amy Maxwell said just before sunrise. "We're getting conflicting stories of wind 120 or 110 miles per hour, we obviously know that we've had a tornado touch down [in Hamilton County], we just don't know how bad."
Video from TVA helicopter crew showing the path of devastation from an overnight tornado in East Hamilton County. The video shows the damage to high-voltage transmission towers along with nearby residential structures. #TNWX #ThankALineman #ThankALineworker pic.twitter.com/G4XwiNSmt0

— Tennessee Valley Authority (@TVAnews) April 13, 2020
At 6 a.m. Monday, Maxwell said that more than 500 first responders were conducting a "grid search" of the hardest-hit areas.
"We're still in the rescue mode and that 's pretty much going through the area which was affected, going door to door to make sure that we got everyone accounted for," Maxwell said. "Obviously, there's significant damage in East Brainerd and East Ridge, but the total destruction is in East Ridge."
(READ MORE: 29-year-old Chattanooga man killed by falling tree as he slept while storms ravaged Chattanooga area)
People walked from the scene carrying pets and a few belongings. At the same time, an almost equal number of people began arriving in the area, pulling their vehicles over near the flooded curb to run toward the residence of loved ones to see if they had been injured.
By 1:30 a.m., emergency responders moved the family reunification site to the YMCA on Shallowford after an assessment found the original site, Grace Baptist Church, was "a near total loss," according to Maxwell. Around 50 residents of The Lantern at Morning Pointe, an Alzheimer's living facility on Shallowford Road, were moved to a nearby hotel, Maxwell said.
She added that Hamilton County dispatch took over 1,300 911 calls about the storm, 500 of which were related to collapses involving trees, powerlines, buildings and vehicles.
The path of Sunday night's storm, according to the city of Chattanooga's data website:
With the worst of the weather damage done, Maxwell says the county is working to respond to the tornado while also maintaining COVID-19 prevention, despite large crowds in shelters.
"What we have done is taken a lot of the [personal protective equipment] we had stored and gave them to the command post and made sure first responders were protected and then also provided shelters and assisted living with PPE to make sure everybody is protected," Maxwell said. "We had to put these people somewhere, it was the middle of the night and pouring rain, and we had to take care of them, especially for those most vulnerable people."
Maxwell cautions citizens to be mindful of existing roadway flooding and other hazards, encouraging them to only leave home if truly necessary.
(READ MORE: 'Don't come out here. Let us get our work done first': Chattanooga Mayor urges public to stay home and let first responders do their work)
"It is actually really treacherous to get out right now with trees and power lines down," she said. "You need to call your supervisor before you go out in this and make sure it's worth it."
Local responses
"Our area was just dealt a terrible blow, with many businesses and individuals already struggling to deal with the effects of COVID-19, we now have the added challenge of rebuilding after devastating tornadoes. In the face of adversity, we always come together to help our neighbors, no one in this community is alone in their struggle. My staff and I stand ready, at every step of the way, to help our community get back on its feet."- Congressman Chuck Fleischmann (TN-03)
Troy Spence, director of Bradley County Emergency Management, said workers in the area were to begin reassessing damage in the Monday morning daylight. Overnight, six people were taken to the hospital with non-critical injuries. Fifteen people were put in a hotel after severe damage to their home, Spence said.
"We will go back and check everything again to make sure we didn't miss anything," he said.
Emergency response leaders in Marion and Polk counties said assessments will also begin there in the daylight, though there were no injuries to report as of 7 a.m. on Monday. Several families in the two counties needed to be rescued overnight from flooding.
Contact Rosana Hughes at rhughes@timesfreepress.com or 423-757-6327 with tips or story ideas. Follow her on Twitter @Hughes Rosana.
Contact Sarah Grace Taylor at staylor@timesfreepress.com or 423-757-6416. Follow her on Twitter @_sarahgtaylor.
Contact Wyatt Massey at wmassey@timesfreepress.com or 423-757-6249. Follow him on Twitter @news4mass.