Hamilton County's public health and medical leaders urged residents to stay vigilant in their response to COVID-19 in the wake of Sunday's severe weather, which created conditions favorable to the spread of the coronavirus as recovery efforts and family displacement put people in close contact.
"This crisis doesn't change the need to deal with the COVID situation. People need to do their very best to maintain social distancing, which will conflict with our desire to immediately help our neighbors," said Rae Bond, CEO of the Chattanooga-Hamilton County Medical Society and chairwoman of the area's COVID-19 task force. "As we've said from the beginning, stopping the spread of the disease is the single best thing we can do to assist our local hospitals, and the damage we've sustained makes that more important than ever."
In a news release sent Monday afternoon, Chattanooga-Hamilton County Health Department officials said when possible people should maintain at least 6 feet distance from others and wear masks to decrease spread of the virus. The department also cautioned against the risk of tetanus during storm cleanup and food safety issues posed by power outages.
Bond expressed confidence in the hospitals' ability to treat everyone who comes in with injuries as well as to treat other health conditions.
As of mid-afternoon Monday, hospitals in Hamilton County had 181 general adult beds available, 44 adult intensive care unit beds and 359 adult ventilators available, according to data from the Hamilton County Office of Emergency Management. An additional 17 general beds, 9 intensive care beds and 48 pediatric ventilators were also available.
The supply of masks and other personal protective equipment was already strained before the severe weather struck, and Bond said it's appropriate and important to allocate the supplies to first responders at this time.
"An immediate threat to life requires an immediate response. Our emergency management team are well trained and well equipped to lead us through this emergency. It will be challenging to deal with two completely different emergencies at the same time, but they are trained to do that. Our community will be juggling resources for the next few days, and obviously getting power back online for people and getting power lines off roads has to be a priority," Bond said.
Photo Gallery
Bearden vs. Mount Ida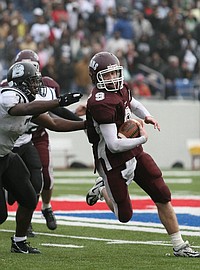 Chattanooga fire Chief Philip Hyman said at a news conference, "In an extreme situation like this, where rescues and saving lives is prevalent, it's not that the COVID pandemic is less important, it's just saving lives is more important at this point. We're trying to protect first responders as best we can. We've been sending masks, gowns, eye protectants for all first responders."
Due to risk of COVID-19 exposure, the Red Cross has placed people in need of shelter in hotels rather than establishing group shelters, according to an email from Tom Bodkin, spokesman for the county health department.
Bodkin said the department was not aware of any COVID-19 positive patients or people under investigation who had been displaced by the storms and that there have been no reports of being unable to reach any monitored individual as of Monday afternoon.
People who may be infected by the coronavirus should continue to self-isolate as much as possible, and those who have been displaced - whether they are positive, pending test results or not - and are living with others should limit exposure to as few new household contacts as possible, Bodkin said.
The health department postponed drive-thru testing at Bonnyshire to limit the number of people on the roads and rescheduled Monday's appointments for Tuesday.
Bond said the COVID-19 task force is still planning its regularly scheduled meeting on Tuesday, but will be assessing the situation throughout the day.
"For instance, we don't know if people will have the internet capacity to do a Zoom meeting, or if task force members will be filling in for others directly impacted by the tornado," she said, adding that some medical practices have suffered considerable physical damage, which may have an impact on their ability to provide patient care.
"While many of our medical practices have expanded the use of telemedicine, it does require phone and internet capacity," Bond said. "If practices or patients are having issues with phones or the internet, that could create a short-term blip in provision of medical services."
Staff writer Rosana Hughes contributed to this story.
Contact Elizabeth Fite at efite@timesfreepress.com or 423-757-6673.